Amir Khan breaks down the heavyweight division, gives his opinion on AJ, Fury and Wilder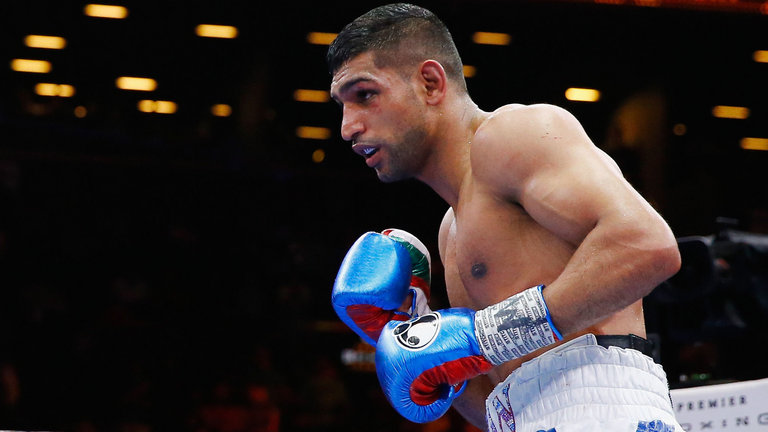 Welterweight Amir Khan 32-4 (20) who fought for the first time in two years on the weekend has given his opinion on boxing's heavyweight division.
Khan says that "The Gypsy King" Tyson Fury 25-0 (18) – who has just been re-licenced to fight after being on the sidelines for two-and-a-half years – is the best of the current bunch.
"The Gypsy King is one of those guys who is not scared of anything and he's not scared of saying anything," Khan said in an interview with TalkSPORT. "He'll say the funniest things in press conferences and I think he can fight. He probably is one of the best heavyweight fighters out there."
WBC heavyweight champion Deontay Wilder 40-0 (39) of the United States remains untested according to Khan. In his last fight in March Wilder defeated Luis Ortiz 28-1 (24) of Cuba by TKO10 in a fight than many people considered a 50-50 match-up going in.
"[Wilder is a] big banger – if he hits you, it's light out but I don't think he has been tested yet," he said.
Great Britain's most popular boxer Anthony Joshua 21-0 (20) was extended the distance for the first time in his professional career in his last bout when he was taken the distance by New Zealand's Joseph Parker 24-1 (18) at Cardiff's Principality Stadium last month. Joshua added Parker's WBO world title to his WBA, IBF and IBO championships.
Last year Joshua had to climb off the canvas to defeat former longtime world champion Wladimir Klitschko 64-5 (53) by TKO 11 in a fight that was scored 96-93, 93-95 and 95-93 at the time of the stoppage.
"[Joshua is a] very good fighter, he's very strong – another fighter that's not been tested," said Khan, who accused Joshua of having an affair with his wife Faryal Makhdoom Khan in a very public spat on Twitter last year.
Khan concluded that the best heavyweight in the world at the moment is the one who is the least active: "I think out of the bunch of three names you mentioned, Fury is probably the best out of all three."