Jospeh Diaz Jr: You [Gary Russell Jr.] won't see my punches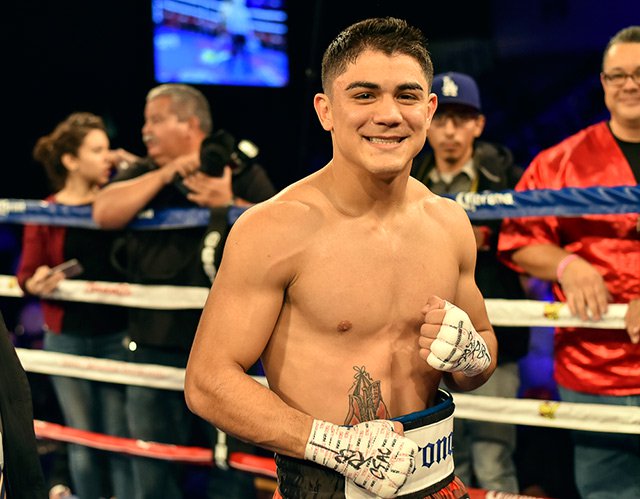 WBC Featherweight World Champion Gary Russell Jr. (28-1, 17 KOs) and unbeaten No. 1 contender Joseph "JoJo" Diaz Jr. (26-0, 14 KOs) hosted a press conference and faced off for the first time Tuesday before their championship showdown Saturday, May 19 live on SHOWTIME from MGM National Harbor in Maryland.
Tickets for the event, which is promoted by TGB Promotions in association with Golden Boy Promotions, are on sale now and are available by visiting http://mgmnationalharbor.com/.
The Russell vs. Diaz fight is part of a split-site SHOWTIME CHAMPIONSHIP BOXING telecast that will feature WBC Light Heavyweight World Champion Adonis Stevenson defending his title against two-division world champion Badou Jack in a main event from Toronto presented by Premier Boxing Champions.
Russell Jr., a 2008 U.S. Olympian and 126-pound titleholder since 2015, will defend against his mandatory challenger in the 25-year-old Diaz, who represented the U.S. at the 2012 Olympic games and will be competing in his first title bout.
JOSEPH DIAZ JR.
"I don't think the fact that I've been more active will give me any advantage. I'm just doing what I'm supposed to be doing and getting the experience I need inside the ring before facing an elite fighter like Gary Russell Jr. My preparation has been good. I've fought tremendous opponents and I have all the experience to come out victorious May 19.
"It doesn't affect me at all fighting in his hometown. I'm happy to fight in his backyard. He's the champion and that's what champions get to do. I know what he's capable of doing. He says I don't have the boxing IQ or the power and speed that he has, but he's going to be in for a rude awakening come fight night. He's going to see that I have all the tools.
"It's a dream come true to be fighting on this stage. Ever since I roomed with Errol Spence at the Olympics, we always promised each other that once we became pro we were going to fight all the elite athletes and the best champions. Gary Russell Jr. is the best at 126 pounds. I'm not scared to fight him and that's what Errol Spence did, too. He beat Kell Brook in his hometown.
"Gary Russell Jr. is by far the best featherweight in the world. Leo Santa Cruz, Abner Mares, Lee Selby, none of these guys want to fight Russell. They're afraid of the speed and the counter shots. But I know what I'm capable of doing and I'll showcase it May 19.
"A win would mean everything for me. It would be a dream come true realizing all of the hard work I've put in since I was 13 years old. It would mean that I'm the champion and I'd be the shot caller.
"I think his speed is an obstacle; he's very fast. But that's the thing about me, I'm good at adapting to any style that I fight. Come fight night I know that his speed is going to be fast, but it's nothing that I won't be able to take, or nothing that will shock me. I'm going to be able to adapt to that speed and make sure I'm able to land my shots when he's opening up.
"I'm very confident; 100 percent confident I'll beat him. I know that this is an opportunity that is presented to me and I'll be victorious. I've always prayed to God that I could fight on SHOWTIME and for a WBC title. And now that I am it feels like it's all settling in and it's all coming true. I'm working hard every single day, and once I get my hand raised in victory I'm going to go from there.
"If he gets a little bit over confident like he did against [Oscar] Escandon, he's going to be in for a rude awakening. He's going to be shocked with not only my punching power, but also with my combinations and with my speed. I'm not like a Jhonny Gonzalez where I'm just throwing one shot, or slow combinations. I'm pretty fast with my punches and you won't see my punches coming because I throw them very elusive and I punch from different angles. He's going to be very shocked if he fights the way he fought Oscar Escandon.
"I don't think it's going to go the distance. Gary Russell is going to go out there and not back down and give the fight fans a good show, but I'm going to go out there and give a good show and not back down. So I think we're both not going to back down and we're going to brawl it out, and let the best man win."