Deontay Wilder surprises with $50m offer for Anthony Joshua unification bout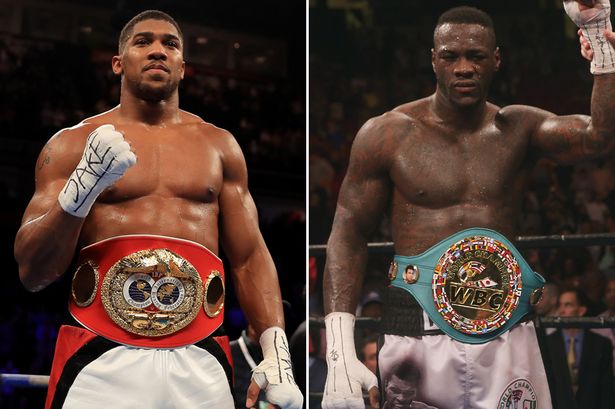 WBC heavyweight champion Deontay Wilder 40-0 (39) has tabled an offer to WBA, IBF and WBO heavyweight champion Anthony Joshua to face him before the end of the year for $USD50 million to determine the undisputed heavyweight champion of the world.
The offer comes weeks after Joshua's promoter Eddie Hearn of Matchroom Sport offered Wilder a fixed fee of $USD12.5 million with no pay-per-view upside to face the undefeated 28-year-old Englishman.
The deal from Wilder's team – that consists of co-managers Shelly Finkel and Al Haymon along with trainer Jay Deas – offers Joshua a purse of $USD50 million against 50% of the event revenue. If the fight takes off and exceed $USD100 million in revenue, Joshua could make a lot more than his $USD50 million guarantee. And if the fight bombs, it's Wilder's team who are left carrying the can.
It's a giant number, Finkel admitted to ESPN, "but it's also a giant fight."
"It has to be the next fight for each of them," Finkel told Dan Rafael. "No rematch clause, and it's for all the belts. We asked for them to send us an acceptance [by the end of Thursday]. Joshua [previously] asked for $50 million against 50 percent, and we gave it to them.
"They probably don't believe it's this big of an offer, but it's an unbelievable offer. I hope they accept. Deontay is thrilled and believes Joshua will take it."
Some of the other key elements of Team Wilder's offer include the right to select the venue for the fight – likely Las Vegas, but most definitely in the United States – with the fight to be broadcast on pay-per-view and it would have to take place between September and the end of the year.
Hearn told ESPN that he is sceptical of the offer.
"To me, this look like a PR move, but it's something we obviously take seriously," Hearn said. "I'll be asking for a contact and also some answers to some important questions, like where is the fight going to be?"
Perhaps the most surprising aspect of the offer is that there is no rematch clause – an industry standard for fights of this magnitude.
"There's no second fight in the offer. That's not the end of the world if the deal is right," said Hearn. "There are obviously other things that need to be addressed. Joshua has a number of existing broadcast deals in multiple territories [though he is a free agent in the U.S.].
"Also the offer comes from Deontay Wilder and, with all due respect, he doesn't have $50 million, so we need to know where the money is coming from. We want to do the fight in the U.K., but if we get an acceptable and secure offer, we'll certainly look at it and take it seriously."