Oscar De La Hoya confirms plans for September rematch between Canelo Alvarez and Gennady Golovkin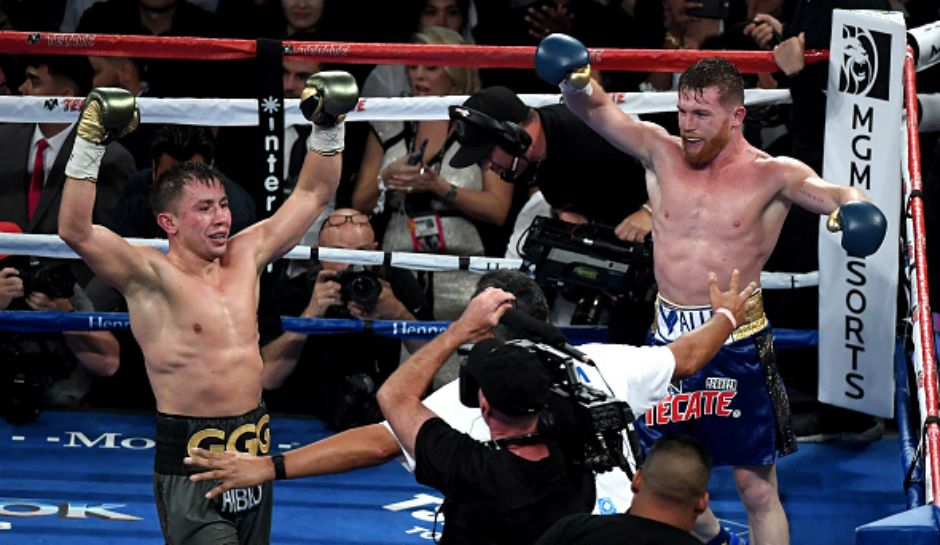 Golden Boy Promotions CEO Oscar De La Hoya has continued to support his marquee fighter Saul "Canelo" Alvarez 49-1-2 (34) despite the Mexican hero twice submitting dirty tests for performance enhancing drugs.
The 27-year-old tested positive to the banned substance clenbuterol twice in February resulting in his high profile May 5 rematch against world middleweight champion Gennady Golovkin being cancelled. Alvarez blamed the test results on tainted Mexican beef.
After touching down in New York City this week former boxer De La Hoya continued to spruik the idea of a rematch with Golovkin with September the targeted date to coincide with Alvarez's six month suspension from the sport.
"It's a huge problem in Mexico and it's been proven over and over. Canelo is getting really the short end of the stick here because obviously he's a popular fighter and a lot of people are gonna hate on him," Oscar was quoted as saying by TMZ. "But he's been one of the cleanest fighters I've known. He's passed numerous of tests, and you know … it was very unfortunate."
De La Hoya, once the biggest box office draw in boxing below heavyweight, wasn't impressed by Golovkin's new Jordan Brand advertisement that threw shade at Alvarez and his tainted beef excuse.
"To me it's bulls**t," said De La Hoya. "Once they fight in September, I'll tell you one thing – Canelo's gonna freaking wail on him."
De La Hoya is standing by his boxer's claim that contaminated beef caused the positive test results and says that there won't be a repeat of those results should the fight get rescheduled for September.
"He'll get tested every single day from now on until the fight," he said.
Golovkin is now facing Vanes Martirosyan on May 5 at the StubHub Center in Carson, California as a late replacement for Alvarez.