Tyson Fury hits harder than Anthony Joshua, according to David Allen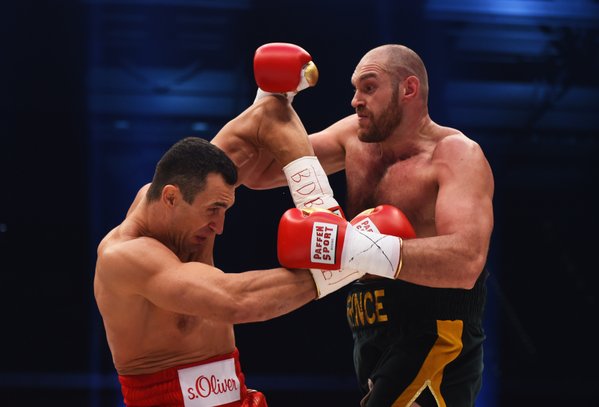 Yorkshire heavyweight David Allen 12-3-2 (9) claims that lineal heavyweight champion Tyson Fury 25-0 (18) is a heavier puncher than renowned knockout artist and reigning WBA, IBO, IBF and WBO heavyweight champion Anthony Joshua 21-0 (20).
The 26-year-old "White Rhino", who is helping Fury prepare for his return to the ring on June 9 after two-and-a-half years on the sidelines – reportedly against Albanian Sefer Seferi 23-1 (21) – says that the only reason the "Gypsy King" isn't seen as more of a puncher is because he choose not to sit down on his punches.
"I'm at British title level but Fury can beat me with one arm tied behind his back. He's that good. I've said for years that Fury is the heaviest puncher I've ever been in the ring with. When he sits down on his punches, I've never been hit so hard," Allen told Boxing News.
Allen knows a thing or two about power. He has been the sparring partner of choice for both Joshua and former longtime heavyweight champion Wladimir Klitschko.
But Fury, he says, is a different kettle of fish.
"To be honest, I think he simply enjoys inflicting pain and annoying people with his talent. He could sit down on his punches and knock people out but he enjoys boxing and annoying people," said Allen.
The last time the 29-year-old Fury was in a prizefight he defeated Klitschko in Dusseldorf, Germany to claim the IBF, IBO, WBA and WBO heavyweight titles. It was Klitschko's first defeat in over 14 years and just the fourth of his 68-fight, 19-year pro career. That was in November 2015.
"He's come back a lot better than I thought he would – I thought it'd take a lot longer but he's lost none of his boxing ability or athletic ability," said Allen. "Once he regains match sharpness after a few fights, he'll dominate the division again. He'll stand Joshua on his head.
"I know I sound like a massive fan. I am a massive fan. He's a brilliant talent."