Tyson Fury Admits that Deontay Wilder Played a Huge Part in His Return to Boxing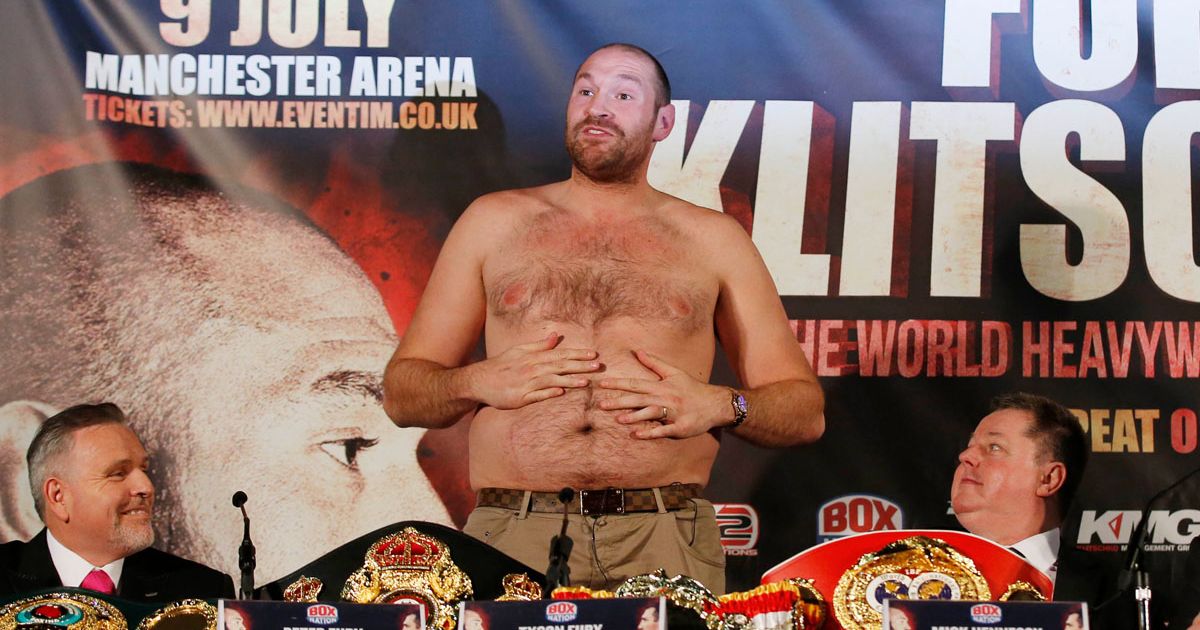 It may sound hard to believe, but it looks like Tyson Fury has given some credit to one of his rivals and possible future opponents in Deontay Wilder. But not in a way that any of us may expect.
Fury (25-0, 18 KO's) is set for a June 9 return to the ring and it is Wilder, the sport's WBC heavyweight champion, who Fury is giving some credit as he attempts to end a very tough two-plus year layoff from the sport. Fury has yet to fight since defeating Wladimir Klitschko via decision in November of 2015 to capture the IBF/WBA/WBO world titles.
Now aligned with powerful promoter Frank Warren, Fury has a multi-fight deal on his hands and still is one of the most polarizing figures at heavyweight.
"I can't say how delighted I am," Fury said at Thursday's press conference to announce his big return.
"It was Deontay Wilder who spurred me on where he said I couldn't do it, couldn't return," Fury added. "He said Tyson Fury is done. I can have a hand tied behind my back and beat Wilder."
Fury suffered with drugs and addition, and other mental lapses when he was away from the sport, even ballooning up severely and gaining weight. But now, the brash 29-year old insists it's his time yet again.
"The fire is back now. I'm ready to fight today, tomorrow, whenever," said Fury.
Never one to shy away from a drink, Fury admits that he was even thinking about his return during some of his partying nights.
"Every time I went to the pub and had 10 pints I thought, 'yes, I want to fight now' but I didn't," said Fury. "I'm in a very, very good place. I feel fully focused. Fit, strong and fast. I needed that time to off to recoup and rest. A happy fighter is a dangerous fighter. The two years out helped me, I never had a break since starting as a child."
Warren will announce Fury's return opponent in the coming weeks, and feels that there is no bigger fight to make in boxing than the Manchester boxer facing off with IBF/WBA/WBO champion Anthony Joshua in the foreseeable future.
"There is no bigger fight than Fury vs. Joshua," said Warren. "The man they've got to beat is Tyson, the lineal champion, who never lost his titles in the ring."
As reported by various outlets online, Wilder has made a motion to offer a flat $50 million offer to Joshua for a fight later this year. Joshua is promoted by Eddie Hearn of Matchroom Boxing while Wilder works closely with adviser Al Haymon of Premier Boxing Champions, as well as promoter Lou Dibella. Hearn is in New York this week to promote Danny Jacobs' April 28 bout on HBO, and will be meeting with Wilder's people.
It sounds like a race between Fury and Wilder as to who can get to Joshua first, but a Wilder vs. Fury fight itself would definitely sell.
Either way you cut it, the division is full of intrigue once again and Fury's return does nothing but help.