Gennady Golovkin pushes Canelo Alvarez from his mind to focus on Vanes Martirosyan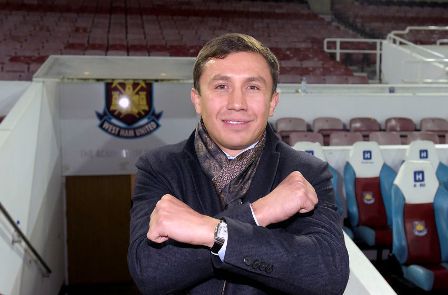 Unified middleweight champion Gennady Golovkin 37-0-1 (33) insists former opponent Canelo Alvarez 49-1-2 (34) doesn't enter his thoughts as he puts the finishing touches on his preparation for his fight against late replacement Vanes Martirosyan 36-3-1 (21) at the StubHub Center in Carson, California on May 5.
"I'm glad to be back in the ring and giving a fight to my fans," said WBA, WBC, and for now IBF middleweight world champion Gennady Golovkin during a workout this week. "I'm happy that Cinco De Mayo will still have boxing. It's good for the sport. I want to stay active. I'd like to fight four or five times every year…when my fight with Canelo was cancelled I never stopped training. I wanted a fight on Cinco De Mayo. I stayed in Big Bear working hard with Abel hoping I'd still be able to have a fight."
The 36-year-old Kazakh power-puncher was originally scheduled to face Alvarez on the May 5 date in Las Vegas, Nevada in a rematch of their controversial draw at the T-Mobile Arena in Las Vegas last September. The popular Mexican was forced to withdraw after twice turning in dirty drug tests for the performance enhancing drug clenbuterol in tests conducted in February. Alvarez withdrew from the fight and the Nevada State Athletic Commission (NSAC) subsequently banned him from boxing for six months.
"Canelo? Right now, he's over," said Golovkin. "Do I want to have the rematch in September? We'll see. It's a different deal. The boxing business is crazy. I'll fight Canelo again. Ask him if he wants to fight me. I no longer think about Canelo. I'm only focused on this fight.
"I'm still comfortable at 160 pounds. There are no big money fights at 168 pounds and besides, I'm small at 160. I only ask for fights. I want more big fights. Huge fights. Title unification fights. I want to stay champion. It should be a clean sport. That's important to me."