Charity boxing night to benefit the Sugar Ray Leonard Foundation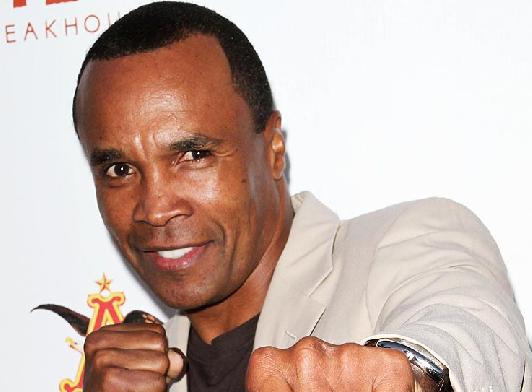 For the ninth year, B. Riley FBR, Inc. will present the annual "Big Fighters, Big Cause" Charity Boxing Night on Wednesday, May 23 at Loews Santa Monica Beach Hotel. Actor and comedian Bill Bellamy will return as host of the star-studded exclusive event that will feature first-class entertainment, four action-packed live fights presented by Oscar De La Hoya's Golden Boy Promotions, and a live & silent auction display featuring iconic memorabilia and one-of-a-kind items and experiences.
Proceeds from the event will benefit the Sugar Ray Leonard Foundation and their mission to fund life-changing research, care and awareness for pediatric type 1 & 2 diabetes, and to help children live healthier lives through diet and exercise.
The live fights presented by Golden Boy Promotions will feature Jousce "Tito" Gonzalez (7-0, 7 KOs) of Glendora, Calif. in a six-round super featherweight fight and Irish pugilist Aaron "Silencer" McKenna (3-0, 2 KOs) in a six-round welterweight fight. Rommel Caballero (0-0-1) will compete in a four-round clash in the 130-pound division, while Oscar Acevedo (2-0) will participate in a four-round super featherweight battle.
Additionally, the evening will honor multi-talented actor, comedian, and committed philanthropist, Cedric "The Entertainer" with the 2018 Golden Glove Award. The award in part will acknowledge his numerous charitable endeavors spanning more than 15 years, which have enhanced the lives of inner-city youth and their families nationally. More specifically, in-theme with the evening's purpose, the Golden Glove Award will be presented in recognition of Cedric's work with Step On Up™ – an educational program, developed by Pfizer Inc. in collaboration with the American Diabetes Association, encouraging awareness, proactivity, and medical screenings among the 29 million people in the U.S. living with diabetes who also experience diabetic nerve pain (aka DPN – Diabetic Peripheral Neuropathy). Diabetic nerve pain is a shooting, burning or stabbing pain in their feet or hands – a condition that affects one in five people living with diabetes.
Since 2014, the charismatic funnyman has been motivating Americans who suffer from these serious conditions to step up and talk to their doctors and medical professionals. "Tell them Cedric Sent You," his effective rallying call, has found its way into American lexicon. Cedric's inspiration for lending his voice to the worthy cause is personal in origin,ignited when his father,who is living with type 2 diabetes, began experiencing diabetic nerve pain.
The Ninth Annual "Big Fighters, Big Cause" Charity Boxing Night is presented by B. Riley FBR, Inc., a leading investment bank which provides corporate finance, research, and sales and trading to corporate, institutional and high net worth individual clients.
A media alert with further information on the fight card and attendees will be announced in the coming weeks. For more information and to purchase tickets, please visit http://www.sugarrayleonardfdn.org/ticket-sales.
About Sugar Ray Leonard Foundation
The Sugar Ray Leonard Foundation was established in 2009 by boxing legend and six-time world champion Sugar Ray Leonard and his wife, Bernadette. The Sugar Ray Leonard Foundation is committed to funding research and care for pediatric type 1 & 2 diabetes and creates awareness for both diseases. The Foundation also strives to help children live healthier lives through diet and exercise.
Type 1 diabetes strikes both children and adults at any age. It comes on suddenly, causes dependence on injected or pumped insulin for life, and carries the constant threat of devastating complications. Type 2 diabetes in children is on the rise, fueled largely by the obesity epidemic.
Leonard draws from his personal experience and boxing career to provide inspiration for funding research to combat the disease. For more information, visit www.sugarrayleonardfdn.org, like and follow on twitter at @SugarRayLeonard and Facebook at www.facebook.com/SugarRayLeonard6.
About Golden Boy Promotions
Los Angeles-based Golden Boy Promotions was established in 2002 by 10-time world champion in six divisions Oscar De La Hoya, the first Hispanic to own a national boxing promotional company. Golden Boy Promotions is one of boxing's most active and respected promoters, presenting shows in packed venues around the world and has worked with networks such as HBO, Estrella TV, ESPN, TeleFutura, FOX Sports 1, FOX Deportes, Televisa and TV Azteca. The company has also promoted some of the top boxing events in the history of the sport including De La Hoya vs. Mayweather, Mayweather vs. Canelo, Canelo vs. Golovkin and other notable pay-per-view fights featuring fan-favorites Bernard Hopkins, Juan Manuel "Dinamita" Marquez, Miguel Cotto, Marco "Baby Faced Assassin" Antonio Barrera, Erik "El Terrible" Morales and Sugar Shane Mosley.
For more information, visit www.goldenboypromotions.com, follow on Instagram and Twitter at @GoldenBoyBoxing and like on Facebook at www.facebook.com/GoldenBoyBoxing.
Read more articles about: