Tyson Fury to follow in Joe Louis's footsteps with "Bum of the Month Club"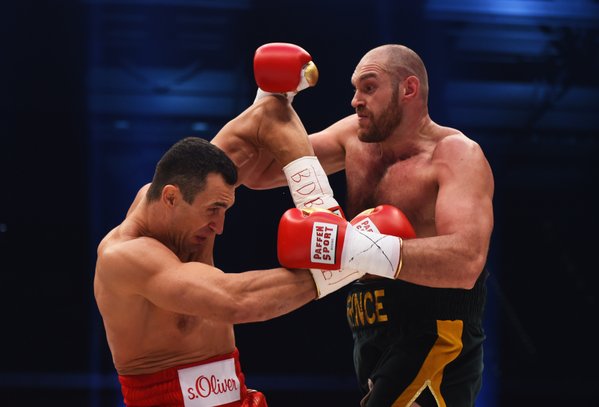 Returning lineal heavyweight champion Tyson Fury 25-0 (18) has revealed plans to fight up to six times before the end of the calendar year after spending over two years on the sidelines since his breakout win over longtime champion Wladimir Klitschko in November 2015.
Fury, the former WBA, IBF and WBO heavyweight champion, made the comments to the media ahead of a media conference on Wednesday to reveal his opponent for his long-awaited return to the ring at the Manchester Arena on June 9.
"Frank Warren has told me umpteen times so I hope and pray he keeps me busy and I know he will," Fury said to reporters on the top floor of the BT Tower on Tuesday. "Very busy, the busiest heavyweight of all champions to date. I'm going to have four or five fights this year. Maybe six, who knows?
"June, then I'll fight July, August, September and October as well. I can't get enough, I love boxing that much.
"I want to fight five times this year, it's very feasible. If anyone can do it, the magic man can do it. Joe Louis had the bum-a-month campaign and that's exactly what I want to do. All this fighting once or twice a year – I hate that inactivity. I want to fight every week if I can, but at least once a month, so I think we can do bum-a-month campaign easy.
"I've had four fights in five years – that's terrible. I've never been active apart from my first year when I had nine fights. A match-fit fighter is a dangerous fighter no matter who you are in there with. It's all experience and getting used to everything."
Fury has returned to boxing with a renewed vigour and enthusiasm since walking away from the sport at the height of his powers and popularity suffering from depression and substance abuse.
"I just want to keep going for as long as possible until I can't box anymore," Fury said. "My style is not taking punches. So I've got no mileage on the clock. I believe I can carry on as long as I want to. I hope I carry on until I can't box anymore. I feel emptiness when boxing is not there. Nothing that you can buy or material can fill that void for me.
"I've got a very long boxing career ahead of me. Look at Bernard Hopkins, James Toney, Roy Jones Jr. Boxing is my medicine."