Anthony Joshua vs Deontay Wilder is "70% done" according to Eddie Hearn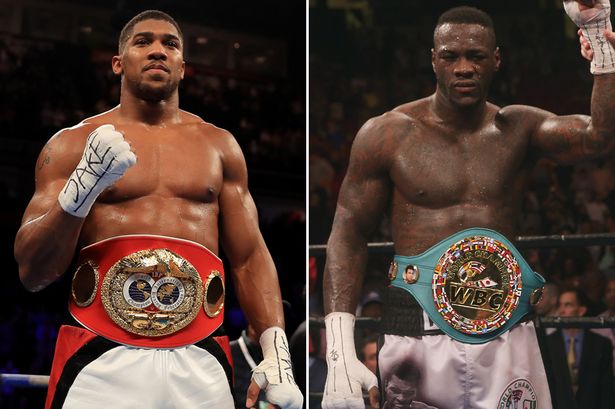 What a difference a day makes.
Matchroom Sport's Eddie Hearn says that the highly-anticipated Anthony Joshua versus Deontay Wilder heavyweight unification bout is 70% likely to happen after positive talks between the two camps in the past 24 hours.
Speaking exclusively to Sky Sports, Hearn replied "70 per cent" when asked how likely the fight was of happening.
"We've had some positive conversations over the past day or so," said Hearn. "Negotiations are ongoing and we're all hopeful to reach an agreement."
Last week Wilder emailed Hearn an offer of $USD50 million for Joshua to face him before the end of the year at a venue to be determined by Wilder's team. Those negotiations quickly stalled when Wilder's adviser Shelly Finkel cancelled a meeting with Hearn last week where they were supposed to flesh out the details of the deal.
Negotiations, it seemed, had reached an impasse.
"I will go back with some very simple questions, which hopefully they can answer, to put us in a position to know whether it is worth talking," Hearn said earlier this week.
"We sent them [on Tuesday] night," Hearn said. "They can't not answer those questions.
"I believe they want to make the fight."
WBA, WBO and IBF champion Joshua, 28, has other options on the table, including a mandatory title defence against Alexander Povetkin. If that fight goes to purse bid, it could well end up taking place in Russia.
Meanwhile rising American heavyweight Jarrell "Big Baby" Miller has also been mooted as an opponent after his win over Johann Duhaupas in a WBA eliminator over the weekend.
"Povetkin is the guy we have to fight next," Hearn explained. "If we fight Wilder, Povetkin will wait. Would we apply for a voluntary? Maybe. Would the WBA allow it? Maybe. But, really, it is Wilder or Povetkin.
"We are talking to Miller, but mainly we are talking to Povetkin because he is the guy we'll have to fight if we don't fight Wilder."
Povetkin's promoter Andrey Ryabinskiy has been pushing for his fighter to face Joshua next. If the veteran Russian heavyweight is expected to step aside, it is likely to come with a hefty price tag.
"I believe that Joshua will follow and co-operate with the rules of the sanctioning bodies for the titles that he holds," Ryabinskiy told Sky Sports last month.
"I think every fighter has to fight the best to prove that he is the best. I see no reason why Joshua would not want to fight Povetkin as his next opponent."