Richie Woodhall not surprised Rio Ferdinand denied boxing licence by BBBofC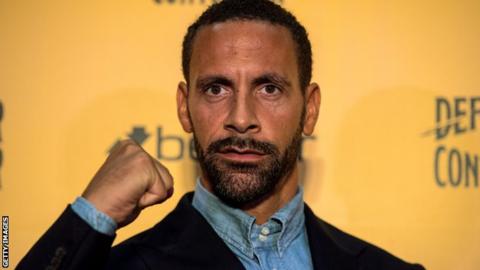 Former Manchester United and England defender Rio Ferdinand has been denied a boxing licence by the British Boxing Board of Control (BBBofC) and his trainer says he is not surprised.
Former WBC super middleweight champion Richie Woodhall who has been training the 39-year-old Ferdinand for a planned boxing debut said he can understand the difficulties in licencing the former soccer player considering his age and lack of experience.
"I said from the word go it would be difficult and the hardest part of the process would be getting a licence," Woodhall told Radio 5 live. "I told Betfair it would be a major issue. When he started he was 38 years old with no boxing experience."
BBBofC general secretary Robert Smith was blunt in his assessment.
"It was not sensible for him or for the sport," Smith told BBC Sport.
Despite understanding the reasoning of the BBBofC decision, the 50-year-old Woodhall, who won the WBC 168-pound world title from South African Thulani Malinga in 1998 and defended it twice before losing the title to Germany's Markus Beyer on points the following year, believes that the national governing body would have benefited from seeing Ferdinand in action.
"I was very disappointed. He would have been OK and made the grade and fought as professional, I have no doubt about that," he said.
"I wish someone from the BBBofC would have come down to the gym and seen him train and spar – they would have granted him a licence straight away."
Meanwhile, Smith said the BBBofC considered the licence application on its own merits and Ferdinand's name and fame did not enter into the equation.
"We received the application and considered it. Every application is considered on its own merits and it had not been refused because of who he is," he said. "There are a lot of things we take into consideration. He never had a competitive fight and although he has been in the gym, there is a difference between being in the gym and boxing.
"We do not deem it beneficial for him to have a licence."