Tony Bellew Proves His Point Against David Haye – Wins For Rodriguez, Ryder And Joyce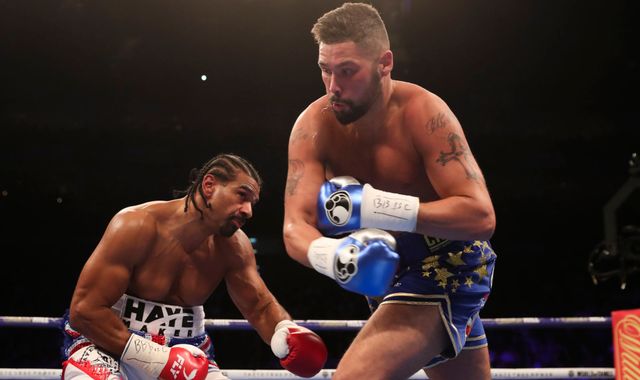 David Haye learned that history really does repeat itself when he was stopped by Tony Bellew in the 5th round at the 02 arena in London on Saturday evening.
Their clash took place approximately 14 months after their original shock encounter in March last year when the Bermondsey fighter suffered an injury to his achilles heel which eventually saw him lose in 11 rounds when his corner threw in the towel.
But this time there could be no excuses.
From the opening bell, Bellew used the jab reasonably well and caught Haye with some counters, although Haye landed some good right hooks in the 2nd round. It looked as if he was getting on top when he was dropped by a left hook. Haye beat the count but the Liverpool fighter put him down again seconds later with a right hand.
Desperation began to kick in and Bellew had to ship some hayemakers, David's famed move, but his opponent was zapped of energy now and they had little effect. Many also missed, which could not have helped his stamina and Bellew was also scoring with the jab and landing rights to the head. Nevertheless, Haye made it to the bell but he had been on rubbery legs throughout the round and went back to his corner in subpar condition.
The end came in the 5th when the two boxers traded punches, but it was Bellew's left hook that saw Haye hit the deck again. Although the 'Hayemaker' bravely got up to continue, the end was nigh. He came under fire by a combination of punches while he was trapped on the ropes and referee, Howard Foster, stopped the fight with Haye still standing but not protesting.
Who knows what the future holds now for the former heavyweight champion but surely many people will be hoping that he bows out of boxing now after a good career that saw him become a belt holder at two weights.
In an entertaining chief support bout, Paul Butler courageously lost his world championship bantamweight title bid against Puerto Rico's Emmanuel Rodriguez by a unanimous decision.
It looked as if it was going to end early when Butler was put down in the 1st round by a left hook upstairs and then once again shortly after. But he managed to show his worth by reaching the distance and giving everything he had.
Rodriguez put on a very clinical display, using the jab well and landing small combinations at times. His accuracy was very good and he put the Cheshire man on the back foot for a lot of the contest. Butler did occasionally land a meaningful punch that got the respect of his competitor, but it was never nearly enough to turn things around in his favour.
Scores of 118-108, and 120-106 twice were read out in favour of Rodriguez who now has compiled a record of 18-0 with 12 KO's.
It was curtains for Jamie Cox as he was knocked out in the 2nd round by John Ryder. He was hoping to get back into world title contention after being stopped by George Groves in October, 2017 but this devastating defeat will no doubt leave him despondent as he was felled by a single heavy well timed right hand by Ryder, who had his back on the ropes. Cox appeared to be attempting to take as much of the count as possible before going on, so when he got to his feet he was shocked when the referee called a halt to the fight.
It will be a long way back for him at this point.
Elsewhere on the bill, Joe Joyce became the new Commonwealth heavyweight champion when he took out Lenroy Thomas in 2 rounds.
The silver medalist had an easy night's work as he pummelled Thomas until the Jamaican finally went down near the bell.
A left hook saw him knocked down again in the 2nd and the referee counted him out. Promoter Richard Schaefer is hoping to get him a British title opportunity next.
In a minor upset, Martin Ward was taken out by James Tennyson in the 5th round by a TKO to become the European and Commonwealth super-featherweight champion.
Tennyson was initially on the receiving end of a painful thud to the body in the 2nd which he had to take a count for. He got up and stepped on the gas in a big way over the next few rounds. The pressure finally got to Ward who was put out by a combination of wallops after seeing the canvas himself in the 5th.
Results from the rest of the bill:
Joshua Buatsi KO 5 Stephane Cuevas
Jordan Gill W Pts Carl McDonald
Luke Campbell TKO 6 Troy James
Kody Davies TKO 1 Przemyslaw Gorgon
Money Powell IV TKO 4 Mark Krammerstodter