Bellew shocks the boxing world again and sends Haye into retirement & undercard results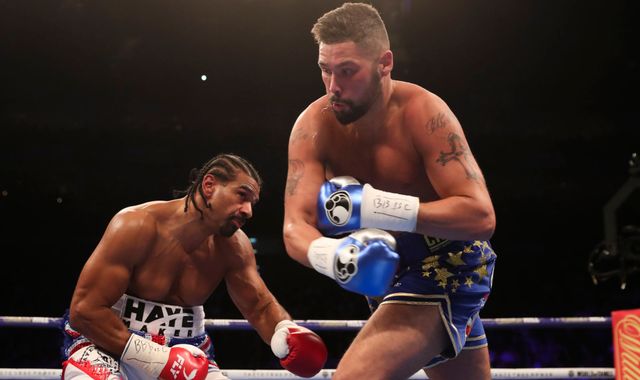 London, England: Heavy: Tony Bellew (30-2-1) W TKO 5 David Haye (28-4). Bantam: Emmanuel Rodriguez (18-0) W PTS 12 Paul Butler (26-2). Super Feather: James Tennyson (22-2) TKO 5 Martin Joseph Ward (19-1-2). Heavy Joe Joyce (4-0) W TKO 2 Lenroy Thomas (22-5-1). Super Middle: John Ryder (26-4) W KO 2 Jamie Cox (25-2). Light Heavy: Joshua Buatsi (6-0) W TKO 5 Stephane Cuevas (8-2-3). Super Feather: Jordan Gill (20-0) W PTS 6 Carl McDonald (3-2). Super Light: Luke Campbell (18-2) W TKO 5 Troy James (20-6-1).
Bellew vs. Haye
No controversy and no injuries as Bellew gets fifth round stoppage of Haye.
Round 1
Bellew was content to be on the back foot with Haye stalking him. Haye landed a fast left right to the head showing impressive speed. Haye continued to probe with his jab and landed a sharp right. Bellew went on the offensive over the last 30 seconds but did not land anything of consequence.
Score 10-9 Haye
Round 2
Haye again went on the offensive with his jab but a right from Bellew just flew past his chin. They were both taunting each other with Haye continually talking to Bellew. Bellew landed a good straight right which had Haye backing off. Haye bounced back with a short attack and then they both stood with their arms spread straight out taunting each other again and Haye had just done enough to take the round
Score 10-9 Haye 18-20
Round 3
Haye was on his toes dancing with his left down at thigh level. Bellew landed a good left hook to the body. Haye came forward throwing punches and backed Bellew into a corner and then stepped back to the centre of the ring inviting Bellew to come forward out of the corner. Bellew worked well with his jab for a while and with less than 30 seconds to go he nailed Haye with a left hook. That punch sent Haye back to the ropes and another left hook and a thunderous right dumped him on the floor. Haye was up at four and after the eight count with the bell had gone during the count the round was over.
Score 10-7 Bellew 28-27
Round 4
Bellew came out throwing wild rights trying to end things and a couple of rights stiffened Haye's legs. Haye kept moving and throwing occasional swipes and Bellew was too wild with his punches and Haye survived the round without too much trouble
Score 10-9 Bellew 38-36.
Round 5
Bellew went onto the back foot early just stabbing out his jab. Haye was tracking him but not really throwing much. After two minutes of neither fighter doing much as Haye tried to move inside Bellew missed with a right but connected with a thunderous left hook to the chin that splayed Haye's legs and sent him stumbling face down on the canvas. He was up at seven and assured the referee he was okay but he wasn't. He was walking on water and as Bellew trapped him on the ropes and began to unload punches the referee stepped in and stopped the fight.
This win puts Bellew right into a key position in the heavyweight mix and he was quick to call out Tyson Fury-but also Andre Ward for some obscure reason. There are other attractive fights out there for him after this high profile victory which puts him in a position where he can pick and choose who he fights next. Dillian White is unlikely to put his WBC No 1 rating at risk but Dominic Breazeale who is No 2 with both the WBC and WBO might be an option. Haye has not said he will retire but at 37 he is running out of time to find his way back to the top but he remains a name and if he decides to continue there are interesting fights there for him.
Rodriguez vs. Butler
Rodriguez wins the vacant IBF title as Butler misses the weight and has a near disastrous first round before being thoroughly beaten by the visitor.
Round 1
Butler was giving away height and reach but matching Rodriguez jab for jab until the Puerto Rican exploded with a lightning quick double left hook to the chin which put Butler down. Butler looked shaken but he was up at eight. Rodriguez came steaming in landing more left hooks driving Butler across to the ropes and the British fighter went down again. He was up quickly and moved and jabbed to the bell.
Score 10-7 Rodriguez
Round 2
Butler recovered well. He was jabbing and moving and throwing some quick combinations. A close round. Rodriguez did not throw much but did look dangerous.
Score 10-9 Butler 19-17
Round 3
Rodriguez did the better work here. He was on the back foot but was quicker with his jab and scored with a pair of nifty combinations just before the bell.
Score 10-9 Rodriguez 29-26
Round 4
Rodriguez scored early with a left hook and some overhand rights and another left hook made Butler stumble. The Puerto Rican was confident enough to be stalking Butler with his hands down and Butler only tried a few punches at the end of the round
Score 10-9 Rodriguez 39-35
Round 5
Butler was livelier in this one and opened up with a sharp right to the chin. Rodriguez then took over stabbing home his jab and getting through with his own right and he took the round.
Score 10-9 Rodriguez 49-44
Round 6
Another round for Rodriguez. He out jabbed Butler landed a peach of a left uppercut and landed some heavy rights over the last twenty seconds.
Score 10-9 Rodriguez 59-53
Round 7
Butler made a fast start to this round coming in behind has jab with hooks to the body. After that Rodriguez took over forcing Butler back with his jab and following the jab with a straight right and a left hook. Butler came to life again late but was stopped in his tracks by a straight right.
Score 10-9 Rodriguez 69-62
Round 8
A comfortable round for Rodriguez. He was able to score at range with his jab and land straight rights with Butler threatening but just not letting his hands go and again he was halted in his tracks by a stiff right.
Score 10-9 Rodriguez 79-71
Round 9
This one was closer as Butler came forward for much of the round and was letting his hands go. Rodriguez continued to slot home his jab and fire straight rights through the Englishman's defence and edged the round.
Score 10-9 Rodriguez 89-80
Round 10
A better round for Butler. Perhaps his best so far. He came forward letting punches fly from both hands and scoring with some body shots. Rodriguez came to life over the last minute landing a couple of left hooks and Butler scaled down his attacks but had done enough early to take the round.
Score 10-9 Butler 98-90
Round 11
Rodriguez round. He was darting out quick punches and then loading up hooks. He had enough time to do same dancing with hands down and although Butler put in an effort at the end of the round it belonged to Rodriguez.
Score 10-9 Rodriguez 108-99
Round 12
Rodriguez finished the fight strongly. He took Butler to the ropes a couple of times and dug in some hurtful left hooks and danced and jabbed his way to victory.
Scores 10-9 Rodriguez 118-108
Official Scores: 120-106, 120-106 and 118-108 all for Rodriguez
The 25-year-old "Manny" wins the vacant WBO title. He had been waiting a long for the tile chance with a proposed eliminating fight with Omar Narvaez constantly being put back and Narvaez then choosing to go against Zolani Tete for the WBO bantam title. As a result this was only his second fight in 14 months so he will be looking to celebrate and then get back into action as soon as possible. Butler could not have won the title as he came in 3 ½ lbs over the division limit and after the disastrous first round he struggled to make any impression in the fight and it was a poor performance from the 29-year-old from Cheshire who won this same title by beating Stuart Hall in 2014. He then relinquished the title without defending it to go back down to super fly where he was beaten in eight rounds by Zolani Tete for the IBF title in 2015. He had won nine contests since then but this was one of his worst showing as a pro.
Tennyson vs. Ward
This one was always going to be a battle between the power and aggression of Tennyson and the excellent boxing skills of Ward with Ward being a pre-fight favourite. Ward is a classy boxer and in the first he was jabbing slotting home quick rights and dodging or blocking the punches from Tennyson. The challenger knew he would be outboxed if he let Ward fight on the outside so he pressed hard but Ward's speed and movement were impressive. Ward showed some top class defensive work at the start of the second but Tennyson did manage to get through with a strong right and after landing some eye-catching shots to head and body Ward landed a rib crunching left to the body that saw Tennyson drop to his knees. Tennyson was up at eight and the bell went. Ward landed a series of body punches at the start of the third but Tennyson just walked through them to work in close. In some ways the knockdown helped Tennyson as Ward was now confident enough to spend more time standing and trading and Tennyson drilled Ward with a right cross and banged home a hurtful left hook to the body. Ward started the fourth moving and boxing but Tennyson hunted him down and again got through with a heavy right and a left hook. Another left hook shook Ward and Tennyson piled on the pressure. Yet another left hook almost put Ward down. Only some smart defensive work and some holding kept Ward in the fight and just before the bell Tennyson landed a right and another blistering left hook. The fight had completely changed over the space of those last two rounds and now with his aggression and power Tennyson that was in the ascendancy. Ward moved more at the start of the fifth and then stood and landed some good punches but Tennyson pounded Ward with a series of head punches driving Ward back to the ropes and Ward slumped down to one knee. He was up at four and after the eight count got an unexpected breather as Tennyson had lost his mouthguard and was trying to pick it up and put it back in his mouth. When he managed that Tennyson marched forward and landed a couple of uppercuts with Ward falling into the arms of the referee who promptly stopped the fight. Huge win for The Northern Ireland "Assassin as he adds Ward's European and Commonwealth titles to the WBA International title he already holds. He showed grit and determination to get up from that body punch in the second and then ground Ward down for his eighteenth win by KO/TKO. A shot at the WBA title later this year or early next is within his grasp. Ward had been dominant in domestic wins over Andy Townsend, Ronnie Clark, Maxi Hughes and Anthony Cacace before knocking out Spaniard Juli Giner for the European title in December. At 26 he has time to regroup but he needs to work out what went wrong here.
Joyce vs. Thomas
Joyce steam roller's Thomas to win the Commonwealth title in only his fourth fight. Joyce was shadowing Thomas in the first holding his hands low and really just looking to land a big punch. Thomas managed to land a couple of punches but Joyce kept coming. Joyce was making no pretence of boxing he was wading in swinging punches and trying to overwhelm the smaller and lighter Thomas. Joyce started to get through with some clubbing shots to the head and Thomas was in trouble. He tried desperately to hold but Joyce drove him back to the ropes and a vicious left hook to the ribs put him down. Thomas made it to his feet and as the bell had already rung he had managed to survive. Thomas was down early in the second but he had been bundled over and it was not a knockdown. Joyce marched forward landing hooks and uppercuts driving Thomas across the ring until Thomas dropped. He beat the count but Joyce continued to land clubbing punches with Thomas just trying to cover up and throwing nothing back. Finally he showed some fight but landed two low punches which looked suspiciously like an attempt to foul his way out of the fight but he was clipped on the jaw with a left and went down and was counted out. At 32 Joyce is in a hurry as this record breaking title win shows. There was nothing pretty about the crude but powerful punches Joyce used to obliterate Thomas and now he will be looking to add other titles. Although this was only his fourth pro fight he is a former Commonwealth Games and European Games gold medallist and Olympics silver medal winner in Rio so he is far from being a novice. Thomas was making the second defence of his Commonwealth title but the 33-year-old Jamaican was overwhelmed by the power of Joyce and has now lost four by KO/TKO.
Ryder vs. Cox
This was a battle of southpaw punchers and was never going to go the distance and Ryder came out on top to keep himself in with a chance of a shot at the WBA title. Both began by testing their southpaw jab with Cox taking the fight to Ryder but Ryder clipped Cox with a couple of short hooks inside and looked to just edge the round. Cox was taking the fight to Ryder again in the second landing a couple of overhand rights but as they both stood in the pocket a short right from Ryder landed high on Cox's head. He took a couple of wobbly steps back and then tumbled over and landed face down on the canvas. He got up to one knee listening to the count but did not start to rise until nine and the referee showed ten fingers just as Cox stood up straight. It was a close run thing but the referee decided that Cox was a split second too late and Ryder was the winner although Cox protested. "The Gorilla" Ryder, 29, makes it two impressive inside the distance wins in a row following his fifth round kayo of Dane Patrick Nielsen in October as he moves to 14 wins by KO/TKO. Ryder made a name for himself when losing a paper thin decision to Billy Saunders for the British and Commonwealth titles in 2013. He did not really kick-on from there losing important fights to Nick Blackwell, Jack Arnfield and Rocky Fielding but the win over Nielsen saw him crash the WBA ratings at No 3 so he will be hoping he can get a title shot out of this impressive win and there is talk of a return with Fielding. This loss is a blow to Cox's title hopes. After winning his first 24 fights the former undefeated Commonwealth champion was knocked out in four rounds by George Groves in a challenge for the WBA title in October and was hoping a win here could lead to another title fight.
Buatsi vs. Cuevas
Olympic bronze medallist Buatsi marches on as he outclasses and then stops willing Frenchman Cuevas. In the opener Buatsi was going to the body and fired home five left hooks to the ribs in a row. Buatsi then settled down to out jab Cuevas and as the round ended found the target with more hooks to the body and some right crosses with Cuevas firing some jabs but not having much success. Buatsi landed to head and body early in the second with Cuevas trying to punch with him. Cuevas was trying to make a fight of it but Buatsi's hand speed was too much for him and he was getting caught with some hard punches to the head. Cuevas tried to trade with Buatsi at the start of the third but was being raked with hooks and uppercuts and a pair of rights to the head saw Cuevas dip at the knees but he fought back landing a good right at the bell. Buatsi decided to do some showboating in the fourth which took some of the pressure off Cuevas but the Frenchman was soaking up some hard punches over the last minute of the round. Buatsi came out firing in the fifth and drove Cuevas along the ropes landing some head-jerking shots and the referee made a good stoppage. The 25-year-ol Ghanaian-born Buatsi registers his fourth win by KO/TKO. He is settling as a pro and improving with every fight. Cuevas, the French No 19, was having his first fight outside France and did well to last as long as he did,
Gill vs. McDonald
Gill keeps busy and stays unbeaten with a win over late substitute McDonald. Not surprisingly Gill won every round with the referee turning in a 60-54 score. The 23-year-old hails from Chatteris the same town as Dave Green the "Fen Tiger". He has a good win over Jason Cunningham so this was just a keep busy outing. Dubliner McDonald is really a super bantam/ feather at most so did well to give Gill six hard rounds.
Campbell vs. James
Campbell was a late addition to the card and was looking to get some work following his split decision loss to Jorge Linares in September. He was much too big and much too fast for James and was able to box on the outside and catch James with counters when James lunged forward. He rocked James with a combination in the second and dropped him at the bell with a left hook followed by a right hook. James beat the count so was there for the third. Campbell rocked James again at the end of the third and a right floored James again in the fourth but the gutsy little James made it to the bell. Campbell drilled James with some straight lefts in the fifth and James did well to stay on his feet. Campbell continued to land hard punches to head and body and the referee stepped in to save James taking too much punishment. There is talk of Campbell, the WBC No 2, fighting his previous conqueror Yvan Mendy now the WBC No 1 to see who gets a shot at Mikey Garcia but with Campbell at No 3 with the WBA the outcome of the Linares vs. Vasyl Lomachenko may open another avenue for Campbell. Former British super feather challenger James has lost his last three 3 fights.
Coronada, Argentina: Welter: Diego Ramirez (15-1) W PTS 10 Walter Castillo (12-2). Southpaw Ramirez floors and outpoints Castillo to retain the interim WBO Latino title. Castillo never stopped walking forward and he was caught time and again with hooks and uppercuts. A left hook put him down in the fourth and although he did well enough to take a round here and there he was continually being shaken by those short punches and looked close to going down again a couple of times. Ramirez won on scores of 98-91 twice and 99-90. This was the second successful defence for the 23-year-old and win No 13 on the bounce. He is the Argentinian No 4, Castillo, the Argentinian No 7 welter, was trying out at ten rounds for the first time. He had also been floored and outpointed in his last fight.
Read a full round-up of this weeks boxing results.
Read more articles about:
Carl McDonald
,
David Haye
,
emmanuel rodriguez
,
James Tennyson
,
Jamie Cox
,
Joe Joyce
,
John Ryder
,
Jordan Gill
,
Joshua Buatsi
,
lenroy thomas
,
Luke Campbell
,
Martin Joseph Ward
,
Paul Butler
,
Stephane Cuevas
,
Tony Bellew
,
troy james