Ryan Garcia and Gary O'Sullivan win in Carson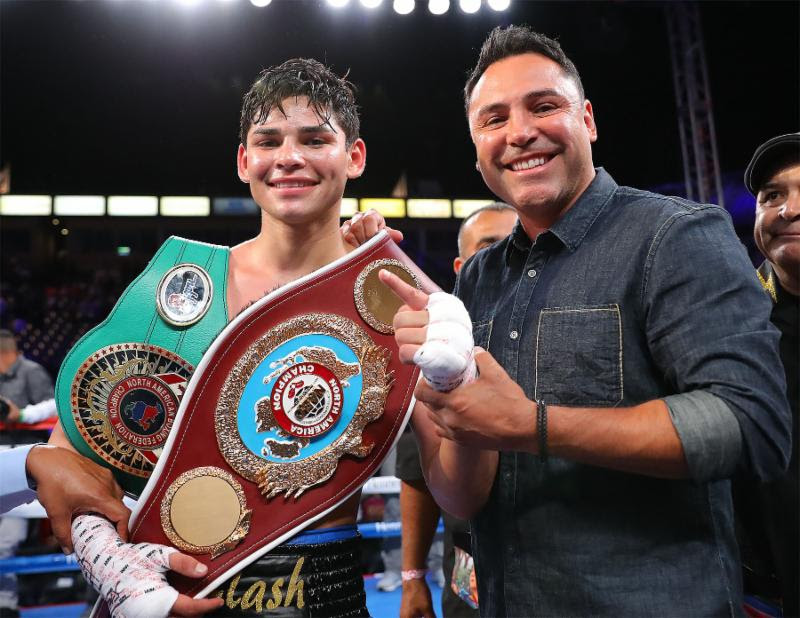 Carson, CA, USA: Super Feather: Ryan Garcia (15-0) W PTS 10 Jayson Velez (26-5-1). Middle: Gary O'Sullivan (28-2) W RTD 3 Berlin Abreu (14-2).
Garcia vs. Velez
Garcia boxes his way to impressive unanimous verdict over more experienced Velez. Garcia had a good degree of height and reach on his side and used those to score on Velez who for forced to try to get inside to work. Garcia either blocked Velez punches or tied him up inside and picked up points with his jab. He scored with a good left hook late in the first and Velez replied with a right.
Garcia used right hand counters to take the second and third and although Velez continued to press in the fourth he was finding it hard to get close enough to land much and Garcia was scoring with his jab, straight rights and right uppercuts. Garcia's hands speed and movement left Velez swishing air in the fifth whilst being caught with hooks and uppercuts and Garcia also took the sixth with a cut opening over the right eye of Velez.
Garcia started the seventh pumping out his jab and then scored with a sneaky right. However Velez continued to roll forward got past the jab more and looked to have outworked Garcia. Over the eighth and ninth Garcia stayed on the outside for much of the time scoring with the jab and right counters and he held off a last round effort from Velez to emerge the clear winner.
Scores 99-91 for Garcia from all three judges. The talented 19-year-old, the WBO No 10 wins the vacant WBC NABF and WBO NABO titles and continues to look a great prospect. If there is a fault then it is a lack of upper body and head movement but his height and quick reflexes have been enough to hide that fault. Puerto Rican Velez, 30, had rebounded from a run of four losses in a row with wins over unbeaten Alberto Mercado, Giovanni Caro and former two-division WBO champion Juan Manuel Lopez so a serious setback for him here.
O'Sullivan vs. Abreu
O'Sullivan gets an inside the distance win as the over-matched Abreu retires after the third round. The Irishman was hunting down Abreu over the first two rounds pressing hard getting through with heavy punches and forcing Abreu to fight with his back to the ropes much of the time.
Abreu did show some life earl in the second landing a few good punches but soon O'Sullivan was back in charge. In the third O'Sullivan kept up the pressure with Abreu just trying to survive. He spit out his mouthguard late in the round and after the bell his corner pulled him out. The 33-year-old "Spike" lost to Billy Joe Saunders for the vacant WBO title in 2013 and to Chris Eubank in 2015 but a seventh round kayo win over Antoine Douglas in December now sees him rated WBO 5/WBA 9/WBC 11.
He was anxious to take Saul Alvarez's place against Gennady Golovkin but will now have to wait and see if another big fight comes his way. Puerto Rican Abreu came in at only a couple of weeks notice and although he had won his last seven fights he caved in under the pressure from O'Sullivan.
Read a full round-up of this weeks boxing results.