Exclusive: David Haye, Sam Jones, Ismael Salas and Richard Schaefer believe Joe Joyce is going to go all the way to the top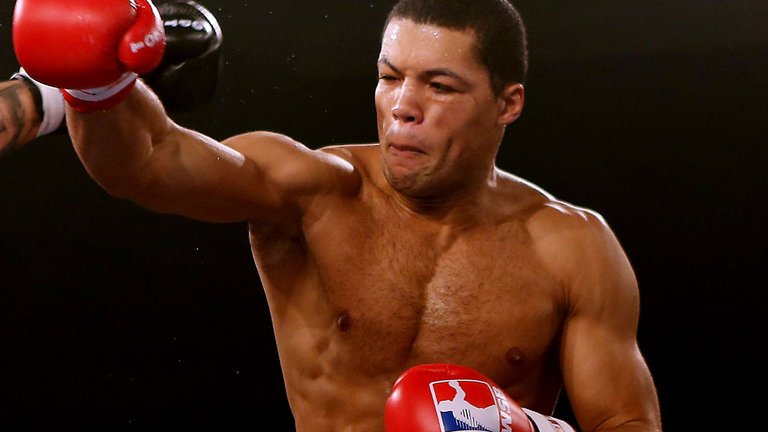 Joe Joyce has been a professional boxer for seven months and has impressed in his short career so far.
Joyce has fought four times and stopped all four of his opponents. In just his fourth fight he fought for, and won the Commonwealth title against Lenroy Thomas. An achievement, Anthony Joshua didn't accomplish until his 14th fight when he stopped Gary Cornish in round one.
Manager Sam Jones believes his boxer is going to go all the way to the top.
He told Ringnews24.com:
"I, and obviously Joe's team, we know he's going to go all the way. It's just about getting the right path. We believe in him 100 percent, his coach [Ismael Salas] believes in him, David Haye believes in him, Richard Schaefer believes in him and it's just about mapping out the plan and executing it."
With four wins from four fights and winning his first title, his team couldn't be happier.
"I'm very impressed. His coach wasn't, the first round in the fight with Lenroy Thomas, Salas wasn't overly happy with Joe. But Joe did what he had to do. Joe said to himself that he hurt him in the first round and he thought he could get him out of there. Joe can fight at that pace, this is what people don't realise, and Joe can fight at that pace for 12 rounds, no problem. Anyone who has been in the ring with Joe will confirm that."
Jones believes there is more to come from the Putney fighter.
"A bit more finesse, he's got a bit more finesse that people haven't seen. People have seen him like a bowler, just go in there and steam role his opponent. But in the past he's been accused of being a slow starter. I don't think you can really accuse him of that anymore and they say he's a bit clumsy looking. But anybody that's been in the ring with him knows what Joe is about and knows there in for a hard, hard nights work.
"He's got a great chin; he's got a great punch variety as you saw against, Lenroy Thomas. There were combinations going into the body and head. I don't believe anyone has done that to Lenroy Thomas before. I know, Dominic Breazeale stopped him in a few rounds, but he didn't do that to Lenroy Thomas – nobody has done that to him."