Unsung Heroes: Cello Renda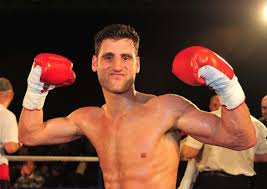 Boxing can be a cruel mistress, you give her everything you have and if you're lucky she will give you her all back for some though she'll throw you the odd glance every now and again just to keep you interested. One of those is Marcello Renda who has been playing this trade for 14 years. During that time, he's won championships, been seen on TV and took part in the 4th Prize-fighter (losing a close points decision to multiple world title challenger Martin Murray.) With an exciting come forward style and an easy-going personality his name should be bigger and should be showcased more for the general public, alas the cruel mistress giveth and taketh away and whilst he's come close many times, he's one of a number of extremely talented boxers to challenge for titles away from our screens.
Cello 'Dangerous' Renda has been boxing since 2004 where he made his debut against an opponent that had a winning record and was a stone heavier the 2nd round TKO saw a mark made on the circuit and wowed the crowd more so as the athletic middleweight has no amateur background and fell into boxing as his aggression started to get the better of him culminating in his arrest at 18 for knocking out 2 rugby players in his local town, narrowly avoiding a jail sentence, the young Cello decided that instead of getting arrested for fighting, he'd rather be paid for it so turned professional. With no amateur background to speak of Cello knew it would be a hard slog and that the bid pay days weren't just around the corner. He spent 2 years fighting across local shows before the Bigwigs at Sky saw something in the youngster and placed him on a programme against Conroy Macintosh who was overwhelmed and stopped in the first round. The young Cello seemingly shined under the bright lights and admitted he performs a lot better under pressure. The boxer confided that the more pressure the better in his eyes. Since then, the Peterborough native has been on and off the screens, sharing the ring with many different opponents, he was also in a fight of the year with Paul Samuels featuring a double knockdown that has been replayed over and over again (It was this fight that made me sit up and notice the undercards more than any other). Alas despite this and more (another FOTY candidate was against Leon McKenzie where he won the Southern Area title, not picked up by any broadcaster though), his appearances on the google box are few and far between, a travesty in this day and age where one of the fans main complaints is of boring by the numbers fights between contender and an outclassed opponent.
Cello is extremely proud of his career in the sport and hopes to achieve more as there's more left in the tank left, you could be forgiven for expecting the man to be a bit disheartened or maybe angry at the injustice's we often see in the sport (away fighters, judging etc.) but with a smirk he claims he's overachieved and nobody expected this of him when he started, the Icing on the cake coming when he was named Peterborough's sports personality of the year cementing a legacy that has shown despite the lack of promotion he is appreciated in the place he calls home.
Normally we'd have a bitch and moan now about what he's missed out on, who's wronged him but Cello refuses to dwell on such things. There are things he may have done differently like had an amateur career and been a bit less trusting of people earlier on who saw the cash signs rather than the talent but 'I am who I am now because of everything that's happened' is the overall response when trying to push the issue.
Underrated and avoided by most Cello is still plying his trade between the ropes whilst having a number of commitments outside the ring, teaching youngsters his craft and passing the knowledge in across the schools (something I believe should be pushed more) and donating his time to the charity Boxing Futures. If you haven't seen any of his fights then do yourself a favour and look them up and see what you can miss out on if all you watch is the massive fights.
Massive, thanks to Cello for taking the time out to talk to me about this and also apologies for taking so long to get it out there. I hope I've done the man justice. Always active on social media and open to the fans he's a cracking sportsman and a role model to boot (something we can't always say about boxers)
As an extra bonus for the readers here's the man himself talking about some of his most memorable fights. (And it's not just about the wins)
"In the Danny Butler fight for the English, my camp didn't go well; weight making and I didn't sleep two days before the fight. And in the first 2 minutes of the fight I got caught cold. It happens; it's a fight I believe I would have won
"The Paul Smith for the English – A fight I was winning going into the 6th round. He hit me with a shot, forced me on the ropes, he put a shot together and the ref stopped it. Which I thought was a bit too soon. I'm defending myself, I'm the winning the fight, I hurt him in the fight – I was hard done by.
"When you're the away fighter that's what happens. I could go on about other fights. People look at my record see losses but you don't know why.
"I fought a lad called Ricardo Samms, the next best thing, talking about him like he was the next Carl Froch. I took this fight at 24-hour notice. It was a four rounder and I dropped him in the first. He dropped me in the second and he won the third and I nearly had him out in the 4th. The ref came over to me about to lift my hand up and dropped it, because there were people at ringside shouting saying 'NOO'. They gave it to Ricardo…he dropped my hand and went over to him and lifted his."