Joseph Parker's promoter labels Tony Bellew "a brilliant cruiserweight with a big mouth"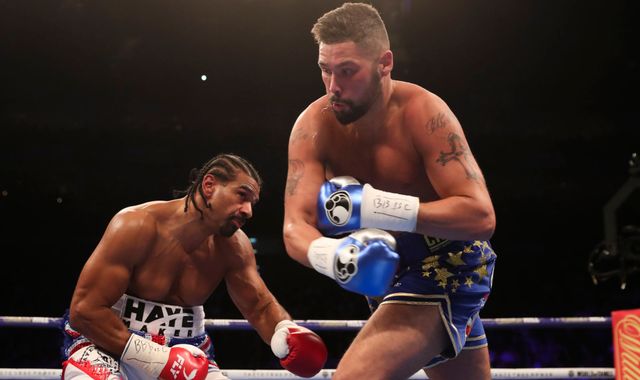 New Zealand heavyweight Joseph Parker's promoter David Higgins has lashed out at Tony Bellew, labelling him a "brilliant cruiserweight with a big mouth" a week after the former 200-pound champion defeated David Haye for the second time in his second fight at heavyweight.
After brutalizing the ageing Haye for four-and-a-half rounds, Bellew told the media that he would be chasing fights with lineal heavyweight champion Tyson Fury, cruiserweight kingpin Oleksandr Usyk and recent retiree Andre Ward.
Parker's team have been open about their desire to return to the United Kingdom, where the former WBO heavyweight champion's last two fights have taken place. In his last outing in March he lost his WBO strap to England's Anthony Joshua 21-0 (20) by unanimous point decision at Principality Stadium in Cardiff, Wales.
Without Parker's world title in play, Bellew claims there's little point in pursuing a fight with the big Kiwi.
"All of the people calling us out have all disappeared," Higgins told Sky Sports. "I think they just wanted a gambling shot at the belt, but they saw how good Joseph looked, and I think he can be a lot better.
"Joshua proved he is a disciplined athlete, because he fought to a plan and kept Joe out for the full 12 rounds. Full credit to Anthony Joshua, but all these guys, having watched that, have gone radio silent."
Never one to miss the opportunity to have a cheeky dig, Higgins took the opportunity to share his thoughts on Bellew's performance against Haye.
"Joseph Parker and our team thought he looked really good, and slick," said Higgins. "When you've got pop like that, he doesn't need to worry about retiring, he actually looked good.
"To earn respect or legacy, or to be thought of as a heavyweight, you've got to beat someone in their prime.
"I don't think Tony will do that, so he will go down as a brilliant cruiserweight with a big mouth."
The 26-year-old Parker 24-1 (18) is looking increasingly likely to face Russian giant and WBA number 10 Alexander Ustinov 34-2 (25) in New Zealand in his next fight. It will be the well-travelled 202cm Belarus-based Russian's second fight in New Zealand after finishing former world title challenger David Tua's career five years ago.