Haney, Greer, Lopez and Foster win in Philadelphia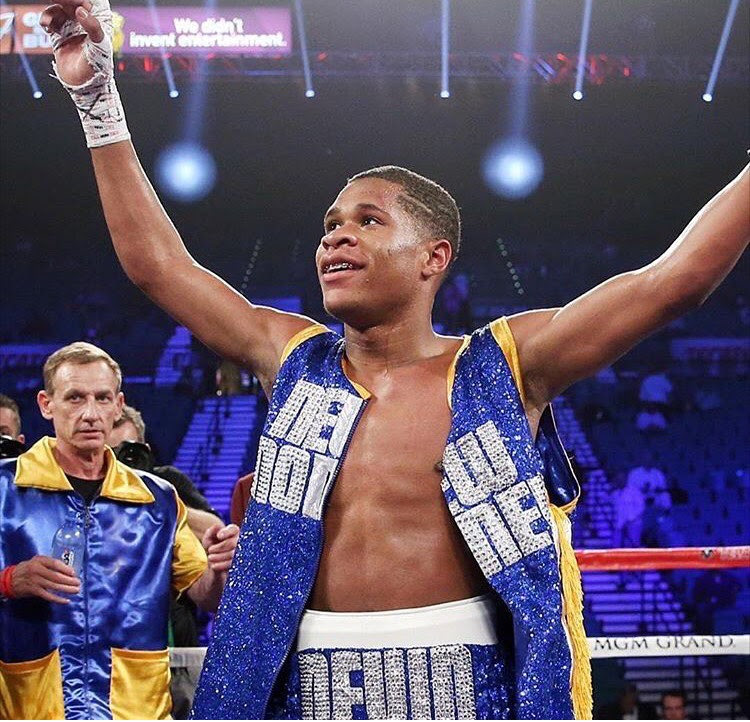 Philadelphia, PA, USA: Light: Devin Haney (19-0) W RTD 9 Mason Menard (33-3). Super Bantam: Joshua Greer (17-1-1) W TKO 8 Glenn Dezurn (9-2-1). Super Bantam: Adam Lopez (16-2-2) W Arnold Khegai (11-0-1). Light Heavy: Charles Foster (16-0) W PTS 8 Alvin Varmall (15-1-1,1ND).
Haney vs. Menard
Haney outclasses experienced Menard. The talented young Haney was just too fast of hand and foot for Menard. From the outset Haney was slotting home jabs and firing quick combinations. Menard tried to cut off the ring to work inside but the lateral movement of Haney and that sharp penetrating jab were just too much for Menard to deal with. Haney slowly wound up his attacks adding more combinations into the exchanges. Menard tried to walk through the punches to get a foothold in the fight but he never came close. As Haney added more power to the mix Menard was having to take some heavy punishment and although he was not in deep trouble he never looked likely to land the big punch he needed and his corner made a sensible decision and pulled him out of the fight at the end of the ninth round. " The Dream" from San Francisco is still only 19. He turned pro at 16 and because of his age he had to go down to Mexico to fight until he was given dispensation to fight in the US. At the age of 17 in his first fight in the US he appeared on the undercard of Manny Pacquiao vs. Tim Bradley III at the MGM. He is trained by former world champion Mike McCallum and must be considered one of the best prospects in boxing right now. Menard, 29, had a breakthrough year in 2016 when he knocked out both 21-0 Eudy Bernardo and 19-2 Bahodir Mamadjonov but the year ended badly when he was knocked out in seven rounds by Ray Beltran in December with Beltran going on to win the WBO title three fights later.
Greer vs. Dezurn
Greer punches too hard for Dezurn. After a close first round Greer rocked Dezurn late in the second with a right. Dezurn recovered from that and from another right in the third. He fought back to just edge the fourth only to be shaken again in the fifth. Dezurn continued to be competitive and rebounded with a strong seventh to keep himself in the fight. It proved a vain effort for in the eighth a big right from Greer literally stopped Dezurn in his tracks and sent him face down on the canvas. Somehow he made it to his feet and convinced the referee he was able to continue but the follow-up attack from Greer had him in trouble and the referee stopped the fight. Chicago's Greer continues his impressive run. He has now won 14 in a row and ended six of his last seven fights by KO/TKO. Dezurn falls to 0-2-1 in his last three fights.
Khegai vs. Lopez
Ukrainian Khegai wins in his first fight in the US as he takes unanimous verdict over the more experienced Lopez. The opening round looked about even but Khegai stunned Lopez with a perfectly timed counter late in the second.  Lopez was taking the fight to Khegai but after that early success with a counter the Ukrainian had found a winning strategy and it was his counter punching that gave him the edge. Things got a little rough inside in some rounds and Khegai lost a point in the sixth for a punch to the back of the head. Khegai tired a bit over the sixth and seventh but produced another hard accurate right in the last to put the seal on his victory. Scores 77-74 twice and 78-73 for Khegai. He moves to seven wins in a row. He had about 30 Muay Thai fights and won versions of the World and European titles before moving over the boxing. This is his first fight outside Russia.  Texan Lopez, 27, won his first 15 fights but is now 1-3-2 in his last six but the other two losses were to the now WBA super bantam champion Daniel Roman and to Jorge Diaz.
Foster vs. Varmall
Foster comes out on top in the contest between two unbeaten boxers. Foster had the better skill set with Varmall being the aggressor, pressing hard but not always being tidy or accurate in his work. With his longer reach Foster managed to box on the outside but Varmall, the harder puncher, kept it close. From the fifth Foster had worked out what he needed to do and from there he bossed the fight. He outboxed and outworked Varmall and constantly caught Varmall with counters. Varmall tried desperately to find a winning punch in the last but  left himself open and Foster eased his way to victory. Scores 79-73, 78-74 and 77-75 for Foster. Two useful wins in a row for the 27-year-old from New Haven who was coming off a victory over 19-3 Justin Thomas in February. "Iron Majik" Varmall from Louisiana had won 5 of his last 7 fights inside two rounds but was well beaten here.
Philadelphia, PA, USA: Super Light: Mykal Fox (18-0) W PTS 8 Anthony Mercado (11-4). "The Professor" adds another wins as Fox scores unanimous decision over Puerto Rican Mercado. Scores 79-73 twice and 78-74. The 6'3 ½" (192cm) Fox is going to be a difficult opponent for any super light and at 22 could yet finish up a couple of divisions higher. If there is a weakness it is in his lack of punch power with just four wins by KO/TKO. Mercado, 23, at 5'11" (180cm) is also tall for the weight. This is his third loss in his last four fights.
Read more articles about: