Harrison, Bone, Tabiti and Miller win in Las Vegas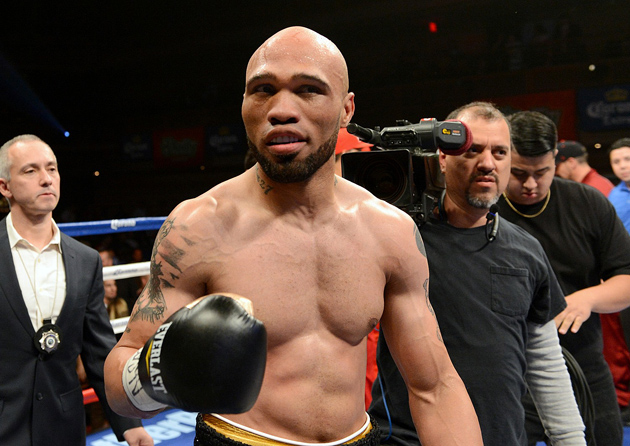 Las Vegas, NV, USA: Super Welter: Tony Harrison (27-2) W PTS 10 Ishe Smith (29-10). Welter: Erick Bone (20-5) W PTS 10 Cameron Krael (13-13-3). Cruiser: Andrew Tabiti (16-0) W KO 6 Lateef Kayode (21-3,2ND). Light Heavy: Lanell Bellows (17-2-2,1ND) DREW 8 Naim Terbunja (10-2-1). Light: Ladarius Miller (16-1) W PTS 8 Jose Marruto (10-8-2).
Harrison vs. Smith
Harrison keeps on track for another world title shot as he wins majority decision over Smith although Harrison looked to have done enough to have won clearly. Both fighters boxed cautiously over the first two rounds. In the third a right cross, a punch that gave Smith problems throughout the fight, caused Smith to dip at the knees and it was counted as a knockdown although it was questionable whether Smith's knees actually touched the canvas, Smith recovered well but Harrison carried the impetus from that success into the fourth which he took with some jolting combinations. Smith had a better fifth as he rattled Harrison with a left only for Harrison to bang back and rock Smith in the sixth and it looked as though he might stop Smith but the veteran survived. The seventh saw Smith outwork Harrison only for Harrison to again swing things his way by scoring heavily in the eighth. Smith was the busier fighter in the ninth but in the last the younger fighter had more left and he took that round and the decision. Scores 97-92 and 96-93 for Harrison and 95-95. An important win for Harrison as he works his way back into contention looking for another title shot after a crushing loss to Jarrett Hurd for the Vacant IBF title in February last year. His only current ratings places are WBC 10 and IBF 11(9) so he has a way to go yet. For 39-year-old former IBF champion "Sugar Shay" Smith time is running out. He was always in the fight here but he is now 4-5 in his last 9 fights with all 5 losses being in important fights.
Bone vs. Krael
Bone gets split decision over Krael after ten entertaining rounds. Bone was off the mark quicker and scoring with eye-catching combinations to build a lead over the first three rounds. The fight caught alight and provided plenty of furious exchanges. Krael looked to be taking over the fight in the fourth and fifth but he only just survived a rocky sixth being in deep trouble at the bell. He steadied the ship with a good seventh and over the later rounds he seemed to have more in the tank and pressed hard eating into Bone's lead connecting with some heavy punches. It proved a case of close but not quite as the decision went to Bone. Scores 96-94 and 95-94 for Bone and 95-94 for Krael. A run of four losses to Shawn Porter, Chris Algieri, Miguel Vazquez and Eddie Ramirez saw Bone return home to Ecuador where he scored three wins over very ordinary opposition before return to the US for this fight. After a run of five losses Krael was 5-0-1 in his last six fights.
Tabiti vs. Kayode
Tabiti wins an ugly fight with kayo of Kayode. The styles did not mesh well and there was too much clinching and wrestling as Tabiti wanted to keep working at a distance and Kayode wanted to get inside, Tabiti looked to have the edge but the finish was sudden. Tabiti had backed Kayode to the ropes and as they worked inside he clobbered Kayode with a booming uppercut that dropped Kayode to his knees and he was counted out. Tabiti, the 28-year-old Chicago "Beast" makes it 13 wins by KO/TKO. With wins over the 17-0 Keith Tapia and former champion Steve Cunningham he is stealthily creeping in under the radar and is already the WBC No 4. He missed out on the big prizes as an amateur getting a silver at the US Championships and a bronze at the National Golden Gloves. Losses to Mike Hunter and Joseph Williams at the US Olympic Trials ended his hopes of an appearance at the London Olympics. US-based Nigerian Kayode, 35, drew with Antonio Tarver and was stopped inside a round by Luis Ortiz with both verdict changed to No Decision when Tarver and Ortiz tested positive for a banned substance. He was stopped in eight rounds by Denis Lebedev for the WBA title in 2015 and his chance has passed him by.
Bellows vs. Terbunja
Unfortunate ending to a good even match. It was close all the way with Terbunja just having a slight edge. In the fifth a clash of heads saw Bellows cut. The cut worsened over the sixth and seven due to punches and after one minute of the eighth and last round the fight was halted as the cut was too severe for Bellows to continue. The scorecards at the stoppage read 76-76 twice and 77-75 for Terbunja so a technical majority draw.Disappointing outcome for 34-year-old Kosovon-born Swede Terbunja as he was re-launching his career after 17 months of inactivity. He was an outstanding amateur being a seven-time Swedish champion who won a gold at the US National Golden Gloves beating J'Leon Love and Luis Arias in the tournament. Bellows 32 fighting in his home city was 11-1,1ND in his previous 12 fights.
Miller vs. Marruto
Southpaw Miller continues to progress with a unanimous decision over Mexican Marruto. Scores 79-71, 78-72 and 77-74 for Miller. Miller made a good start taking the first and then flooring Marruto in the second. From there Marruto showed he was not about to crumble and although a clear winner Miller had a fight on his hands to the final bell. Scores 79-71, 78-72 and 77-74 for Miller. The 24-year-old from Memphis has won his last seven fights including victories over Jamal Herring and Carlos Padilla. Phoenix-based Marruto has lost his last three fights.
Read a full round-up of this week's boxing results.
Read more articles about: