Joseph Diaz Jr: "I know he's the toughest fighter in the division but I'm ready to go out there and bring back the WBC title"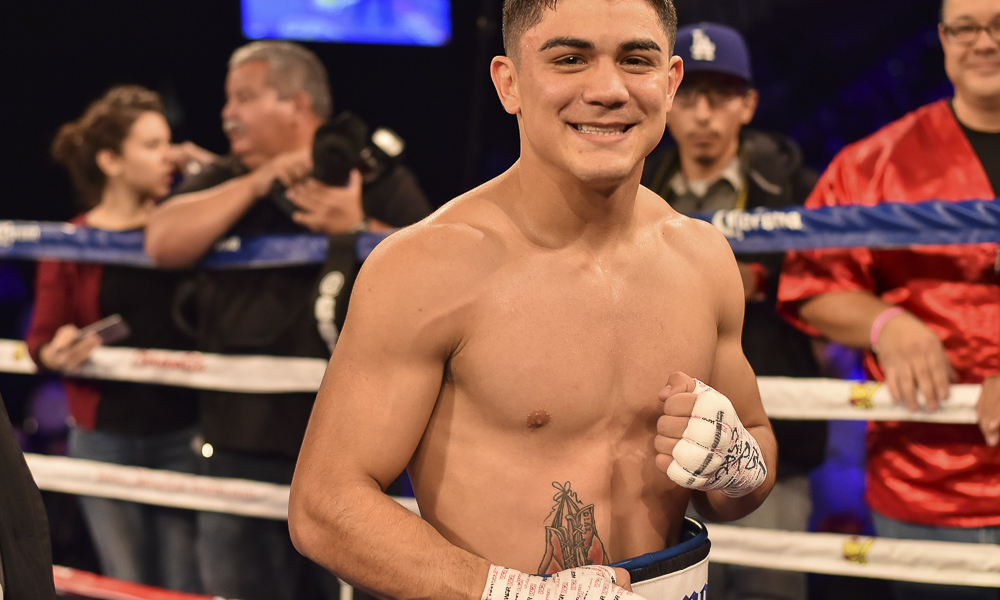 WBC Featherweight World Champion Gary Russell Jr. and unbeaten top contender Joseph "JoJo" Diaz Jr. went face-to-face Thursday at the final press conference two days before they enter the ring May 19 live on SHOWTIME (10:05 p.m. ET/PT) in the main event from MGM National Harbor in Maryland.
The battle between the 2008 U.S. Olympian Russell Jr. and the 2012 U.S. Olympian Diaz Jr. is part of a split-site SHOWTIME CHAMPIONSHIP BOXING telecast that will feature WBC Light Heavyweight World Champion Adonis Stevenson defending his title against two-division world champion Badou Jack in a main event from Toronto.
Tickets for the event, which is promoted by TGB Promotions in association with Golden Boy Promotions, are on sale now and are available by visiting http://mgmnationalharbor.com/.
Both fighters were joined on stage by their fathers who also train them, with Gary Russell Sr. and Joseph Diaz Sr. sitting by their sons ahead of Saturday's matchup. Here is what the press conference participants had to say Thursday from MGM National Harbor:
JOSEPH DIAZ JR.
"It's right here and around the corner. I'm very excited for the moment to be here. I've been waiting for this my whole entire life and I'm not going to take anything for granted. I trained extremely hard for this fight.
"I absolutely think Gary is overlooking me. I think he underestimated me. I've trained for this my whole entire life. This opportunity has been presented to me by my hard work and it's really the opportunity of a lifetime. I can't wait to show everybody my skills and what I'm truly about.
"It's all about timing. Gary has the fastest hands in boxing but we've watched a lot of tape and we see a lot of flaws. Every fighter has flaws. We're just going to capitalize on what we see and take full advantage on Saturday night.
"I don't think Gary having not fought since last year will be any kind of advantage. I want Gary Russell Jr. to be at his best come fight night. I know that I'm at my best and the best man should win on fight night. There shouldn't be any excuses after this fight and after I win the title.
"I believe after I win this title on Saturday night that I'll be on top of the throne in the featherweight division. Hopefully I can get some big fights soon after that.
"I'm prepared for everything he's going to offer. He's going to come out and box a little bit and look to use his jab, create angles and use his speed to keep me out of range. It's going to come to the point where he's not going to want to move as much and he'll starting fighting on the inside. That's where I want to be. We're going to deliver some great blows and may the best man win.
"I know what Gary Russell Jr. brings to the table. I know he's the toughest fighter in the division but I'm ready to go out there and bring back the WBC title. I'm ready to fight the best and unify all the titles.
"It's going to be fireworks on Saturday night. I've had a perfect training camp and I'm on weight. Everything feels great and I can't wait to step into the ring.
"I'm ready for anything. If it stops early or goes the distance, I'm going to keep pushing each round more than the last.
"It would mean everything to win this world title. Not just for myself, but for my whole family. All the hard work and struggles that we've been through, it's finally here. I'm going to do everything I can to come out victorious. Our lives are going to change and I'm going to inspire the youth and the people around me. I want people to know that if you put your mind to it, anything is possible."
GARY RUSSELL SR., Russell's Father & Trainer
"The reason for the inactivity is just politics. We always have the intention on fighting but we want to find the best opponent for Gary. 'JoJo' is the mandatory so we're going to fight him and after we get this win, we're looking at Leo Santa Cruz, Abner Mares, Carl Frampton. We want to unify.
"Before Gary retires from the sport, he'll move up and do whatever it takes to get a rematch with Lomachenko.
"We like to say that this is just Gary's occupation. He gets paid to fight and he's able to support his family because of that. All of the accolades don't really mean anything to him or to us. The WBC belt is definitely the most prestigious, but like Gary said, we're not really into the little trinkets. He would take it to the pawn shop if he could. We're not really into those type of accolades. We just want to conduct ourselves as gentlemen, set an example and get paid."
STEPHEN ESPINOZA, President Sports & Events Programming, Showtime Networks Inc.
"We're thrilled to be here at MGM National Harbor. MGM is an incredible brand that means a lot in boxing. It is a brand that is known throughout the sport at the highest level and we appreciate the entire MGM organization and their support for the sport.
"Gary Russell Jr. vs. 'JoJo' Diaz which is an outstanding matchup. Gary is without questions one of the most skilled—if not the most skilled fighter in any division. He's known for having the fastest hands in the sport. 'JoJo' Diaz is a young rising star who I've known personally since he turned pro. These are two action fighters. They're fan-friendly fighters who will deliver an action packed night.
"It's been an interesting couple of weeks in boxing. A lot of announcements, new ventures and big promises. But here at SHOWTIME we just keep doing what we've been doing, and what we've been doing is delivering the best fighters, the biggest fights, week after week and month after month.
"SHOWTIME CHAMPIONSHIP BOXING is the home of more world champions and more world championship fights than anywhere on any other network. Speaking of title fights, we're going to have three of them, from three different countries. At 5 p.m. ET streaming on the SHOWTIME Facebook and Social Media platforms, we have IBF Featherweight Champion Lee Selby against challenger Josh Warrington. At 10:05 p.m. ET, we will have Russell Jr. vs. Diaz Jr. for the WBC Featherweight title, and immediately following that we'll take you to Toronto for a light heavyweight world title fight between Adonis Stevenson and Badou Jack.
"All six of these fighters competing in Saturday's world title fights are ranked in the top 10 of their division and have a combined record of 157 wins with only four losses."
PETE BRASCIA, Senior VP of Marketing & Operations, MGM National Harbor
"We're very excited to welcome these fighters and everyone involved in this event, back to MGM National Harbor. One year ago I was on a similar stage as we prepared for Gary Russell Jr. to defend his world title, and he did not disappoint his fans.
"The fans here in Prince George's County and the whole region love a good show and a good fight. They love it even more when they can root on their hometown hero. Saturday night, will be no different.
"This will be an incredible show between Gary Russell Jr. and the undefeated Olympian 'JoJo' Diaz. I'm hoping for good weather Saturday night, but I'm certain we're going to get a good show."