Isaac Dogboe and Jessie Magdaleno discuss rematch online while Top Rank plan August return for Ghanaian champion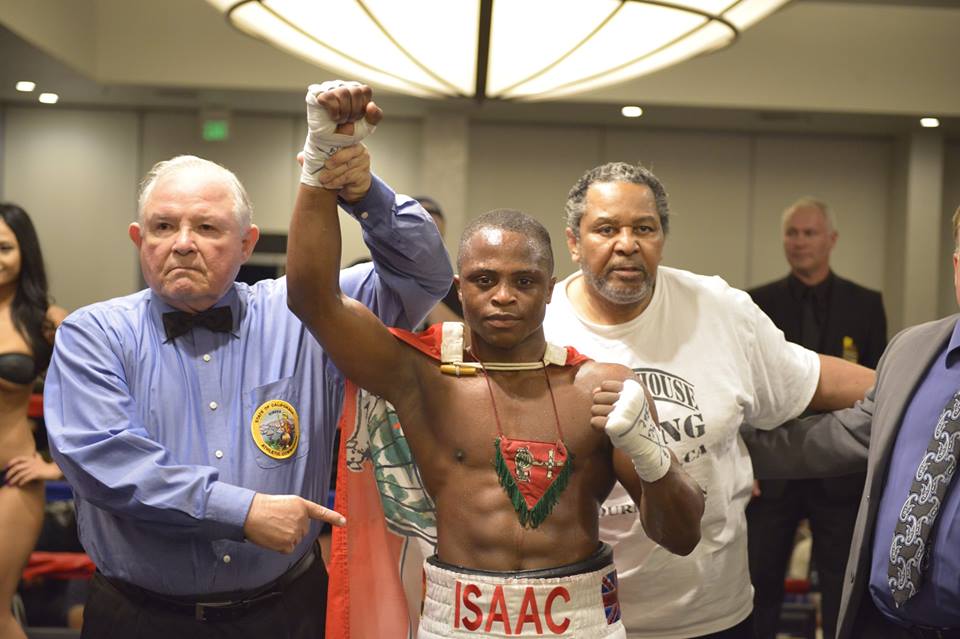 Newly-minted WBO super bantamweight champion Isaac Dogboe 19-0 (13) has engaged in a war of words with KO victim Jessie Magdaleno 25-1 (18) after defeating the 26-year-old American southpaw by 11th round knockout to claim the world title at the Liacouras Center in Philadelphia, Pennsylvania last month.
Magdaleno fired the first salvo on his Instagram page, hinting that he wasn't at his best when Dogboe beat him on the ESPN-televised card: "(W)here you at? (L)et's get this rematch you and I know you can't really beat me at my best just saying you know that!!!!!"
The implication that the proud Ghanaian's win was some kind of fluke prompted a quick and spirited response from the new champion.
"Listen Ex-Champ!" Dogboe replied on Instagram. "Don't Flatter Yourself. I think you are a great fighter, but there's a NEW CHAMP on the block."
Dogboe went on to accept Magdaleno's online challenge, adding in all-caps: "YOU CAN BE MY FIRST DEFENSE."
The first fight was a surprise instant classic, with Dogboe climbing off the canvas in the first round to take control of the bout in the fourth and put a beating on the short-price favourite in the second half of the fight before stopping Magdaleno in the penultimate round.
But before a rematch can be made Magdaleno would have to find his way back into the WBO rankings after being dropped from their top 15 in the wake of the Dogboe loss.
Meanwhile, Dogboe's manager Mike Altamura offered an insight into the new champion's future in an interview with Sports XTRA in Ghana.
"The wonderful thing is, when you've got a boxer of Isaac's ability, you don't have to dodge opponents," the Australian manager said. "You can have a world champion who may not even be the fourth best fighter in the world, they've just won a version of the world title. Magdaleno was undoubtedly the top fighter at 122-pounds through defeating Nonito Donaire when Donaire was still fresh. Isaac now has taken up that mantle."
Altamura remains confident that Dogboe, 23, has the measure of the three other world titleholders and believes that unifications bouts at 122-pounds will eventually take place.
"We're open to facing any of the other champions," said Altamura. "There's Rey Vargas, the WBC champion. Last year they had the opportunity to face Isaac twice, they turned him down twice, when we'd accepted the terms with HBO, so that's there. WBA champion Daniel Roman is interested but he's got his mandatory coming up. IBF champion Ryosuke Iwasa hopefully won't be a champion much longer because he fighting my Irish fighter TJ Doheny in August, so hopefully my Irish kid will beat him.
"But regardless, I'm happy to put Isaac in with any of them, but I think unification is going to come two or three fights down the line. Right now we're talking about returning in August. We're in talks with Top Rank about a defence either in New York or Las Vegas in August. I'm just awaiting the details."
An August return for Dogboe would give Magdaleno the time to face a WBO rated fighter to earn himself a ranking before targeting a rematch with the talented young champion towards the end of the calendar year.