Teddy Atlas refuses to back down on criticism of Jeff Horn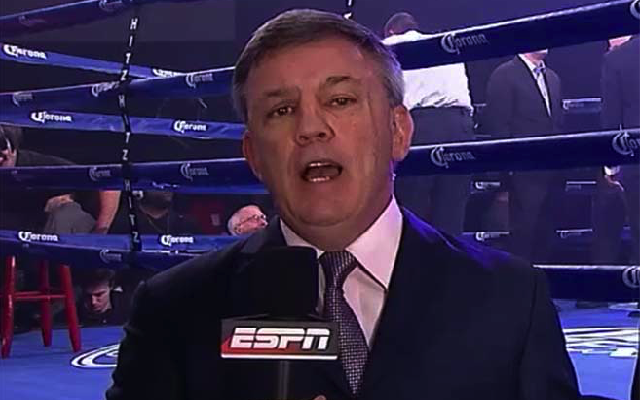 Bombastic boxing commentator Teddy Atlas has doubled down on his criticism of WBO welterweight champion Jeff Horn 18-0-1 (12) just days before he defends his title against undefeated American Terence "Bud" Crawford 32-0 (23) at the MGM Grand in Las Vegas, Nevada.
The 61-year-old veteran broadcaster and sometimes coach tore into the judges after Horn's world title winning effort against Manny Pacquiao in Brisbane last July, declaring to the American viewing audience that Horn has simply won for "trying hard".
In his post-fight interview he spoke down to Horn while praising the former eight-division world champion standing next to him. "I thought you lost, but great effort," he said. "This guy [pointing to Pacquiao] was landing the punches, you were throwing a lot that were missing."
This week ESPN released video of Atlas explaining the keys to victory for Crawford.
"Send him going back to Australia, asleep. It's a long trip," Atlas said in the instructional video.
"Step back, set a trap, get him reaching and bang, catch him with that right hook."
When it came time to explain what Horn had to do to retain his championship belt, Atlas dug his heels in and used the opportunity to insult the 30-year-old former schoolteacher further.
"Horn is from Australia, also referred to as 'Down Under', and that's exactly where he's going – down and under, in five or six rounds in my estimation," said Atlas.
"It's my job though to come up with a scenario, no matter how unlikely, that Horn can win the fight, and if he's going to do it's going to be with his best punch, the right hand.
"If he can do that, well, I'll start believing in flying kangaroos."
Meanwhile, fellow veteran commentator "Colonel" Bob Sheridan lays the blame squarely at Atlas's feet for the champion's lack of popularity in the United States.
"In the back of Teddy's mind at the time, you've got to understand, (Pacquiao's promoters) Top Rank had just signed a huge contract with ESPN and it would have behooved them to have Pacquiao win that fight," Sheridan said to WWOS.com.
"Teddy leaned the other way so far and he stuck with it, because he's that kind of guy. People at home watching on television believe everything he says."
Sheridan, who has broadcast over 10,000 boxing bouts, also singled out ESPN's Stephen A. Smith for talking down Horn's remarkable achievement and negatively influencing the American public.
"But more than Teddy, (Smith) called the fight a fraud, a fix, he said it was all home cooking – but none of the judges were Australian.
"If Smith had done his homework and didn't just fall in line with what Teddy had to say, the American perception would have been totally different."