Dean Lonergan would rather drink "six cups of warm sick" than match Jeff Horn with Anthony Mundine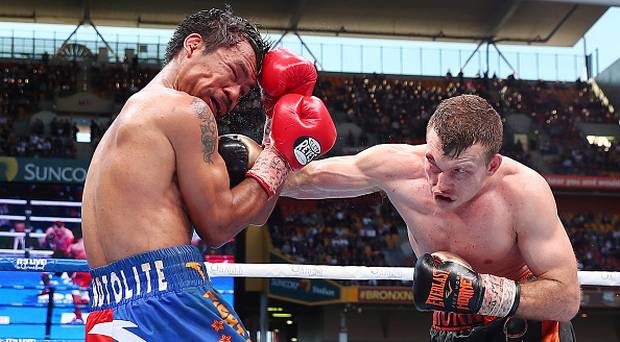 Vanquished Australian former WBO welterweight champion Jeff Horn has had cold water poured on the idea of fight with local rival Anthony Mundine after his promoter Dean Lonergan of Duco Events likened the fight to drinking warm vomit.
"It appeals to me like six cups of warm sick," the Kiwi former rugby league player told News Corp after Horn lost his world title to American Terence Crawford. "Quite seriously, there are great fights to be had over here in the welterweight division.
"Bob Arum has said that Jeff would go well against the other welterweights out there. The reality is Terence Crawford is one of boxing's greats, as good or better than Sugar Ray Leonard according to Arum.
"It actually makes Jeff's performance all the better. So a Mundine fight would be a step back in credibility.
"Tell Mundine the fight won't happen. There is no way I am going to let Mundine run the promotion because at the end of the day I'm the one paying the bills.
"Mundine has recently been talking about racism in the media and how Horn gets all the support in the media. Please.
"I have heard nothing but what a good bloke he is but as soon as you put a microphone near him, all this garbage comes out."
Lonergan said he would prefer his star welterweight to stay at 147-pounds to face Adrien Broner, Jessie Vargas or the winner of the August bout between Danny Garcia and Shawn Porter for the vacant WBC title.
Meanwhile Horn's trainer Glenn Rushton refused to rule out a Mundine bout, saying that "all offers were being considered".
The former champion's father Jeff Sr noted that it was still early days after the dramatic loss to pound-for-pound entrant Crawford, but said that they would prefer to face Mundine at home for a seven-figure payday than clash with another American in the United States for $300,000.
Mundine advisor Emaid Dib, brother of former IBF featherweight champ Billy Dib, believes the fight could deliver a $2 million payday for both fighters.
"The Mundine fight really makes so much sense for both parties," he said. "I really don't understand Dean Lonergan pouring cold water on it and suggesting to fight another big name American. That's easy for him to say that when he isn't copping the punches.
"We're not playing games with negotiations and want to be straight forward.
"Anthony genuinely wants to turn a page with being a role model and will win people over by being humble win or lose to Horn."