Santa Cruz Defeats Mares Again; Charlo Over Trout in Majority Win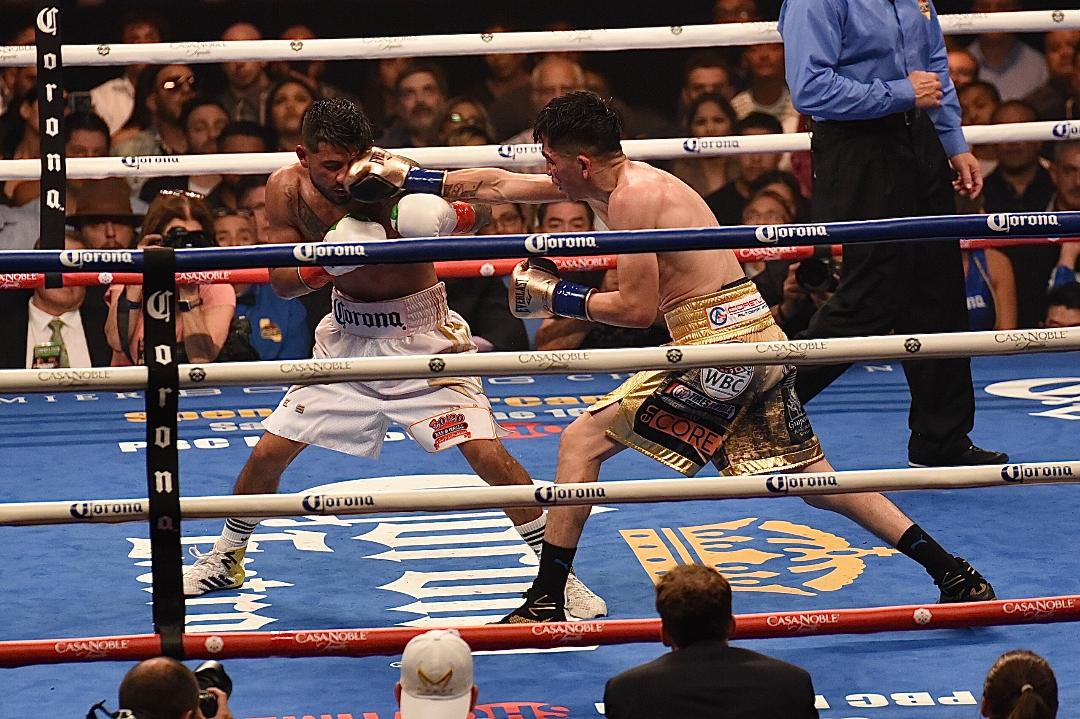 We had a large crowd of 12,505 who were loud and lively at Staples Center in Los Angeles, CA for the Showtime event and there were a lot of fights to see – 10 to be exact. There were three titles on the line in two fights.
The WBA World super featherweight belt as well as the WBC Diamond featherweight title in 12 scheduled rounds. Leo "El Terremoto" Santa Cruz, (35-1-1, 19 KOs) already the holder of that WBA belt, took on Abner Mares (31-3-1, 15 KOs) in a rematch of their fight from 2015.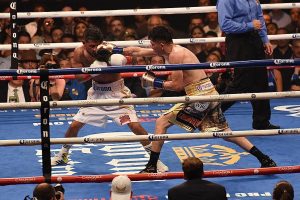 Mares started off very fast but it took no time for Santa Cruz to catch right up. From there, the rest of the round was full of action and both men were able to connect with their punches. It was only the second round and we already had a brawl going on. These two were fighting as if the bout was only for four rounds. Both of them were getting in good shots and both demonstrated their speed straight away as well.
The same pace continued in the third. With nine rounds to go, could they keep this up? It appeared at this point that both men wanted to end the fight early, even though neither one can be considered a knockout artist. Still, they were landing hard, clean shots on each other, and had been from the first bell. At the end of four rounds it was hard from ringside to know who had the clear advantage. They were both doing their jobs.
In the fifth round Leo appeared to be having to chase Abner down more than he had before, but shortly after seeing that, Mares jumped back in the fray. In the sixth and the rounds were flying by. Santa Cruz seemed to have the edge, landing a lot of his punches. But both men were using everything they had in their arsenal, which was a lot, to their advantage. We were getting to see a very good fight here.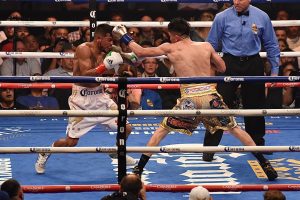 Near the end of the seventh round Mares landed a really good combination of body shots. At the 10 second warning, as had been the norm, the men just pounded on each other until the final bell. It was rather amazing that no one had hit the canvas yet with some of those very hard exchanges.
The eighth round was more of the same. These two featherweights were giving it all. There was no back up or giving in; as the rounds went by thee fighters just got tougher. Abner was trying to come forward a bit more and press Leo, and it worked for him in spots. But then Santa Cruz would unload once again and Mares got caught in the crossfire. With just a few seconds left in the round, Abner took two very hard shots from Leo.
I know I sound like a broken record, but the tenth was more of the same. But in the eleventh, Mares must have felt a sense of urgency, as he really went on the attack the entire round. It was the first time that he seemed to put a cap on Leo. We moved into the twelfth and final. It felt as if the fight had just started; no boredom here!
The last round was everything we had seen up until then, and the fans were eating it up. These two left it all in the ring for us and we went to the scorecards. We had a unanimous decision. The judges saw it 115-113, 116-112, and 117-111 all for Santa Cruz. This was a particularly special victory for Leo.
"I dedicated this fight to my father. My dad is a true champion. Coming into this fight he was feeling really good, but the day of the weigh-in he got really bad. He barely made it to the weigh-in; he had cramps in his neck and could barely move. I was scared he wasn't gonna be in my corner, but he's a strong man, a tough man. We told him not to go but he's a real champion and I dedicated the fight to him."
(Leo's father Jose is in remission from cancer.)
"The people will decide if they want (Abner and I) to fight again. We can do it here in L.A. If they want it I'll give him the third fight, but I beat him twice. This time I fought a little bit smarter. I used my reach more. Mares is a tough fighter. But I want to unify the belts, and I want to prove that I'm one of the best. To do that I have to fight the champions.
"I think a fight with Oscar Valdez would be great. He's a Mexican and comes forward, and I would have to be really careful. But my dad's a smart man and for every fighter he knows how to time me. With Gary Russell you know its timing. He's really fast and everything, but timing beats speed. I would like any of those fighters. Gary has the WBC title."
The WBC Super welterweight title was on the line in this fight that was to go a scheduled 12 as the man with the belt Jermell Charlo (31-0, 15 KOs) faced off against Austin Trout (31-5, 17 KOs). Charlo was making his third defense of the title.
The first round produced some boos early on as the fans did not think enough punches were being thrown. That spurred Charlo on a bit, as he went on the attack and pounced on Trout. But that was the only significant part of the first round. The boos and whistles continued into the second. Jermell was waiting to pick his spots, but that was not happening fast enough for the big crowd tonight.
About midway through the third round Charlo got Trout against the ropes and dropped him with a barrage of punches. He got up and was able to land a few back before the bell ended the round. Jermell had the upper hand in the fourth, as he landed the heavier hands. Austin had yet to get hot enough to hurt his opponent.
The fifth was a rather even round with not too much going on. The sixth was a good round for Trout. He seemed to have warmed up and was more active, and the seventh round was the same. Austin's biggest problem is that he didn't seem to have the goods to really damage Jermell, let along put him on the canvas.
Charlo came back a bit once again in the eighth and remained in control. A punch that Trout said was behind the head and looked that way, dropped Austin in the opening seconds of round nine for the second time in the fight. Jermell hit Trout with a huge shot and it was amazing that he didn't go down. We moved into the championship rounds.
Trout was able to land a lot of punches in the eleventh round, but it was the same as before – none of them really had any effect on Charlo. Austin had a good final round, as the fans booed again. Trout had been down twice, but he kept on fighting, so we went to the scorecards. One score was surprisingly, after two knockdowns by Charlo on Trout, a 113-113 draw, while the others had Charlo on top, 115-111 and 118-108, making the fight a majority decision and allowing Jermell to keep that WBC belt.
The crowd was booing so loudly when they were trying to interview Jermell you were hard-pressed to hear anything he was saying, which I think was the idea. Still, he was able to be Jermell.
"Trout moved, that's why he survived 12 rounds," Charlo said. If Hurd sat in front of me and took those shots, he'd be done. I'll do it right here in L.A."
Trout indicated that he was not finished, and that the better man won on this night.
Super featherweights Karlos Balderas (5-0, 4 KOs) and Alex Silva (3-8, 2 KOs) faced off in a bout scheduled for six rounds. Balderas, a 2016 Olympian, was the better fighter from the beginning, but he got stung with a body shot. As Silva jumped into finish the job however, Karlos landed a perfect left, dropping Alex. A few seconds later, Balderas landed a great body shot of his own, putting Silva down and out at 2:25 of that very first round.
Jose Balderas (3-0) took on Luis Montellano (0-2-1) in a super bantamweight fight that was scheduled to go four rounds. Balderas was on fire in the opener. He was able to land at will and displayed his talents. Jose continued to just tattoo Luis in the second, but Montellano was able to remain standing.
Montellano came out swinging in the third and actually landed some punches, but soon began to miss his target and seemed to have punched himself out. Luis lost his mouthpiece near the end of this last round due to a crisp right hand by Jose. We went to the scorecards. All of the judges were in agreement, 40-36, giving the victory to Balderas.
Women took to the ring for this light flyweight fight that was scheduled for four, two-minute rounds Lina Licona made pro debut against Britteny Horton (0-2) The smaller but very feisty Licona got Horton on the ropes and just pounded her until she went down. She tried to do it again, but the bell ended the round. In the second there was a bit less action, but still the newcomer was showing some skill.
A series of very hard left hands by Lina caused referee Ray Corona to jump in and wave the fight off at :45 seconds of the third round. This was a great debut for Lina, posting her first win by KO.
Angel Alejandro (3-0, 1 KO) faced off against Eric Rocha (1-4). This fight was scheduled for four rounds in the bantamweight division. There was nothing that Alejandro did not connect with in the first round. He landed uppercuts, body shots, and hard shots to the head of Rocha. He was like a menacing, stinging wasp. While he didn't rock him as often in the second, it was still all Angel.
Angel was having his way once again with Eric in the third, but Rocha managed to remain on his feet. We moved into the fourth and final round. Again this round was all Alejandro. Still, we went to the scorecards. It was no surprise that all of the judges saw the fight the same, 40-36, all for Alejandro.
Welterweights Brian Jones (14-9, 8 KOs) and Ivan Redkach (21-4-1, 16 KOs) went up against each other for a scheduled eight rounds. At the end of the eighth and final round both men raised their hands in victory, but we had to go to the scorecards to find out. The judges had all different scores, but with the same man winning. Those scores were 79-73, 78-74, and 77-75 all for Redkach.
Jose Gomez (11-0, 4 KOs) stood across the ring from Ryan Allen (5-2-1, 3 KOs) in a fight that was scheduled for six rounds in the junior lightweight division. This was a hard-fought little bout that had a lot of action throughout. In the end, after a tough final round battle, Gomez got the split decision victory. The scores were 59-55 and 58-56 for Gomez and an interesting 59-55 for Allen.
Jerry Perez (7-0, 5 KOs) went up against Josh Ross (3-8-5) in a fight scheduled for six rounds in the lightweight division right at the bell a little well-;placed right hand dropped Ross. He was able to bet out of the round and even land a shot or two. But early on it was all Perez. At the end of the second round Josh went down again, and in the third he was on the canvas one more time. At that point the fight was over at 2:02 of that third round, as Ross had had enough.
Opening up the afternoon we saw Leo Santa Cruz' younger brother Antonio Santa Cruz (7-4, 3 KOs) go up against Jordan Baletero Reyes (2-7, 2 KOs). This fight was in the bantamweight division and was scheduled for four rounds. Both men were quite active in the opening round and did a good job of landing punches. The same was true in the second round.
In the final two rounds there was some good head and body shots displayed by both fighters, and even though nobody was knocked down they definitely got in their licks. The talent was in the Santa Cruz corner however, and we went to the judges scorecards. All three judges had the fight for the same fighter. They saw it 40-36 twice and 39-37, all for Santa Cruz.
We were also treated to a nice dinner and a press conference that featured Mikey Garcia (38-0, 30 KOs) and his opponent Robert Easter (21-0, 14 KOs) who were there to talk about their fight on July 28 right back at Staples Center. This was a very fun night that featured several good fights, and showcased young fighters, such as the brothers Balderas Karlos and Jose. It also gave us a fight the fans were really into in Santa Cruz and Mares. Job well done.
Read more articles about: