Terence Crawford gracious in victory, Jeff Horn eyeing off late year return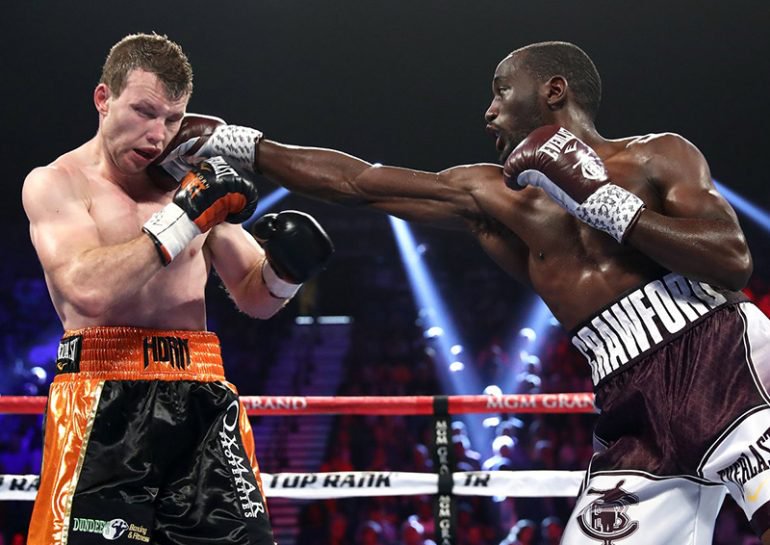 Former WBO welterweight champion Jeff "The Hornet" Horn 18-1-1 (12) has spoken about his plans to return to the ring before the end of the year after his first professional loss to pound-for-pound entrant Terence "Bud" Crawford 33-0 (24) at the MGM Grand in Las Vegas, Nevada on Saturday night.
The 30-year-old Australian, who was comprehensively outclassed by the former two-division world champion from Omaha, Nebraska before being stopped on his feet in the ninth round, also revealed what the new champion had to say to him after the fight.
"We were sitting next to each other after the fight when the doctors were checking us out, and he said 'oh man, you punched the hell out of me in there'," Horn told the media. "I said 'hang on, I've got cuts all over me. Look at me!'
"He was gracious, a lot better than he was before the fight."
Horn was cut early in the fight over his left eye and received another small cut over his right eye as the rounds progressed. In the end he received 26 stitches from a plastic surgeon on hand to patch his face back together should his face open up – a common occurrence for the Fighting Schoolteacher in recent fights.
Horn insists he still has plenty to offer the fight game and believes he matches up well with anyone in the welterweight division not named Terence Crawford.
"I still feel I have plenty more to prove but good on Crawford, he has done very well. I feel like I didn't show all of my skills last night. He's a great fighter, extremely fast and very accurate with his punches," he said.
Horn hopes to return to the ring before the end of the year against a US world ranked fighter. Names being floated included Adrien Broner, Jessie Vargas and the winner of the Danny Garcia versus Shawn Porter fight for the vacant WBC welterweight title in August.