De La Hoya dips into his own pocket to save Triple G vs Canelo rematch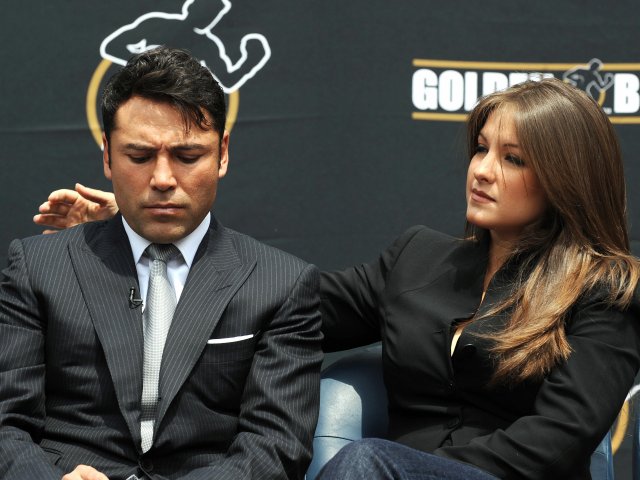 Golden Boy Promotions' chairman Oscar De La Hoya says he personally put up the money to bridge the gap between what unified middleweight champion Gennady Golovkin wanted for the Saul "Canelo" Alvarez rematch to take place and the deal that was already on the table.
In an interview with TMZ.com, the International Boxing Hall of Famer revealed he ponied up "a few million dollars" of his own dough to prevent the lucrative fight from falling over.
"That's exactly why I couldn't let this fight fall apart. I actually came out with my own money, to bridge the gap and make this fight happen. So hey, I'm down a few dollars, but it's alright," said De La Hoya.
"Triple G wanted more, a bigger piece of the pie. It was a matter of a few million dollars. I couldn't get it from Canelo's side because he was going to stick to his guns about how much he's making. So I had to come up with the difference.
"And, for the fans – I did it for the fans. And for myself. I want to see this fight."
The rematch will take place almost a year after the first bout that resulted in a controversial split draw. The scores were 115-113 Golovkin, 118-110 Alvarez and 114-114. That fight drew a live gate of 17,318 people, generating $27,059,850 in ticket sales and produced 1.3 million PPV buys according to the LA Times. The replay on HBO the following week averaged 726,000 viewers and peaked at 840,000.
Golovkin 38-0-1 (34) and Alvarez 49-1-2 (34) were scheduled to rematch on May 5 until the Mexican hero turned in two dirty drug tests dating back to February. The Nevada State Athletic Commission banned him for six months and Golovkin went on to face Armenian-American Vanes Martirosyan, a career junior middleweight who hadn't fought in two-and-a-half years. Unsurprisingly, Triple G blew him out of the water in two one-sided rounds.
De La Hoya had an interesting take on Canelo failing the February drug tests when he tested positive for the banned substance clenbuterol.
"You know it's crazy, in Mexico Canelo is bigger than ever and more popular than ever because clenbuterol in Mexico, it is normal, it's not regulated over there. So when you eat meat you're going to have it in your system. So now the country want Canelo to really knockout Triple G, so this fight is going to be even bigger," said De La Hoya.