Jeff Horn's call for Manny Pacquiao rematch falls on deaf ears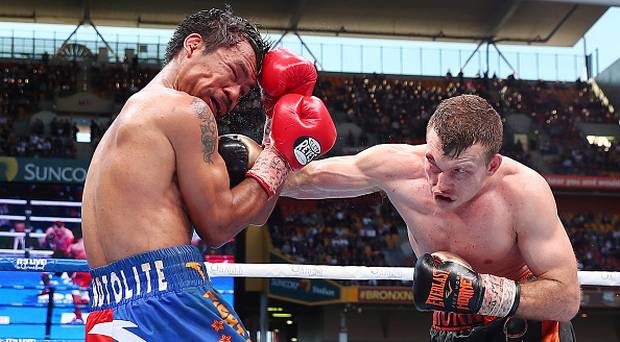 Former WBO welterweight champion Jeff "The Hornet" Horn 18-1-1 (12) wasted no time in getting the message out there that he would welcome the opportunity to face Manny Pacquiao 60-7-2 (39) in a rematch just minutes after the Filipino superstar annexed the WBA welterweight title from Lucas Matthysse in Malaysia on Sunday.
In a simply worded post on his Intsagram account, Horn wrote: "Congratulations @mannypacquiao Rematch? #boxing #worldtitle #pachorn2"
Horn won a hotly disputed 12-round unanimous decision over Pacquiao in Brisbane, Australia last July at the outdoor Suncorp Stadium in front of more than 51,000 fight fans, claiming the WBO welterweight title with the win.
Pacquiao's camp cried foul and lodged an official protest, leading to a review by the World Boxing Organisation who rescored the fight with a panel of independent judges who concluded that Horn was the deserved victor.
Last month Horn lost his WBO title in his second defence against American Terence Crawford at the MGM Grand in Las Vegas, Nevada when he was stopped in nine largely one-sided rounds.
But the 39-year-old Pacquiao, who sent Lucas Matthysse to the canvas three times before stopping him in seven dominant rounds at the Axiata Arena in Kuala Lumpur yesterday, is adamant that his next fight will be in the United States, where he hasn't fought since November 2016.
Meanwhile Horn's promoter Dean Lonergan of Duco Events is deep in negotiations with Anthony Mundine's representatives about a potential big money domestic bout that could net Horn as much as $AUD4 million if the figures bandied about by Mundine's team are to be believed.
"Things can change on a whim for god knows what reason in boxing, so I wouldn't rule out a Jeff Horn vs Manny Pacquiao fight at some stage," Lonergan told AAP.
"But we are deep in discussions with the Mundine camp.
"There's a good likelihood (it will happen), but let's wait and see. You just never know."
Lonergan said Pacquiao's win over Matthysse only highlighted the enormity of Horn's victory over boxing's only eight-division champion in July last year.
"What it does do is it puts in perspective Jeff's win last year. It proved Pacquiao's not past it, like a lot of people were saying," he said.