Christy Martin -The Coalminer's Daughter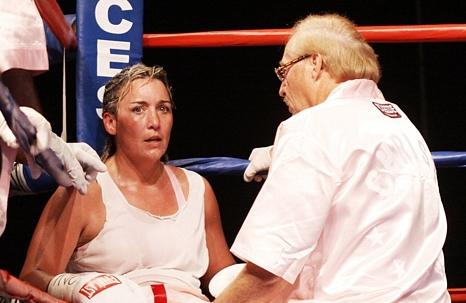 She grew up in a small coalmining town in West Virginia, with a population of around 500. Christy Martin appreciates the need to work hard.
"Pretty much all the men in my family worked in the coalmines, my brother, father and grandfathers. That's where I got my hard work ethic from; I understand hard work and what you have to do to be successful in whatever it is you choose.
We spoke on her way home fresh from being inducted into the Florida Boxing Hall of Fame with Christy acknowledging the accolade.
"It's a great honour; I was also the first woman to be inducted into the Nevada Boxing Hall of Fame. So many great fighters have fought out in Las Vegas so to be inducted into that hall of fame was a huge honour also"
A record of 59 fights with 49 wins 7 losses and 3 draws, Christy would fight anyone, having bouts across 8 different weight classes in her time. Impressive for someone who had no initial desire to become a boxer. Christy takes up the story.
"I got into boxing via a tough woman contest never imagining that it would become my profession. At the time of the competition, I didn't even know that women boxed professionally as no one had been given the exposure I was able to get. I was fortunate to end up being promoted by Don King, fighting on Showtime on the Mike Tyson undercards. I was really in the right place at the right time and I was ready to take the opportunity given to me"
We then went on to discuss some of the more significant fights in Christy's incredible career, 1st of all the first time she fought in Vegas, January 1994 against Susie Melton.
"What you have to understand is the little town I'm from is 1 mile long so to go from a really small place to being under the lights of the MGM Grand was overwhelming. It was hard to really understand what was going on as I was so far out of my element. I was somehow able to channel all of that energy and excitement into my performance in the ring. Susie was a tough girl and was supposed to give me a hard fight but I managed to get her out of there early (TKO, 40 seconds into round 1) and that started the excitement about my career"
Then there was the fight that propelled Christy into the limelight, on the undercard of Mike Tyson V Frank Bruno she was up against Deirdre Gogarty in a 6 round battle in March 1996.
"Gogarty was a good solid tough fighter and I knocked her down early in the 2nd round, but the best thing that happened for me was that she got up and we were able to put on a show for the rest of the fight. It really got the interest of the boxing public, so many people had tuned in to see Tyson and here they are getting a woman's fight. They didn't really know how to react to that but as the fight went on and it was a war it started getting peoples interest. The bloody nose I took in the fight helped too as they thought that as I was a woman I would quit, when that didn't happen and I kept fighting harder it really brought the interest to woman's boxing. There was a lot of action in this fight and we threw a lot of big punches, it made a big statement for woman's boxing. It was also the one that led to me being on the cover of Sports Illustrated magazine"
In 2001 Christy took on Lisa Holewyne at the Mandalay Bay casino in Vegas, they would go on to marry each other 16 years later.
"I didn't know Lisa at all before this fight other than a little video, I thought she was really strong with a great right hand. Before marrying her I always told everybody that I felt this was my most complete performance. I felt like I boxed well, punched well and I think it was my smartest fight. It was my style to get under peoples skin especially if they were bigger and stronger than me, I wanted to make her mad and angry so she would make a mistake. I talked a little bad before the fight and it did just what I wanted it to do; it made her angry so it worked"
Proving that she would take on anyone Christy moved up 2 weight divisions to take on Muhammad Ali's daughter Laila for the World Super Middleweight title in August 2003 losing out to a KO in the 4th round, Christy confessed to giving away around 15 lbs of a weight difference in this fight.
"I fought Laila kind of at the end of my career, I still weighed 147 lbs when I left the hotel but made it look like I was 160lbs on the scales as I weighed in wearing full army fatigues and stuffed my pockets with things to add weight. She was a big girl and in all honesty, she was too big for me but I was still confident in my punching power. I felt that if I hit her with a good right hand then I could hurt her or maybe knock her out. She got me first though and that's the way it goes"
In September of 2009, Christy would again fight for a world title, this time for the WBC super welterweight belt against Dakota Stone. Going the distance she would be crowned champion of the world at the age of 41 with a majority decision to claim her 49th career victory.
"That was an exciting fight, I had been out of the gym a lot dealing with my own personal demons and I wasn't as focused and probably wasn't as prepared as I should have been but I feel like I clearly won the fight, I also broke my hand in a couple of places in the last round but I was excited to become the WBC World Champion"
Christy had married her trainer and manager Jim Martin but it was not a happy marriage, years of mental and emotional abuse had led to her suffering depression. Christy opened up on how she coped with the abuse over the years.
"I took cocaine so I didn't have to deal with him, I could stay high and I did 24/7, it was my way of dealing with the situation I was in. We had some physical altercations but it was more mental and emotional, he would tell me that my family hated me, the boxing world hated me and that he was the only person that cared about me and would look out for me. At the same time as he was saying this he was robbing me, he would go behind my back talking to people telling them I was crazy and was always putting me down behind the scenes. I tried to overdose several times and I put a gun to my mouth a lot of times, I didn't pull the trigger as I guess I didn't have the courage but also thought it wasn't fair to my mum and dad. I was ready to die but didn't have the courage to go through with it"
During this time Christy had reconnected with an old flame Sherry Lusk and had decided to leave Jim for her.
"I had told him where I was going when I left so there was no surprise, he said he would kill me as I walked out the door and I said do what you have to do. I didn't care I was at such a low point in my life I really didn't care"
This led to Christy admitting that her greatest fight came in her own home.
"November 23rd 2010, fighting for my life is head and shoulders above any challenges I had in my boxing career"
"I was back at the house; he came into the room and stabbed me several times. One of the wounds punctured my lung, another cut my calf muscle right through to the bone and it was almost completely hanging off my leg. He pistol whipped me and we were physically fighting, the attack lasted about 35 to 40 minutes but I was still alive. I realised he would have to kill me, how could he ever let me get out of here as I'm obviously going to tell someone what happened. Also with my lung punctured I was going to die if I didn't get help. I basically told him he didn't have the balls to shoot me and then he shot me. He had cut himself at one point and stopped to go and take care of his own injury so left me lying on the floor. I heard him put the shower on and somehow I managed to get up and out. I grabbed the car keys as I thought I'd be able to drive myself to the hospital but I'd taken the keys to the wrong car so I went into the middle of the road and basically carjacked someone to take me to the hospital, that guy is my angel"
The subsequent court case saw Jim sentenced to 25 years for attempted murder.
Christy was in hospital for 7 days and on the 8th day she was discharged and showing incredible strength of character went back to the gym and started training and would indeed fight again 193 days later.
"I still had all my stitches and the bullet in my back but I started training that day, I was scheduled to fight in March 2011 but got a broken rib in sparring which was the rib the bullet went through so I think it was a little bit broken by the bullet but it was now broken in two so it was postponed to June"
Christy would go on to fight Dakota Stone a 2nd time in June 2011 with the fight being stopped in the last round much to Christy's displeasure.
"I broke my hand in 9 places and they stopped it with 50 seconds to go, I begged the ref not to stop the fight, I said I'm winning and I've already knocked her down (Christy was ahead on all 3 scorecards 49-46, 48-46, 48-46). I'd been speaking at a ringside conference previously and said the Dr's and officials have to protect us from ourselves. When he came into my dressing room he used those exact words and told me he was protecting me from myself, I replied I was talking about other people not me. I was going for my 50th win and with 50 seconds to go he had to stop the fight on me, it was heartbreaking but it was God's plan that I was not going to get that 50th win"
With her hand having 9 fractures an operation was inevitable, what Christy didn't know was that this would lead to her being unable to walk.
"I had a stroke at the hospital and they blamed the boxing, but when I left to go into surgery I was fine. I was talking, walking and could see clearly. When I woke up I couldn't walk, couldn't talk, I had double vision and still have vision problems now. I think whatever happened to me happened during the surgery but it is what it is so there's nothing I can do about it"
Incredibly even after this, Christy went on to have one more fight against Mia St John in August 2012, she explained how she found the courage to fight again and how she was cleared to fight.
"I think it was my nonacceptance of what had happened to me, I wanted to get that 50th win as that was so important to me. It was the worst decision I ever made, to try and fight after having a stroke. I lost to a fighter that on my worst day I should never have lost to and had already beaten her 10 years previously. I was a much better fighter but I had just had the stroke and was coming off the back of the trial with Jim and had been in a courtroom every day. That's no excuse though as I climbed up those steps and went through the ropes and my arrogance got me that time"
"I kept the stroke a secret until after the fight, I had already done MRI's for the California State boxing commission for the year prior when I fought Dakota so it was still on file and up to date so I was able to get through"
Work is now going on to make the film about her life, with Amy Schumer scheduled to play the lead role.
"It's very exciting and scary at the same time. Everyone knows my story but now it's going to be criticised as that what happens with movies. I'll have to develop that tough skin I had in boxing and take the negatives with the positives. I'm very much involved and spent many hours with the writer; I'll also be in the gym with Amy as we get closer to filming. I want to be the one that shows her how to throw a left hook. My first reaction to hearing it would be Amy playing me was, she's a comedian and there's nothing funny about my life, however, she is ready to transition to a more dramatic role now and I think it's going to be a good fit for both of us"
Having overcome so much, both as a boxer and as a person. I wanted to know what advice Christy would give to any up and coming young fighter now.
"Have good people around you but don't be afraid to challenge yourself, everybody wants to keep that zero intact but you learn more from a loss than you do a win. If you go in there and take a tough fight and you lose you're going to come back better for it"
My final question was one of reflection – if she were to meet Jim face to face now, what would she say to him. After a moment's silence Christy came back with "I've got a little bit of smart-ass in me so I'd probably say you never were able to finish anything you started!"
Read more articles about: