Manny Pacquiao suffered heart ailment in lead up to Lucas Matthysse fight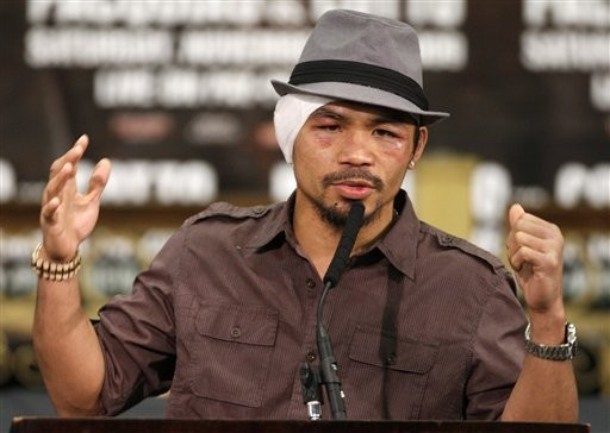 Manny Pacquiao's fight against Lucas Matthysse for the WBA welterweight title in Kuala Lumpur, Malaysia last weekend almost fell through at the last minute after the Filipino senator reported heart problems.
According to reports from the Pacquiao camp the eight-division world champion underwent a battery of tests including an angiogram a week before travelling to Malaysia and was advised by doctors to withdraw from the bout.
Pacquiao's publicist Aquiles Zonio has revealed to Philboxing.com that Pacquiao was taken to Cardinal Santos Memorial Hospital in Manila for a secret set of tests on July 8 after complaining of breathing difficulties a number of times.
The angiogram reportedly identified a congenital heart ailment.
When Pacquiao told his lifelong friend and trainer for the Matthysse fight Buboy Fernandez of the results, he reportedly broke down in tears.
"Those who were with me were saddened and crying. But I told them, 'don't worry, I'll be okay and I'll do everything to win the fight'," Pacquiao, who defeated Matthysse by seventh round TKO, was quoted as saying.
Instead of pulling out of the fight as the heart specialists wanted, the 39-year-old Pacquiao instead signed a waiver that presumably absolved them of responsibility while acknowledging the danger fighting with the heart condition placed him in.
It was Pacquiao's first fight in a year since losing his WBO welterweight title to Australian Jeff Horn in front of 51,000 fight fans at Brisbane's Suncorp Stadium last July.
The 12-time world champion, who has said he expects to fight two to three more times before retiring, told the LA Times that he would like to fight in the United States again.
It remains to be seen how the American state-based boxing authorities react to news of Pacquiao's heart condition and if it will prevent him from being licenced to fight in the USA.
Pacquiao isn't alone in dealing with heart issues. Shortly after his loss to Michael Moorer in a world title fight in 1994, former undisputed heavyweight champion Evander Holyfield was forced into a brief retirement after being diagnosed with his own congenital heart condition.
Holyfield, then 32, fought the ruling and was permitted to return to the ring a little over a year later. He would fight a further 25 times and win the world title twice more, including his signature back-to-back victories over "Iron" Mike Tyson.