Carl Frampton admits Luke Jackson is riling him ahead of Windsor Park clash for the interim WBO featherweight title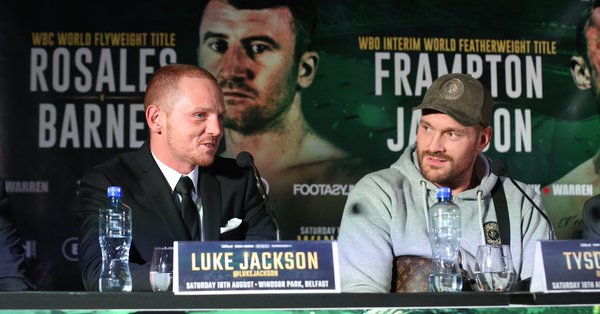 Interim WBO featherweight champion Carl "The Jackal" Frampton 25-1 (14) has admitted that challenger Luke "Action" Jackson 16-0 (7) is starting to get under his skin with jibes delivered from half a world away in Australia.
"I've seen some footage of Carl's training. He still looks sluggish and bit heavy. It seems he is always on a plane going to places," Jackson, 33, was quoted as saying this week.
The 31-year-old Frampton, who will make the first defence of the title he won against Nonito Donaire in April when he takes on Jackson at Windsor Park in Belfast, Northern Ireland on August 18, was quick to respond.
"I heard this and he is starting to annoy me, but we will see what shape I am in on August 18," Frampton said. "If he is trying to wind me up it is working. I am looking forward to August 18 and if we are talking about how we look I think Jackson looks older than my da."
WBO number five Jackson, a former Olympian who captained the Australian boxing team at London 2012, landed the plumb assignment after higher-ranked contenders were unavailable to face the popular Frampton in August in what will be his first stadium fight.
Jackson has long been chasing a fight with full WBO featherweight champion Oscar Valdez 24-0 (19), who suffered a broken jaw at the hands of an overweight Scott Quigg 34-2-2 (25) in his fourth title defence in March and is expected to be out of action for the rest of the year.
"They're overlooking me," Jackson said. "I'm just Luke Jackson from Australia, who they are supposed to bowl over.
"I'm here in Sydney working my arse off. I can cause an upset and that is what I plan on doing."
The unbeaten Australian, who hails from Hobart on the island of Tasmania but is trained out of Sydney by Billy Hussein at the Bodypunch Gym in Lakemba, is deep into the longest training camp of his career.
"I am having a full eight weeks with Billy and had two weeks of conditioning in Tasmania before coming up to Sydney," said Jackson, who will spend some time acclimatising in Dubai ahead of the fight before proceeding on to Belfast. "Everything is good. My weight is right and everything is ahead of schedule.
"I have been doing 12 round sparring sessions and sometimes we have had to cut to ten because they couldn't stay with me.
"I always train hard, but when you are fighting a guy of Carl's stature I have to be better in every area.
"I am pushing hard in the gym and I think it's gonna show. It's showing in my training and Billy is very happy with me."
Meanwhile in the northern hemisphere Frampton says his own training program is progressing as planned.
"I am flying at the minute and I will be ready for Jackson," said the former IBF and WBA super bantamweight champion. "I have been sparring this week and things are going well.
"I am totally focused on Jackson and getting the job done at Windsor. If he thinks I am taking him lightly he is badly mistaken.
"He can say what he wants but come fight night, I will be good to go and we will see what happens."