Jeff Horn vs Anthony Mundine almost a done deal for November 17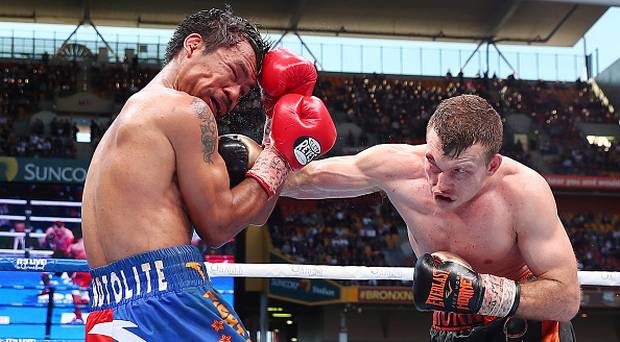 A deal to match former WBO welterweight champion Jeff Horn 18-1-1 (12) with former WBA super middleweight titleholder Anthony Mundine 48-8 (28) in a catchweight bout is close to getting signed with weight the only remaining sticking point.
The camp of former Brisbane schoolteacher Horn is refusing to budge on a 70kg (154-pounds) weight limit while Team Mundine are holding out for 71kg (156-pounds).
"We have already conceded a lot to Anthony and his team," said Horn's trainer Glenn Rushton to the Courier Mail this week. "We have agreed to a 50/50 split and to the fight being a co-promotion rather than our promoter Dean Lonergan staging the event alone.
"But we are not budging on the 70kg. Anthony agreed to that at the start of negotiations before changing his mind but we are staying firm. Jeff is already coming up from 66kg so he is giving away a lot of size to start with."
Horn, known variously as "The Hornet" and "The Fighting Schoolteacher", lost his welterweight crown in a nine round rout to top three pound-for-pound boxer Terence Crawford last June. Rushton is conscious of what back-to-back losses with mean for Horn's career.
"We cannot afford to make a mistake with this fight," he said. "We are rebuilding Jeff towards becoming a world champion again and we are not going to give Anthony the head start he wants."
Emaid Dib, adviser to Mundine, said that negotiations are in their final stages and he expects the fight to be made in the near future.
"Anthony is very confident he can beat Jeff," said Dib. "He has already started light training for the fight and we will ensure he has the best preparation of his career."
Horn, 30, has previously stated that the first boxing match he ever saw was the domestic blockbuster between Mundine and Danny Green at the Sydney Football Stadium in 2006. Eleven years later he was in his own blockbuster event when 51,000 fans showed up at Brisbane's Suncorp Stadium to watch Horn outwork the legendary Manny Pacquiao over 12 fast-paced round to claim the WBO welterweight championship.
Mundine, 43, wants the fight to take place in his native Sydney, conceding it could be his last time in the ring.
"He wants input into the venue and his preference is to fight in Sydney," said Dib. "This could be his last fight and he's looking to go out with a big win over someone who is very highly regarded."
But according to Rushton, the venue for the fight will go to the state with the biggest budget.
"It's quite simple," said Rushton. "If the Queensland Government decides to back the fight as they did the [Manny] Pacquiao bout, it will be in Brisbane.
"If the support isn't there, it could go to New South Wales or even South Australia."