Edis Tatli retains his European title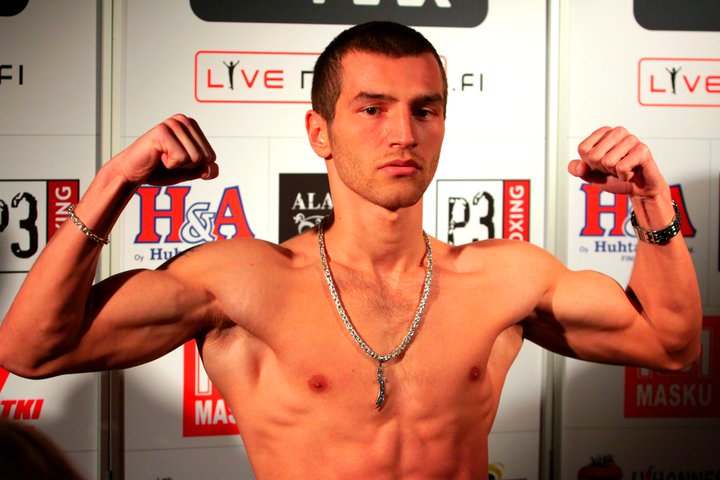 Olavinlinna, Finland: Light Edis Tatli (31-2) W PTS 12 Frank Urquiaga (12-1). Heavy: Robert Helenius (27-2) W PTS 6 Yury Bykhautsou (10-17-3). Super Bantam: Jose Antonio Sanchez (9-0-1) W PTS 8 Jose Hernandez (4-27-1,2ND).
Tatli vs. Urquiaga
Tatli retains the European title but is given a tougher time than expected by Peruvian-born Urquiaga. Tatli made a confident start making good use of his longer reach to score with jabs over the first two rounds. Urquiaga began to roll from the third but already the attention from Tatli's jab had started a swelling by his right eye. Despite this Urquiaga was able to get through with some good short punches and the fight warmed-up and produced some exciting exchanges as Tatli was throwing more short punches of his own. Urquiaga pressed hard over the middle rounds scoring well to the body. Tatli was landing some hard uppercuts but Urquiaga was just a bit busier. The pace seemed to tell on Urquiaga but they both landed some quality punches in the seventh and eighth. Urquiaga had never been in a fight scheduled for more than eight rounds before and he tired over the last three rounds. He did enough to make the tenth close but Tatli knowing the fight was close edged the last two rounds and retained his title. Scores 116-112, 116-114 and 115-113 for Tatli. The 30-year-old Kosovon-born Finn was making the first defence of the title in his second spell as champion. He lost a majority verdict to Richar Abril for the WBA title in 2014 but recovered from that to beat the current WBC No 1 Yvon Mendy in 2015 to win the vacant European title. Things were going along well until he lost the European title to Francesco Patera in May last year but he regained the title with a win over Patera in December. He is rated IBF 4(3)/WBC 11but with Mikey Garcia and Vasyl Lomachenko now lightweight title holders Tatli will find it difficult to get another title shot. On paper Urquiaga looked to be one of the weakest European title challengers for a long time and he only got the title shot because Marvin Petit pulled out last month with an injury. Despite that Urquiaga performed well above my expectations and was a very competitive challenger.
Helenius vs. Bykhautsou
Last time these two met Helenius won an unconvincing split decision. This time Helenius took a unanimous decision but it was a pedestrian effort. The scene was set from the opening round with Helenius on the back foot stabbing out his jab only for Bykhautsou to walk through the jab and take Helenius to the ropes. Helenius scored with short hooks as Bykhautsou moved in and tried to hold when they came together. Bykhautsou just kept padding forward looking dangerous with some wide swings and working the body inside. It was an insipid performance from Helenius who was never able to subdue or hurt Bykhautsou. He was the one landing the cleaner punches and deserved the decision but seems to be going backwards. Scores 60-55, 59-55 and 58-57. Helenius is No 7 with the EBU but a wide unanimous decision loss to Dillian Whyte in October killed off any hopes Helenius might have had of getting some big fights and the two performances against Bykhautsou have been poor. Belarusian Bykhautsou is now 1-9-1in his last 11 fights.
Sanchez vs. Hernandez
A Spaniard based in Finland beats a Nicaraguan based in Spain, Sanchez boxed his way to victory in this one but Hernandez made him work hard. Sanchez was able to use his longer reach to keep popping jabs in Hernandez's face and he was quick and accurate. He was not loading up on his punches so Hernandez was able to march forward and press hard but the hand speed and movement of Sanchez foiled the Nicaraguan's attempts to get inside. Hernandez tried switching guards a few time but that made no difference and he was a very tired fighter by the final bell. Scores 80-72, 79-74 and 78-74 for Sanchez. He remains unbeaten but may lack the power to go much further. Now 16 losses in a row for Hernandez. Plenty of activity is the reward for being a reliable loser.