Romero gets controversial unanimous verdict over Herrera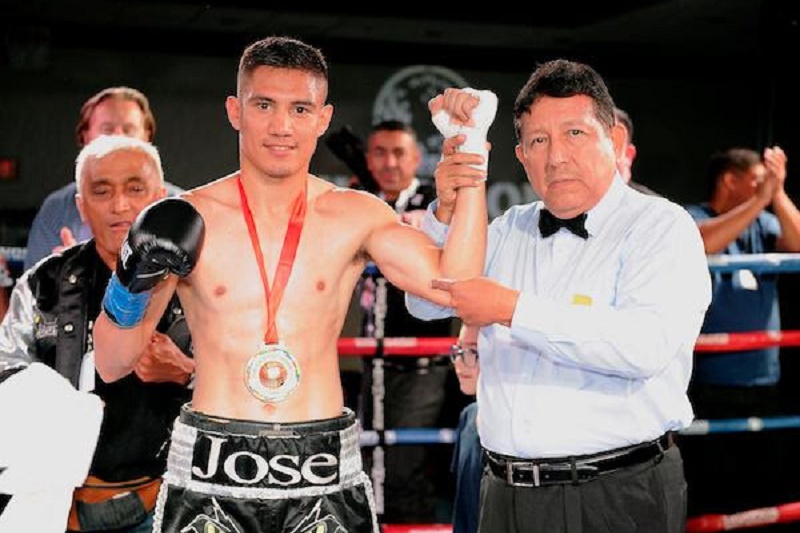 Sampacho, Argentina: Super Feather: Jose Romero (19-0) W PTS 10 Javier Herrera (15-2). Super Bantam: Julian Aristule (33-9) W TKO 5 Alejandro Gaspar (12-4-2).
Romero vs. Herrera
Local fighter Romero gets controversial unanimous verdict over Herrera. Romero just edged the first round but in the second Herrera backed Romero into a corner and put him down with a left hook. Romero was up at six and badly shaken but made it to the bell. He recovered and boxing on the back foot and countering looked to have edged the third and fourth. The fifth and sixth were close but the power of Herrera saw him just have the better of the exchanges. Romero won the sixth with a peach of an uppercut and some hard rights and just edged the seventh. It was near disaster for Romero in the eighth as Herrera sent him staggering into the ropes with a couple of rights and Romero had to hold to survive. The ninth was another close round but Romero produced the better work in the last. Scores 97-92, 97 ½-93 ½, 97-94 ½ all for Romero who wins the vacant Argentinian and IBF International titles. The 22-year-old former Argentinian amateur champion was rated No 1 going into this fight but many saw him as a very lucky winner. Herrera, 25, the Argentinian No 7, had won his last nine fights and this was his first scheduled ten round fight. He deserves a return.
Aristule vs. Gaspar
Southpaw Aristule, the Argentinian No 6, gets brutal stoppage of Gaspar to advance to the semi-finals of a National super-bantamweight Tournament. Aristule's power had Gaspar in trouble from the start. He had Gaspar stunned in the fourth with the referee moving in and giving Gaspar a standing count. In the fifth Aristule dropped Gaspar with a thudding left. Gaspar beat the count but was driven to the ropes. They stood and swapped wild punches with Aristule landing a series of neck-snapping lefts to the head that eventually sent Gaspar down the ropes and on to the floor and the fight was waived off. Now 17 wins by KO/TKO for the 34-year-old former Argentinian champion. He will now meet Roman Reynosa in the semi final on 5 October. Gaspar the Argentinian No 3 suffers his third loss by KO/TKO.
Sydney, Australia: Super Feather: Billel Dib (22-3) W PTS 10 Bruno Vifuaviwili (21-2-1). Dib gets revenge for an upset loss to Vifuaviwili in March and also wins the WBA Oceania title. Dib never let the Tanzanian get a toe hold in the fight. The Australian outboxed Vifuaviwili being quicker, more accurate and busier. Vifuaviwili tried to press the fight but was too slow to really pose any threat to Dib. Scores 100-90 twice and 98-92 for Dib who badly needed this win after suffering consecutive losses. Billel, the younger brother of former IBF champion Billy, had a twelve-bout winning run broken by a points loss to Yuandale Evans in April last year and then dropped a majority verdict against Vifuaviwili in March this year. Vifuaviwili had won 15 in a row including the victory over Dib which gave him the vacant WBA Oceania so he loses his title in his first defence.
Quellon, Chile: Bantam: Jose Velasquez (21-6-2) W KO 2 Jonathan Burgos (13-6-1). After a poor first round home town fighter Velasquez ands it in the second with a body shot. It looked as though this might be a difficult night for the local hero Burgos looked a couple of divisions bigger than the little Chilean and dominated the first round with stiff jabs and long rights. Bustos started the second confidently landing a left jab/straight right/left hook combination and waving his arms over his head in appreciation of his own work. Velasquez began to walk through the jab and he took Burgos to the ropes and landed a crippling left hook to the body that dropped Burgos who was counted out. It was almost five minutes before Burgos was able to get up. The 29-year-old 5'2 ½" (159cm) "Pancora" was making the second defence of the WBA Fedebol title this year and makes it twelve wins in a row. Colombian Burgos is 3-3 in his last six fights with all three losses by KO/TKO.