Jeff Horn looking to get back in the winner's circle against Anthony Mundine at Suncorp Stadium in late November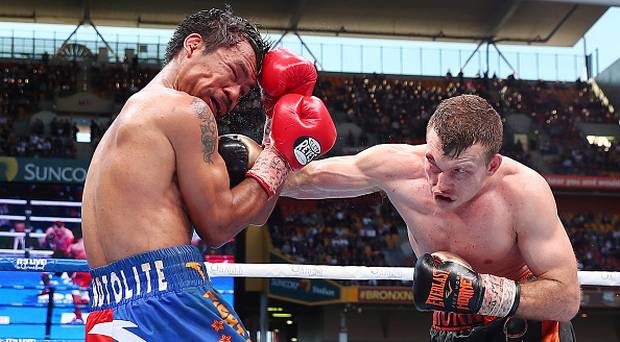 Once-beaten former WBO welterweight champion Jeff Horn 18-1-1 (12) is set to take on former WBA super middleweight champion Anthony Mundine 48-8 (28) in a blockbuster event at Brisbane's Suncorp Stadium in Australia on either November 23 or 30.
"The negotiations for the fight have taken a long time and it's been frustrating but I should beat Mundine easily," Horn told News Corp journalist Grantlee Kieza.
"He's been around for a long time, he's very skilful and he's got that slick boxing style that could give me problems. But I am very confident.''
Fight negotiations had stalled after the Mundine camp decided their man couldn't make the 70kg (154-pounds) catchweight that was initially agreed to, insisting on the fight taking place at 71kg (156.5-pounds).
To combat this, Horn's coach Glenn Rushton wants stiff financial penalties is Mundine comes in over 71kg at the weigh-in or more than 75kg (165.4-pounds) on fight night.
Mundine weighed almost 80kg (175.5-pounds) when he rematched Danny Green at Adelaide Oval in February last year but dropped back down to middleweight to face Tommy Browne at The Star Casino in Sydney in January.
"If Mundine comes in 10kg heavier than me he will have at least an extra 15-20 per cent extra muscle and we don't want that to be a massive advantage," said Horn.
"He is a very experienced boxer and he has been a multiple world champ."
The 30-year-old Brisbane brawler admitted that he is still hurting after losing his world championship to pound-for-pound calibre boxer Terence Crawford in Las Vegas in June.
"Vegas was an amazing experience but I did a lot wrong,'' Horn revealed. "I know I can fight a lot better than I did against Crawford. He was able to outbox me on the back foot but I've learned from that not to rush.
"It's frustrating to be out of the world title picture and to have that TKO loss against my name — it was my first loss since I was at the Olympics six years ago. I'm still getting over it.
"There's no better remedy, though, than to come back with a big win. To get back on the world stage I have to beat Mundine well.
"I would love to fight Crawford again in my backyard and it might be a different story next time.''