Floyd Mayweather And Manny Pacquiao Are Deluded If They Both Believe That Boxing Fans Want Mayweather – Pacquiao 2!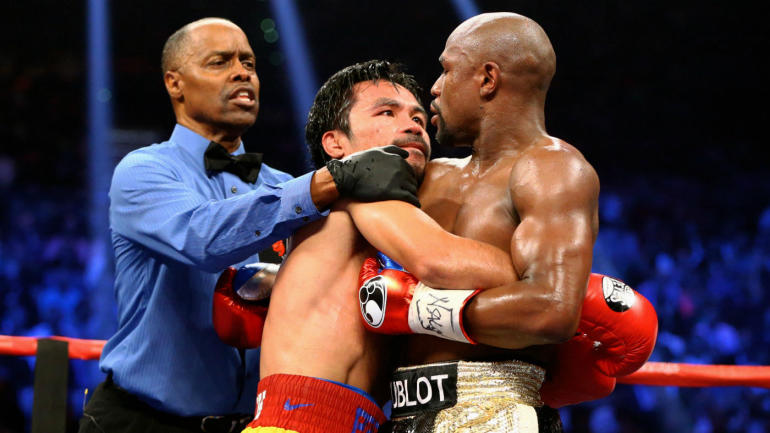 Saturday not only saw two middleweight kings, Saul Alvarez and Gennady Golovkin, duke it out for the Unified middleweight titles! It was also announced on Floyd Mayweather's Instagram account in a video that was posted that he will be coming back in December to boxing to have a return fight with Filipino icon, Manny Pacquiao.
The two boxers can be seen in the video teasing one another face to face, Pacquiao telling him that "he has the belt" while Floyd stated that he does not want to hear any excuses after the rematch when he loses. Floyd then looked at the camera and then told the world that he will be putting on the boxing gloves one more time. The pair fought in 2015 in a colourless fight that saw Mayweather dominate from the beginning almost to the end.
Called "The fight of the Century," it did not live up to the hype. Pacquiao had already seen a decline since 2010 shortly after taking on Antonio Margarito and that famous constant pressure that many opponents failed to live with was fast leaving him. Still, the bout took place and we all eventually got what we had wanted for many years. But it was sadly too late when we did.
And now, it appears that we are in for another. Money aside, why?
The focus in the welterweight division has been on the likes of Shawn Porter, Terence Crawford, Keith Thurman and Errol Spence Jr for a couple of years now. And none of them have been asking for fights with Manny, probably because they recognise that he is now a faded force. Times have moved on without him.
Pacquiao did score his first knockout in nearly ten years when he stopped Lucas Matthysse in a world title bout that saw him become the WBA champion in July of this year. But while it was a good performance, it is doubtful that most people were fooled into thinking that he is anywhere near back to his best. The evidence of his reduction in ability has been mounting up for years, so why would he be able to turn back the clock in just one fight?
It was not that long ago when Mayweather was exercising a little promotion for a rematch with Conor McGregor, this time in the Octagon. But with McGregor's shameful antics in April when he committed criminal damage against a bus holding fellow UFC competitors the hype on that has turned staunchly quiet. Floyd probably does not want to do business with somebody who has possibly indefinitely damaged his reputation.
And who can blame him for that, right?
But it comes across right now that he does not realise what the fans want. Not that anybody was begging for a Mayweather return, anyway, but a fight with any of the current crop of elite names at welterweight would be a step in the right direction. This weight class would have been given a ground-breaking shake-up had the now 41 year old elected to take on one of the dangerous young guns.
Looking at things from Pacquiao's perspective, do not be surprised if he announces his retirement from boxing after the December clash. It is unlikely that it will generate anywhere near as much money as the original did, but it will give him at least one more major tidy sum that he can retire on. He cannot be blamed for taking this route, either. But the fans lose here, whatever way you wish to see it.
Going back to that Instagram video, Floyd said that the Manny Pacquiao rematch will be "easy money."
At least he was being honest.