Mark Magsayo, Brandun Lee, Brian Norman jr. and Brian Mendoza will fight in Tijuana, Mexico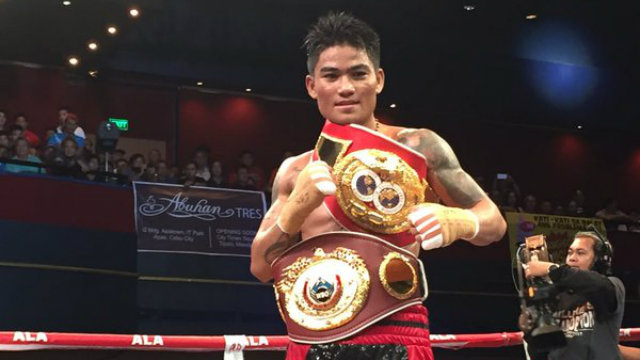 Four of the most promising boxers from the Cameron Dunkin promotional stable, including Philippines, Mark Magsayo, ranked as the Number 1 Featherweight in the world by the World Boxing Council and the World Boxing Organization; undefeated phenom, Brandun Lee, from Coachella Valley; Brian Norman Jr, from Georgia and Nevada's Brian Mendoza, will travel to Tijuana, Mexico, to take part in the Fists & Fury boxing card, scheduled for Saturday, October 6th.
First bell is scheduled for 8:00 p.m. for the World Class Boxing program that will be broadcast taped delayed to USA, Puerto Rico and Mexico, via World Class Boxing.
This will be the first card on a series after an agreement between Cameron Dunkin of Now Boxing Promotions and LATV Networks.
"I have worked with Mexican boxing promoters in the past and I know that there can be tremendous exposure for our talent down there. That, plus the fact that now we can also showcase the boxers in the United States via weekly television, is a perfect arrangement for a group of fighters that will soon be headlining the international cards in the big shows", said Cameron Dunkin, a promoter that for over thirty years, has guided some of the best fighters in the world. He has worked with 34 world champions including Kelly Pavlik, Tim Bradley, Diego Corrales, Johnny Tapia, Nonito Donaire and three-weight world champion Terence Crawford.
All of his fighters travel to Mexico undefeated.
Mark Magsayo (18-0, 13 knockouts) of Dauis, Bohol, Philippines, signed with Malaysia-based manager Vikram Sivapragasam and will be now promoted by Now Boxing Promotions, a Las Vegas-based company headed by Joe Dunkin, Cameron's brother.
The 22-year-old Magsayo is currently rated No. 1 by the WBO at 126 pounds and had his last outing on November 25th, 2017 where he had an unanimous decision win over Shota Hayashian.
This will be his first trip to Mexico, and fourth fight our of Philippines, after fighting twice at the StubHub Center, in Carson, California.
Another fighter that will be making his first trip to Mexico as a professional, is Brandun Lee. An aggressive junior welterweight, of Korean and Mexican descent, Lee should be a crowd- favorite from the start.
He has been to that country before. As an outstanding amateur he fought internationally in Mexico on a couple of occasions. Lee had over 200 amateur fights, won the Junior Golden Gloves on four occasions, the Junior Silver Gloves three times and the Junior PAL five times. He was due to represent his country in Russia after winning the world tournament, which earned him a spot on the U.S team.
"My parents never let me go, since they didn't want me to miss school, so I never got the chance to compete in St. Petersburg, Russia, " he said.
Lee will travel with an unblemished record of 11-0 (9 KO's)
Lee elected to sign a pro contract with Cameron Dunkin in the fall of 2016 and debuted when he was 17 years old. He is currently 19 and is trained by his father Bobby.
"Brandun is a terrific fighter. He's coming into his own now; he's getting better with each fight," said Cameron Dunkin, who is working to match Lee in an NABF, Jr title fight on October 6th and is now awaiting approval on opponent.
Two weeks ago, Lee and Brian Norman, two of Now Boxing Promotions' most promising prospects advanced their undefeated records with both fighters scoring first round knockouts.
In Mexicali, Mexico, Brian Norman, Jr. (9-0, 8KO) floored Dario Medina in one round. Brandun Lee fought in West Virginia, also winning in one round at the Mountaineer Casino over ring veteran Jorge Luis Munguia.
At only 17, Brian Norman, Jr. has fought nine times since making his debut in Houston in January of this year. The Laconia, Georgia-based prospect will turn 18 this November.
"Brian is a tremendous prospect, from a great family. He has a great inspiration in his father, Brian Norman, Sr. We will keep Norman and all others busy. It's the best way to get these guys the experience they need to perform at top levels," added Dunkin.
"Brian Mendoza is another outstanding, fighter," said Dunkin. "Originally from New Mexico, he will definitely get more work, after fighting only twice in 2017 and not at all in 2018. Tijuana will be a new beginning for him", Dunkin concluded.
The card will also showcase Jorge Luis Zapoteco, local lightweight champion, Daniel "Tubo" Ramirez, from Mexico City and Lodi's Giovanni "Golden Bear" Gutierrez, also fighting in the lightweight division.
Currently all fighters and opponents are pending approval by the Tijuana Boxing Commission.