Rockin Fights 32 weigh-in results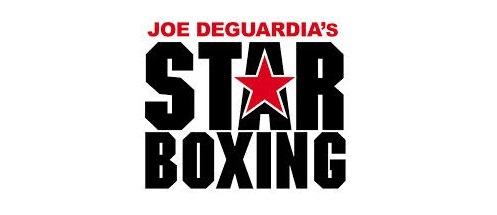 New York, September 20, 2018
The entire card for Joe DeGuardia's Star Boxing's, "Rockin' Fights" 32 weighed in today at Modell's Sporting Goods in Huntington Station on Long Island. All ten fighters looked fit and ready to go, ahead of tomorrow's stellar night of fights at The Paramount in Huntington, Long Island. Tickets can still be purchased HERE. Doors open at 7:00PM, and the first bout is set for 7:45PM.
Weigh-In Results:
ABO INTERCONTINENTAL SUPER LIGHTWEIGHT TITLE FIGHT
10-ROUND MAIN EVENT
DANNY "EL GALLO" GONZALEZ: 139 lbs.
JOHNNY "HITMAN" HERNANDEZ: 139.8 lbs.
6-ROUND SUPER LIGHTWEIGHT BOUT
"ACTION" ANTHONY LAUREANO: 139.2 lbs.
MARQUIS HAWTHORNE: 141.2 lbs.
4-ROUND CRUISERWEIGHT BOUT
SHAUN KENNEDY: 179.2 lbs.
PEREZ AUGHTRY: 178.0 lbs.
4-ROUND SUPER LIGHTWEIGHT BOUT
JARED BONILLA: 136.8 lbs.
JOSE MAYSONET: 135.8 lbs.
4-ROUND WELTERWEIGHT BOUT
ALEX VARGAS: 144.0 lbs.
DERON LAWSON: 143.6 lbs.
FACTS:
"Rockin' Fights" 32 on September 21st pits two local warriors in,
DANNY "EL GALLO" GONZALEZ (16-1-1 7KO's) fighting at The Paramount for the ninth time, against, JOHNNY "HITMAN" HERNANDEZ (9-3 1KO) who will be in his first main event and eleventh bout at The Paramount, for the ABO Intercontinental Title.
THE UNDERCARD:
Returning to The Paramount almost one year to the date of his last bout at the venue, "ACTION" ANTHONY LAUREANO (East Hartford, CT 8-0 3KO's) will take on tough Texan, MARQUIS HAWTHORNE (5-8-1 1KO). Hawthorne poses a great test for Laureano as the taller fighter, with great reach, thus Laureano will look to close the distance, by scoring on the inside.
In a battle of the pro-debut's, NY Golden Gloves finalist, JARED BONILLA (Belmore, NY Pro-Debut) will take on Western New England Golden Gloves champion, JOSE MAYSONET (Hartford, CT Pro-Debut) in a 4-round, super lightweight bout.
23 year old, NY Golden Gloves champion, ALEX VARGAS (Bellport, NY Pro-Debut) will make his pro-debut at "Rockin' Fights 32". Vargas will step in with DERON LAWSON (Philadelphia, PA 0-1) who returns to The Paramount coming off a majority decision loss at "Rockin' Fights". Vargas vs Lawson will be a 4-round welterweight bout.
SHAUN KENNEDY (Huntington, NY 0-0 1 NC), a top executive at Four Seasons Sunrooms & Windows, returns to his backyard at The Paramount to take on PEREZ AUGHTRY (Buffalo, NY Pro Debut) in a 4-round, cruiserweight scrap
*If you are interested in becoming a sponsor, please email us at TonyPalmieri@StarBoxing.com
TICKETS:
Tickets are on sale now at The Paramount Box Office (631) 673-7300 or Ticketmaster by clicking HERE, or by calling 1 (800) 745-3000 or Star Boxing (718) 823-2000 or www.starboxing.com. Tickets prices are $50, $60, $100, $150, $200.
Read more articles about: