Teddy Atlas launches scathing attack on Mike Tyson, labels him "the weakest person you're ever going to find"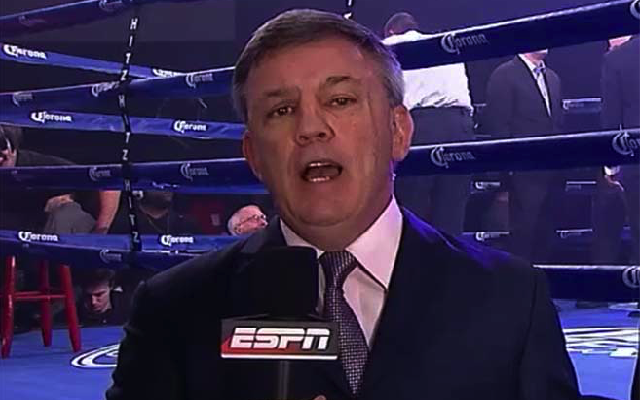 In an extraordinary interview ESPN boxing analyst and trainer Teddy Atlas has sensationally dismissed the entire career of enigmatic former heavyweight champion Mike Tyson, saying his professional boxing record should read 0-5.
Brooklyn's Tyson became the youngest ever heavyweight champion of the world when he stopped Muhammad Ali-conqueror and WBC heavyweight champion Trevor Berbick in two devastatingly one-sided rounds at the Hilton Hotel in Las Vegas, Nevada in 1986.
Tyson was just 20 years old at the time.
In a passionate monologue on MMA commentator Joe Rogan's podcast, The Joe Rogan Experience, Atlas questioned the heart of the former 'Baddest Man on the Planet'.
"He used to hide in between walls to not get picked on. I believe when you do that, you're hiding for the rest of your life. That's just my belief," said Atlas, who was an assistant to Tyson's original trainer Cus D'Amato for a brief period of time.
Tyson's 20-year professional fighting career came to a close in 2005. He retired with a record of 50-6 (44) after losing three of his last four bouts to long-time rival Lennox Lewis and fringe contenders Danny Williams and Kevin McBride.
"I don't have his record in front of me — and this is going to blow some people crazy — say it's 50 and five. I would say he's 0-5," Atlas revealed.
"To me, a fight is not a fight until there's resistance and until something has to be overcome, otherwise it's just an athletic venture, an exhibition.
"I think life is like that. A lawyer isn't a lawyer until he has to overcome something in the courtroom. When the judge throws all this crap out and he still handles it.
"Tyson's talent and physical ability was so great, so overwhelming, that he never got tested. Was there anything inside the warehouse? We never knew.
"And then five times — or whatever the record was — there was resistance. Five times there was a real fight and something to overcome. And he failed all five times."
In June 1997 Tyson was involved in perhaps the most infamous heavyweight title fight in history when he attempted to regain the WBA heavyweight championship he lost by TKO11 to Evander Holyfield seven months earlier. The fight attained instant notoriety when Tyson, trailing on the scorecards, bit a chunk out of the defending champion's ear in the third round.
Tyson was disqualified and the bout became universally known as the 'Bite Fight'.
Atlas believes Tyson's actions were the sign of a man who had lost his bottle.
"It was a way out, because he knew he wasn't that guy [who overcame adversity]," said Atlas. "And he could recognise when someone was. And Evander Holyfield was.
"That was his way to get out. That's why it's not sour grapes. It doesn't mean I'm right, but I do have a reason to believe I'm right."
Atlas alluded to "weak things" that Tyson had done in the past and insisted that they were further signs of this character flaw.
"They were weak things. If you do weak things and you know it, and now you've gotta do a strong thing, how do you become strong?" asked Atlas rhetorically.
"How do you become strong when you know that's really you and you've got a guy across from you called Evander Holyfield who doesn't give a sh*t about how hard you punch and doesn't give a crap about how good of a finisher you are.
"He was as strong a guy you'll ever see but was the weakest person you're ever going to find."