Figueroa Wins in Main Event; Heavyweights Joyce and Ajagba Show off With Victories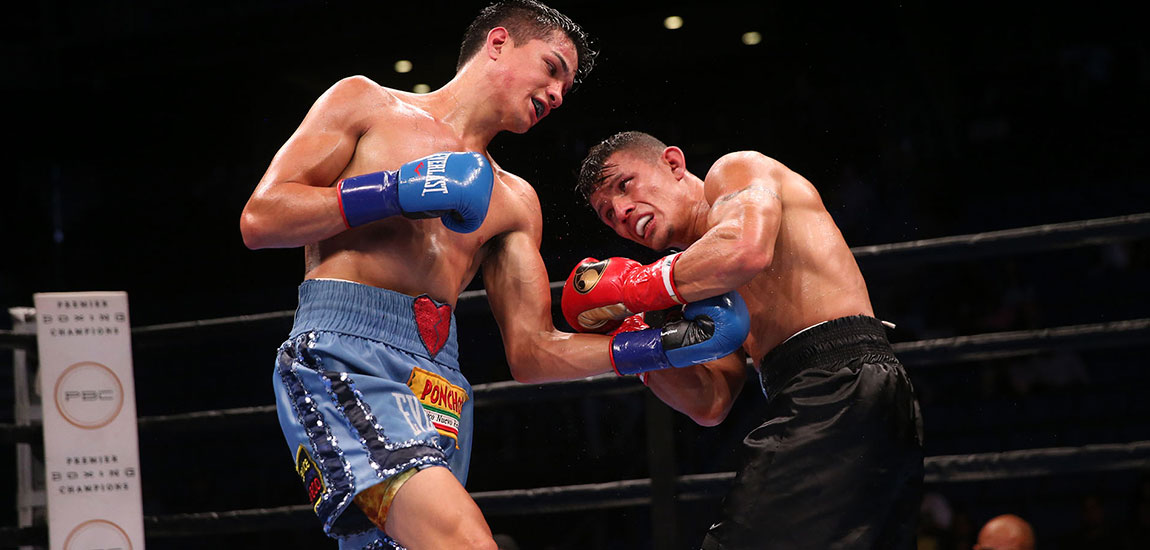 By Barbara Pinnella
Photos Courtesy of Cynthia Saldana
By now everyone knows that the main event at this PBC event held at the Citizen Bank Arena in Ontario, California, was supposed to be Victor Ortiz against John Molina. But because of legal issues for Ortiz, that fight was scrapped. PBC still gave us 13 fights for the afternoon and evening, many of them very good watching. And the fight that moved up to become the main event did not at all disappoint.
In that main event, Brandon Figueroa (17-0, 12 KOs) went up against Oscar Escandon (25-5, 17 KOs) in a fight scheduled for 10 rounds in the super bantamweight division. As would be expected, these two came out like two pit bulls to start off their battle. They did a good job of showing each other that they had the goods. For most of the second round they fought in a phone booth, exchanging punches back and forth.
In the third both men were still fighting in close, while throwing uppercuts and body shots along the way. This was a close, competitive fight thus far. Brandon had a very good round in the fourth, landing a lot of his punches. In the fifth they continued to fight with their heads pressed together like two rams. Brandon landed the harder shots, but when Oscar did hit him, Figueroa did acknowledge by smiling.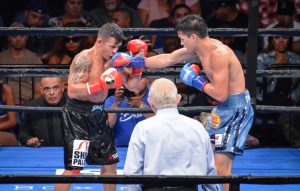 Not too much different to be said about the sixth round. The two pugilists had not taken it slow and didn't show any signs of doing so. Ditto for the seventh. In the eighth the tempo had not yet slowed down, and these two were still landing their body and shots/ they were not fighting in as close all of the time as before, but would still mix it up inside frequently.
The ninth was the same as the opening. They came out and continued with a slugfest. In the tenth and final it was the same until…a well-placed heavy hand dropped Escandon, and when he tried to get up he couldn't. The fight was waved off at 1:42 of that final round. Figueroa kept his win streak alive in a very hard fought war.
After the fight both men referred to the toughness of the other.
"Escandon is tough." Figueroa said. "He is short and it was hard to get to the body. I can fight both inside and outside, but his size did matter. I had to get in there and he wasn't backing up. I was ready for this fight. Opportunities like this don't come often so I had to take it and run with it. I have been training all summer and I am ready to take a few days off and get right back to it."
"I knew Figueroa was good, but I was surprised at how tough he was," Escandon commented. "Everyone can get caught with a punch. I wasn't tired. I just got caught. I am okay. I am going to keep going."
And just in case anyone is wondering, at the time of the stoppage, all of the judges had Figueroa winning by quite a large margin.
Heavyweights came to the ring for the co-main event as Joe Joyce (6-0, 6 KOs) faced off against Iago Kiladze (26-4, 18 KOs) in a bout scheduled for 10 rounds. The first round was a 'Let's see what you've got' round. Time will tell if they did in fact find out. Apparently Joe did just that. A big left hand by Joyce put Kiladze down during the opening seconds of the second round. He was rocked several more times but managed to get out of the round.
A barrage of punches, mainly to the body, dropped Iago again. And just like the first round, he managed to survive the three minutes. There was no knockdown in the third, but that doesn't mean there was no action. There were a lot of punches thrown and landing from these big men. But then, right at the start of the fifth round, Joe landed again and down went Iago. He got up, walked to his corner, and spit out his mouthpiece. Enough was enough, apparently, and at :41 of the fifth round the fight was over.
Joe Spencer (5-0, 4 KOs) went up against Cory Macon (0-3) in a middleweight fight that was scheduled for four rounds. It took just a few seconds, as a left followed up by a right put Macon down and out at 2:36 of that very first round.
Spencer said after the fight, "I stay active and stay in the gym. It keeps me focused and ready. My goal is to become a world champion by age 20. Fans need to keep an eye on me and my career because I am here to stay."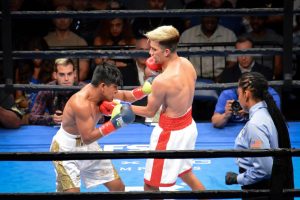 In a light flyweight bout, Jose Balderas (5-0, 4 KOs) faced off against Ivan Martino (3-3, 3 KOs) in a fight that was scheduled for four rounds. These small men packed a huge punch, as both of them we able to plant really hard head shots on the other in the first round. The war raged on in the second, with neither man showing any signs of slowing down.
Nothing new in the third, but that doesn't mean the fight was boring. These two were giving it their all, and those in attendance were really enjoying this match-up. Leather was flying and landing in this exciting fight. These men kept up the action throughout all four rounds, and we went to the scorecards. The three judges saw it 40-36 and 39-37, all for Balderas.
After the fight Jose said, "He is a strong guy and he kept coming, but we were ready for it. I think I got the rounds he needed. I have been improving since my first fight. I am going to keep learning and keep growing."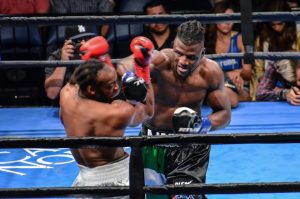 In a heavyweight fight that was scheduled to go six rounds, Efe Ajagba (7-0, 6 KOs) faced off against Nick Jones (7-1, 5 KOs). Efe, you might remember was the fighter who won his last fight via a disqualification when Curtis Harper walked out of the ring. And as quickly as it took me to type that, the fight was over at 2:25 of that first round, thanks to a huge right hand by Ajagba.
"Now we know why my last opponent walked out of the ring, Ajagba said. "He was afraid that was going to happen to him. I watched tape of Jones and I knew he was slow. I was ready to attack the minute I got into the ring. I want anyone that my management will put in front of me. I am ready. I prepared for six rounds and I can't wait to get back in the ring."
Stephen Fulton (14-0, 6 KOs) stood across the ring from German Meraz (61-50, 38 KOs) in a fight in the featherweight division the fight was to go a scheduled eight. We saw a rather uneventful first round, with not many points scoring. The same could be said of the second round. Nothing really notable. The action picked up a little, and I mean a little, in the third. There was still nothing happening to excite the sparse fans.
Finally, a fight tried to break out in the fourth. It was pretty even, but at least something began to happen. It was the same song in the fifth. It really seemed as if the fight was taking a long time, mainly because there just wasn't a lot happening. After the sixth round it was very hard to tell just who was dominating. Perhaps that was because nobody really was. The bout had been back and forth with no real star.
Hooray, in the seventh round Fulton took obvious control. He was able to pepper his opponent with lots of shots, and that continued into the eighth, when shortly after the bell to start the round, Stephen dropped Meraz. Still, we went to the scorecards. The judges saw the fight the same, 80-71, all for Fulton.
After the fight, Fulton said, "I wasn't worried about taking the fight on such short notice. I knew I was going to dominate. I might have prepared for someone else, but that didn't matter. I have the experience to be able to adjust. He could have had 100 fights or five fights and I would have been ready. I want Brandon Figueroa next."
Jesse Rodriguez (7-0, 4 KOs) faced off against Edwin Reyes (8-4-3, 5 KOs) in a bout scheduled for eight rounds in the light flyweight division. Reyes was a little wild in the opening round, and neither fighter did much to grab the others' attention. Both were trying to punish the other with body shots in round two. They were landing other punches as well.
In the third it was all Jesse. He was right on target with his body punches, and really relied on them. Both men were on fire in the fourth. They were really pounding on each other, but it continued to be Rodriguez that held the cards. In the fifth, by far the best round of the fight, Jesse landed so many hard left hands that it seemed no way Edwin would not go down. But he stayed the course and even threw back. Reyes is one tough customer.
The sixth round continued to provide a lot of action, most of it by Jesse. And like the round prior, Edwin remained on his feet and moved into the next round. In the seventh the brutalization of Reyes continued, but this tough kid came out of his corner for round eight. The eighth was just more of the same by Rodriguez. We went to the scorecards, and even though we couldn't hear the announcement of the scores, Rodriguez got the UD. But Reyes gets the Tough Guy of the Night award for sure.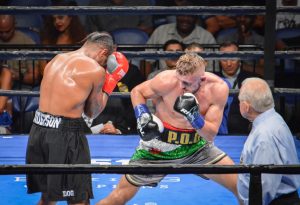 In light heavyweight action, we saw Kody Davies (7-0, 2 KOs) going up against Jerhed Fenderson (4-7, 2 KOs) in a fight scheduled for eight rounds. The first round was a bit of a slow one, as both men were feeling each other out. No real damage was done from either fighter. Davies really displayed his power in the second. His heavy-handed punches seemed to take a toll already on his opponent.
There was not a lot of action in the third. The round was slow and it was hard to tell who scored any points at all. Things really picked up in the fourth, as both men finally woke up at the same time and began throwing a long of punches. Many of those were landing. Things slowed back down in the fifth. The men were not throwing as much, and very few combinations.
Jerhed showed power, but didn't press the issue when it would serve him. The same was true with Davies. Both men seemed to have run out of gas in the seventh round, with few punches being thrown and even less damage done. We moved into the eighth and final. The two picked it up once again for the last round. Jerhed has the goods; it just appeared that he needs polishing. We went to the scorecards. All three judges saw the fight the same, 80-72, all for Kody.
Omar Juarez made his professional debut against Matt Gaver (0-2) in a super lightweight fight that was scheduled for four rounds. Gaver was definitely trying for his first win as he came out blazing. He was able to land some good leather, but then things settled down and Omar began to show his talents.
Matt had an excellent round in the second, seeming to surprise Omar with his accuracy. Gaver tried to maintain his attach in the third, but Omar was doing his best not to let that happen. Near the end of the round however, Matt had some really strong moments. Both men had their moments in the final round and we went to the scorecards. The judges had it 39-37 twice and 40-36, all for Juarez. He won his first pro fight, but the fans in attendance were not happy with that decision.
Arnold Alejandro (8-0, 7 KOs) took on Francisco Camacho (7-9-1, 3 KOs) in a featherweight fight that was scheduled for six rounds. Arnold was all over Camacho in the first round, displaying his skills. In the second the same thing applied. Even though shorter in stature, Alejandro was packing the bigger punch by far.
Things were much the same in the third, although Francisco was able to land some leather on his opponent. Those punches that landed did not make much of a difference to Arnold, however. In the fourth Alejandra landed some really heavy hands on Camacho, but Francisco refused to go down.
The fight came to an end after a barrage of punches finished with a vicious left hand body shot by Alejandro put Camacho down and out at 1:50 of the fifth round. Referee Jerry Cantu didn't even bother to count, as Camacho had taken a lot of punishment up until that time.
Super featherweights took to the ring in a bout scheduled for six rounds as Mike Fowler (6-18, 2 KOs) took on Viktor Slavinskyi (7-0, 4 KOs). Viktor landed punishing body shots during the first round, and when Mike's body wasn't available he got in some heavy head punches as well. Fowler was able to withstand all of the onslaught that continued to be delivered on him by Viktor in the second. Slavinskyi is a very strong puncher.
Just how Fowler was able to withstand those punches delivered by Viktor had everyone talking, but after the third round the ringside physician put an end to the contest. Mike was too tough for his own good.
Next up we saw Aaron Morales (4-0, 3 KOs) going up against Steve Lantry (0-5-2). This fight was for a scheduled for six rounds in the super bantamweight division. It ended much quicker than that. Lantry was dropped very early in the first round, and two quick left hands put him down again. He got up and fought on, but a right hand uppercut dropped him for good.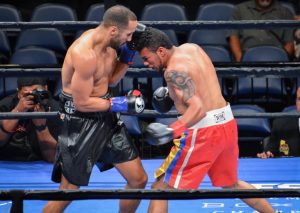 Opening up the night we saw super middleweights James DeGale (25-2-1, 15 KOs) going up against the Columbian fighter Fidel Monterrosa Munoz (39-18-1, 31 KOs). This fight was for a scheduled eight rounds. We saw some great body work by DeGale in the first round. Munoz got in his share of body work in the second, and both men landed solid shots to the head as well. Right near the end of round three, DeGale displayed his power as he dropped Fidel with an uppercut. Munoz never recovered and the fight was over at 2:15 of round two.
Sure, all of the fighters that won were supposed to win, but that didn't dampen the fact that several of these were very good fights. The Reyes / Rodriguez fight was an absolute war, DeGale looked good, don't blink when watching a fight with Ajagba in it, and Figueroa / Escandon was a good one.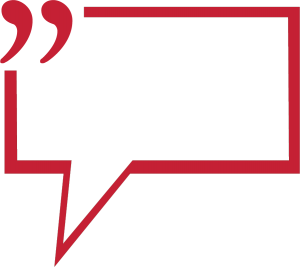 Click Here, If you wish to add a COMMENT to the above article or any of the Ringnews24 boxing articles.