Zolani Tete excited for his time to shine against Mikhail Aloyan in WBSS quarterfinals this weekend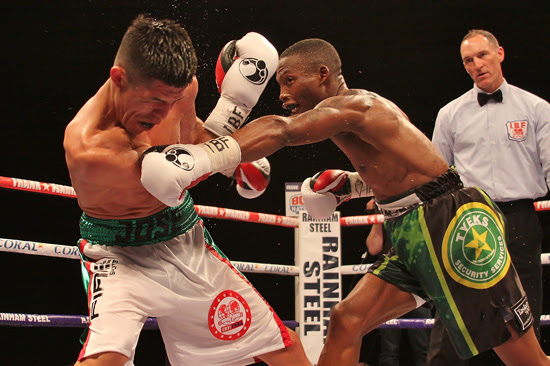 WBO bantamweight champion Zolani 'Last Born' Tete 27-3 (21) is excited.
The big-punching South African southpaw has long wanted the opportunity to prove his mettle at the highest level. That opportunity will come this weekend when he takes on former amateur standout Mikhail Aloyan 4-0 in the Ekaterinberg Expo in Ekaterinberg, Russia on Saturday night.
The fight will be one of the quarterfinals for the second season of the wildly popular World Boxing Super Series (WBSS).
"This is a new phenomenon in boxing history; it brings the best versus the best, brings belts, it brings money and it brings the status," Tete, 30, told The Ring. "What else do we want as boxers? All in one package."
Tete is the fourth line of betting to win the WBSS bantamweight tournament at $7 but the odds are misleading. While Japanese phenom Naoya Inoue rightly leads the pack as a $1.57 chance, IBF kingpin Emmanuel Rodriguez and WBA boss Ryan Burnett are only slightly more favoured than Tete at $6 and $6.50 respectively.
Aloyan is the next line of betting at $29.
Despite his lack of professional experience Aloyan has an extensive amateur background where he competed as a 115-pound flyweight. The undefeated Russian is a two-time World Amateur Boxing Champion (2011 and 2013) and claimed bronze and silver medals respectively at the London and Rio Olympics.
"He has a tremendous amateur pedigree. Lots of experience with him," said Tete, who at 5-foot-9 will have a four-and-a-half-inch height advantage over Aloyan.
"He is a switch-hitter, he can move – typical Olympic amateur style, but he will taste the real eight-ounce Grant gloves and not 10 ounces. He will face an awkward, tall and slick natural southpaw.
"The fight is going to be won by the most hungry in the business. I will bring my A-game on the day, and I can tell you he will not know which side is he being punished on."