Daniel Jacobs claims IBF middleweight title with split decision over Sergiy Derevyanchenko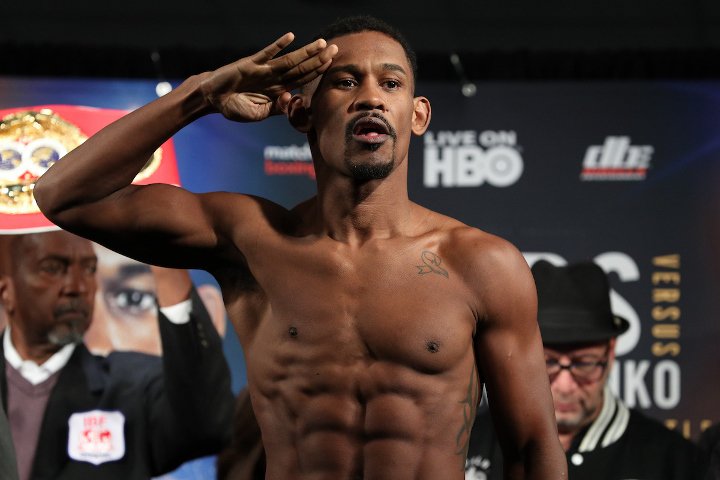 Daniel 'Miracle Man' Jacobs 35-2 (29) claimed the vacant IBF middleweight title with a close but clear-cut 12 round split decision victory over Sergiy 'The Technician' Derevyanchenko 12-1 (10) at Madison Square Garden in New York on Saturday night.
The former sparring partners, who put in over 300 rounds together in the gym in previous fight preparations, didn't fall into the trap that often comes with overfamiliarity, fighting at as fast clip from the opening bell to the last.
A short right hand from Jacobs sent Derevyanchenko to the canvas at the end of the first but the 32-year-old Ukrainian bit down on the mouthpiece to rally his way back into the fight.
In the end it was quite enough, with the victory being award to Jacobs by scores of 115-112, 115-112 and a dissenting 113-114.
"I knew that he had his angles that he tried to implement inside the ring, and I was able to take advantage of that. And I know also from sparring him that he gets tired once he misses," said Brooklyn's Jacobs, 31, in an interview with The Ring after the fight.
"This is kill to be killed sport. This man was trying to take away from my family, he was trying to take away from my future. In this very moment, for however long it lasted in that ring, there was no emotion for me.
"Afterwards I felt some type of way, but not enough to let it affect me inside that ring… But as far as emotions inside that ring to deter me from wanting to take his head off, that wasn't there."
Jacobs has two names on his mind for his next fight. WBC and WBA middleweight champion Saul 'Canelo' Alvarez and the man to give him his last loss, Gennady Golovkin.
"That's exactly why on the broadcast I said that I would give him the rematch, because I'm the champ now," said Jacobs, who lost a competitive decision to the Kazakh bomber in 2017.
"Now there's almost nowhere for him to go, and from what I'm hearing if he doesn't sign with DAZN he's not gonna get any of those big fights that he truly wants."