Tony Bellew says Oleksandr Usyk is overlooking him ahead of cruiserweight world title fight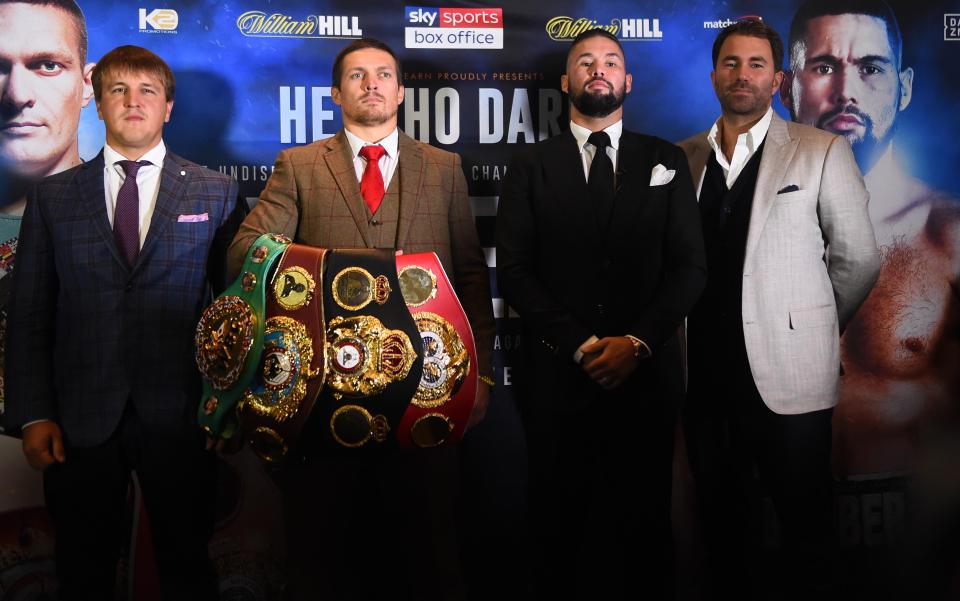 Tony 'Bomber' Bellew 30-2-1 (20) believe that unified cruiserweight champion Oleksandr Usyk 15-0 (11) is trying to use him as a stepping stone for a shot at unified heavyweight champion Anthony Joshua 22-0 (21).
The 35-year-old Liverpudlian, who will face Usyk at Manchester Arena this Saturday night, is coming off back-to-back wins over David Haye at heavyweight. The Usyk fight will be his first at 200-pounds in more than two years.
The 31-year-old Ukrainian called out Bellew after defeating Murat Gassiev to unify all four major belts in the division and claim the Muhammad Ali Trophy in the World Boxing Super Series.
"I thought 'why's he calling me out?'. Then I thought about it and it all made sense. I've got things he wants," Bellew said to the Daily Star.
"He wants a way into the AJ game, he's another fighter who is trying to go through me to him.
"Forget all that humble s**t from him, he thinks I'm an easy fight. He was asking which heavyweight he can have after me. He's in for a shock."
Bellew knows Usyk better than most. He travelled to Eastern Europe to spar the future Olympic and world champion when they were both amateurs.
"He just pinged me," said Bellew. "Although I am not the fighter I was then. I knew then he was special. I know class when I see it. He's s*** hot, he's brilliant at what he does. Show me something he can't do.
"He's a legend. I didn't take boxing as seriously as I should have done back then. Then my grandad died and I had to come home early after 10 days and that was the end of that.
"I've sparred loads of guys over the years and you could tell straight away he was good. You just know. I knew what he would on to do."
But Bellew insists he won't be intimidated by Usyk come fight night.
"I am not going to stand there in awe of him. He's brilliant, but he does make mistakes. He's not perfect," he said.
"Call me crazy, call me anything because you're right, but I just believe I can beat this fella.
"I'm pretty realistic and if you said to me to fight Deontay Wilder, I'd say no. He would ping me from one side of the ring to the other. I don't think I can beat him, but I know I can beat his fella.
"As great as he is, he's an absolute monster, but he makes mistakes and I will make him pay."