Eddie Hearn says Oleksandr Usyk versus Tony Bellew is a bigger fight than Anthony Joshua versus Wladimir Klitschko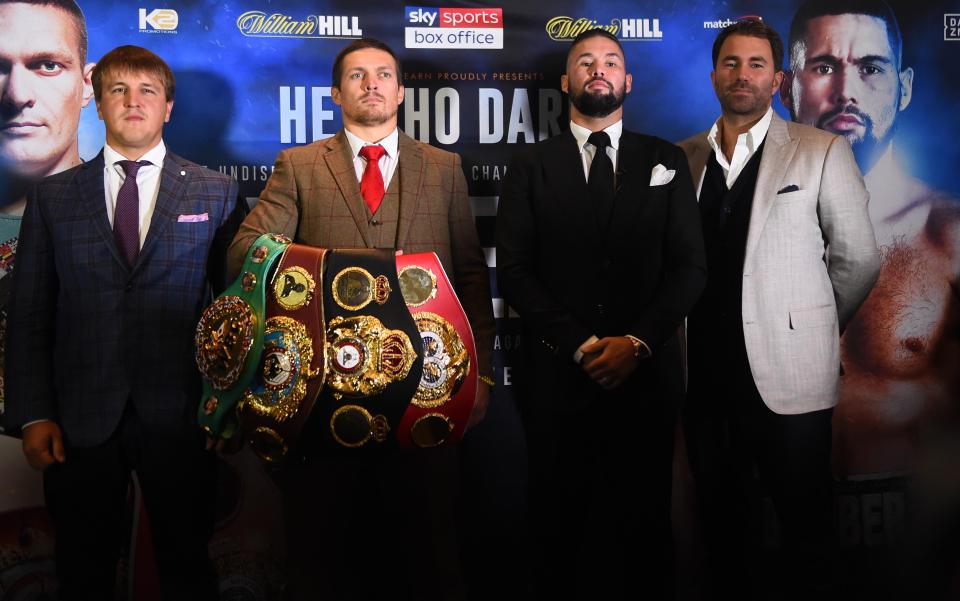 Matchroom Boxing's Eddie Hearn believes that this weekend's undisputed cruiserweight title fight between champion Oleksandr Usyk 15-0 (11) and challenger Tony 'Bomber' Bellew 30-2-1 (20) at Manchester Arena is the biggest event he has ever promoted.
The fight for all four of the major world title belts will be a first for the United Kingdom.
Speaking to iFL TV, Hearn revealed the fight is bigger and better than the IBF and WBA heavyweight title fight between Anthony Joshua and Wladimir Klitschko in London in April last year.
"This is the best and biggest fight I've ever promoted. I was thinking that the other day," Hearn said. "It don't get any bigger than this for me, and that includes being bigger than Joshua-Klitschko, honestly."
Around 80,000 people crowded into Wembley Stadium to watch London Olympic super heavyweight champion Joshua deck Klitschko in the fifth before being dropped himself in the following round, climbing off the canvas to finish off the former long-time world champion in the 11th round courtesy of a pair of knockdowns in the penultimate round.
By contrast Hearn is expecting a live crowd of 20,000 people for Saturday's cruiserweight world title fight.
"In terms of what's on the line, in terms of how everything's happened, in terms of the Tony Bellew story, in terms of Usyk being in his absolute prime; this is the biggest fight I've ever promoted," Hearn said.
"I just can't believe it's actually happening. This is not about money, trust me when I say that. This is about legacy, this is about a defining moment. This is about wanting to know how good you are. And that's great sport."
Hearn praised both men for their respective talents.
"This is a fight between such an elite fighter, such a genius in Oleksandr Usyk, against this geezer who has just got the will to win, the knack to win," continued Hearn.
"This is the best fight I've ever promoted – this is everything, the undisputed cruiserweight world championship.
"These are the fight that you look at when you look back through history. This is up there."