Dillian Whyte preparing warm welcome to the heavyweight division for Oleksandr Usyk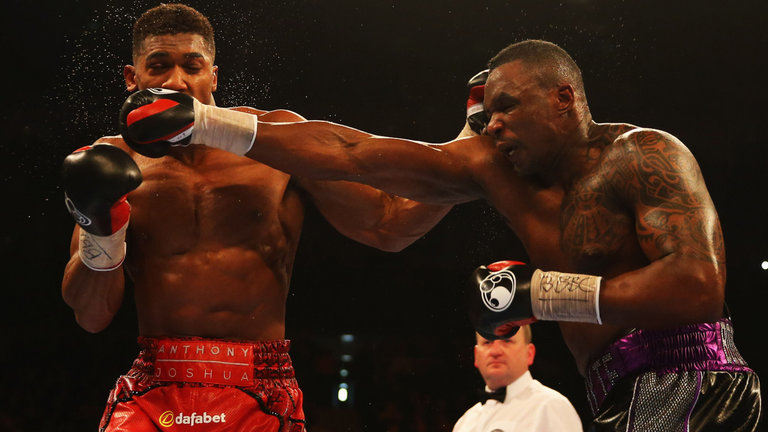 Heavyweight contender Dillian 'The Body Snatcher' Whyte 24-1 (17) says he would welcome the opportunity to face undisputed cruiserweight champion Oleksandr Usyk 16-0 (12) when the undefeated Ukrainian southpaw moves up to the unlimited weight class in 2019.
The 31-year-old Usyk successfully defended his WBC, WBA, IBF, WBO and Ring magazine titles against Liverpool grafter Tony 'Bomber' Bellew 30-3-1 (20) at Manchester Arena on Saturday night, breaking open the closely-contested fight in the mid-rounds to win by eighth round stoppage.
"Usyk will struggle at heavyweight," Whyte told Sky Sports. "Heavyweights are bigger and stronger guys and they will manhandle him. If I fought him I wouldn't do what Tony Bellew was doing, I'd be charging at him all around the ring.
"He's not going to drop me with one punch. I would maul him all night long. I would fight him in a very uncomfortable zone for him."
Brixton's Whyte, who will face rejuvenated warhorse Dereck 'War' Chisora 29-8 (21) at London's O2 Arena on December 22, believes as a bigger man he can rough up Usyk if the fight gets made.
"If it's a big fight and he wants it, he can have it. I'm game. If Usyk wants it he can have it. I'm the 'Can Man', like I say all the time. If you're a top-10 fighter, you can have it," said Whyte.
"I can never see him shock a real heavyweight, maybe his movement to some lazy heavyweight, but as a heavyweight, you close it down, nullify it, and beat him up, rough him up.
"You will out-weight him by two or three stones, so weigh him down, push him around.
"He didn't like a few things Bellew did, like hit him on the side of the head, and he was complaining, so I saw a few signs there that he doesn't like it rough."