Former WBC super middleweight David Benavidez set to return in March, possibly on Errol Spence vs. Mikey Garcia undercard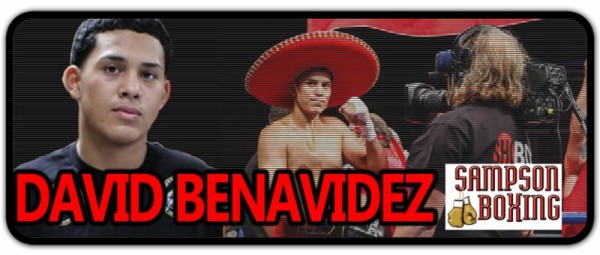 A lot has happened with former world champion David Benavidez in recent months.
Benavidez (20-0, 17 KO's) at 21 years of age is undoubtedly one of the sport's rising champions and most talented future stars. At just 20 years old, in September of last year, Benavidez captured the WBC super middleweight title in a rough fight with Mayweather Promotions fighter Ronald Gavril. The fight was competitive, and Benavidez made his mark in the rematch five months later, winning a convincing decision.
The sport was caught off guard when it was announced this past September that Benavidez had tested positive for benzoylegonine, a key ingredient in cocaine, as he was tested as part of VADA's Clean Boxing Program. He was also stripped of the title he fought so hard for and suspended for a brief period of time. Benavidez is now technically a "champion in recess" yet he is still eyeing a return to the ring when his suspension clears.
Benavidez's promoter Sampson Lewkowicz recently spoke to ESPN about the plans.
"He will most likely be back on the second week of March," stated Lewkowicz, who also worked with Manny Pacquiao and Sergio Martinez during his career in the sport.
"He will fight a regular fight, a 10-rounder," Lewkowicz said. "It's not that he's an addict, he made a mistake. He was partying up, he's very young and with a lot of money, and this is what happens sometimes. But he recognizes his mistakes and he's clean. This is not a case of being an addict."
It really seems to make sense for Benavidez to return on the proposed March 16 showdown between IBF welterweight champion Errol Spence Jr. and four-division world champion Mikey Garcia. That fight appears likely to land at the AT&T Stadium just outside of Dallas, Texas and will be a SHOWTIME pay per view. Seems like a great fit for Benavidez to be honest, returning on such a card.
Benavidez is one of the sport's hottest commodities for sure, and news swirled when it appeared he was heading to Top Rank earlier this year after signing a $250,000 bonus to join the company. After some thought, Benavidez returned the bonus, however, and will continue fighting under Lewkowicz's guide, while appearing on the Premier Boxing Champions banner.
This means that we very well could be seeing Benavidez again fight for his title. At the moment it looks like the vacant title will be contested between former champion Anthony Dirrell (32-1-1, 24 KO's) and Avni Yildrim (21-1, 12 KO's), with Benavidez most likely in line for the winner.
AT 6'2", Benavidez is an imposing figure, but also a guy who has a vast skill set, as he seems to throw his punches from all angles, with both speed and power. Once he gets back on track, it's hard to think of a more talented and capable super middleweight threat.