Jeff Horn considering permanent move up in weight if he defeats Anthony Mundine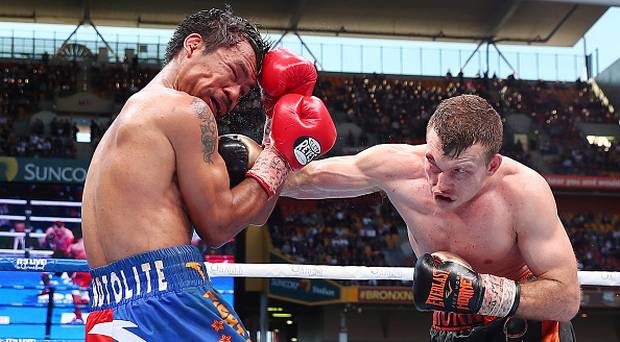 Former WBO welterweight champion Jeff 'The Fighting Schoolteacher' Horn 18-1-1 (12) is considering a move up in weight if he defeats Anthony Mundine 48-8 (28) in their catchweight bout at Brisbane's Suncorp Stadium on November 30.
The fight will be contested at 71kg (156.5-pounds), almost halfway between the junior middleweight and middleweight divisions.
The 30-year-old former Brisbane schoolteacher will be having his first fight at the venue since defeating ring legend Manny Pacquiao by unanimous decision in front of more than 50,000 parochial fans in July last year.
Mundine, who last fought at middleweight against Tommy Browne in Sydney in January, is contractually obligated to weigh no more than 75kg (165-pounds) two hours before he steps into the ring against Horn. Failure to do so will come with hefty financial penalties.
Horn, who initially failed to make weight in his title-losing effort against Terence Crawford in American in June, says he will make weight easily this time around.
"It's the one fight I've had that I haven't had to worry about it," he told AAP. "I know I'll make it easily… cruising.
"I can at least sneak in a chocolate here and there and get away with it and he's not going to be able to do that and is a bit upset about that."
The extra weight has given Horn a boost in sparring where he says the extra poundage has left him feeling stronger and more energised than he normally would be at this stage of a training camp.
"I can notice in training. I just feel stronger, have a bit more energy fighting at a heavier weight not worrying about the food going in," Horn said. "Even though it's not junk food, just putting in a lot of energy."
If the fight goes to plan, Horn says he will consider staying at the higher weight.
"We'll see come fight time how big he feels to me and the sense of everything will determine whether I stay at this weight… it might open up opportunities," he said.