Floyd Mayweather says fight against Japanese kickboxer Tenshin Nasukawa is back on – with conditions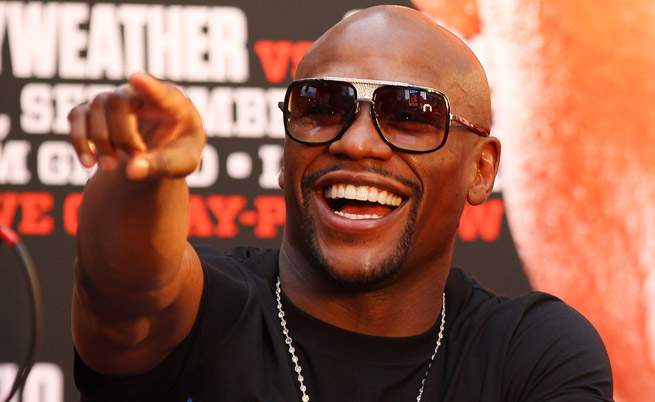 The on-again, off-again fight between Floyd Mayweather and Japanese kickboxer Tenshin Nasukawa in Tokyo on New Year's Eve is reportedly back on.
The "fight" was officially announced at a press conference in Japan last week that was attended by the American superstar alongside Nasukawa and Rizin Fighting Federation president Nobuyuki Sakakibara.
But upon returning to the United States the 41-year-old former professional boxer abruptly withdrew from the bout, claiming he had been duped by the event's promoter.
Now it appears both sides have come to terms and Mayweather will indeed step into the ring against Nasukawa.
But it won't be in a professional boxing capacity.
"Rules? It's going to be a little boxing exhibition," Mayweather told TMZ Sports as he was leaving Peter Marco Jewellery in Beverly Hills.
"No kicking. I'm moving around with the guy for nine minutes and of course it's going to be the highest paid exhibition [bout] ever."
'Money' Mayweather has made a career of chasing the almighty dollar and it appears that the money on offer to face Nasukawa was simply too good to refuse.
"It's a no-brainer," Mayweather continued. "Just because I'm retired from boxing, I still make appearance worldwide and make a ton of money."
A clearly frustrated Mayweather took aim at Rizin Fighting Federation on social media late last week.
"Once I arrived to the press conference, my team and I were completely derailed by the new direction this event was going and we should have put a stop to it immediately," Mayweather posted on Instagram.
"I want to sincerely apologize to my fans for the very misleading information that was announced during this press conference and I can assure you that I too was completely blindsided by the arrangements that were being made without my consent nor approval.
The exhibition bout will be Mayweather's first time fighting in public since he returned from an earlier retirement to face MMA superstar Conor McGregor in a boxing bout in August last year. Unsurprisingly he outboxed the Irishman, who was making his pro boxing debut, stopping him in the 10th round to lift his record to 50-0 (27).
In 2015 Mayweather participated in one of the richest fights in boxing history when he outpointed Filipino superstar Manny Pacquiao over 12-rounds to retain his WBC and WBA welterweight titles and claim the WBO belt.
Pacquiao, 39, is still holding out hopes for a rematch.