Freddie Roach says he will not be joining Manny Pacquiao camp unless 'Pac-Man' calls him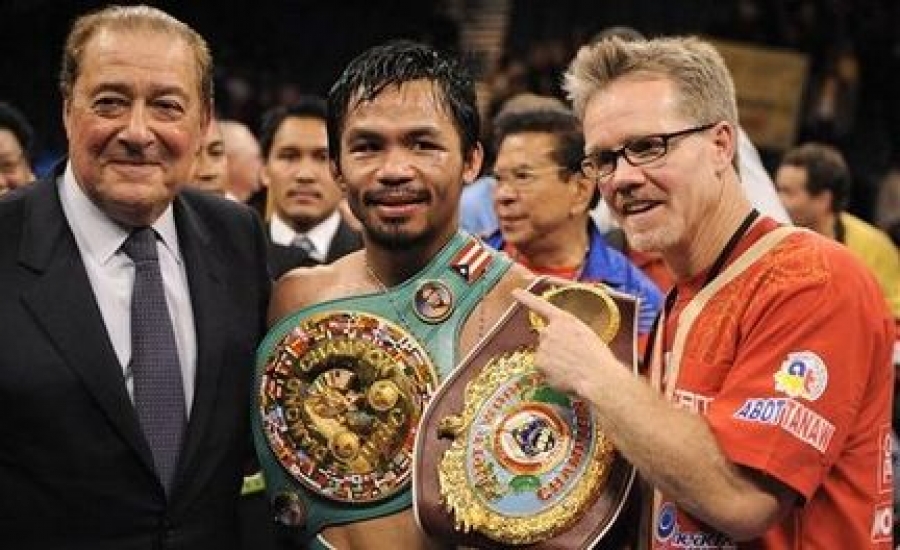 Filipino boxing legend Manny 'Pac-Man' Pacquiao 60-7-2 (39) surprised many when he revealed this week he was considering working with former long-time coach Freddie Roach for his upcoming fight against Adrien 'The Problem' Broner 33-3-1 (24) at the MGM Grand in Las Vegas, Nevada on January 19.
Los Angeles-based Roach was unceremoniously sacked by Pacquiao in the aftermath of the 39-year-old's unanimous decision loss to Australia's Jeff Horn in Brisbane in July last year.
But Roach is insisting that Pacquiao man-up and give him a call if he is genuine about drafting him into camp.
"I still have never directly spoken to Manny (since 2017)," Roach said to Yahoo! Sports. "I'm not going to make a move until Manny calls me. I've been like a father to Manny for 15 years. If he can't call me, there will be no deal."
Pacquiao floated the idea of Roach joining his team as a "supervisor" alongside best friend and current coach Buboy Fernandez at a media roundtable on Tuesday.
"I don't have any problem with Freddie Roach," said Pacquiao.
"All I say is that I think the other work in training should be assigned or designated to Buboy.
"Freddie can supervise or instruct Buboy, this is what we're going to do."
The former eight-division champion elaborated on the role he has in mind for Roach.
"We have scheduled to talk today," Pacquiao said. "My idea is to let Buboy handle the mitts, and (Freddie) should just supervise and correct the training situation, or techniques, or anything like that."
As usual, Pacquiao is planning on starting his training camp in the Philippines before moving across to the United States. He said that Roach would not be required for the early Filipino leg.
"He can just wait here," Pacquiao said. "I'll be here next month in December."
Pacquiao admitted he couldn't remember the last time he spoke to Roach, blaming the demands of his role as a senator in the Philippines.
"It's been a long time ago," he said. "A long time ago that I didn't speak to Freddie. I was busy in the Philippines.
"I don't even have time to come to United States for a vacation for relaxation. It's really busy being a Senator."