Adrien Broner aims to put an end to Pacquiao-Mayweather 2 with victory against Manny Pacquiao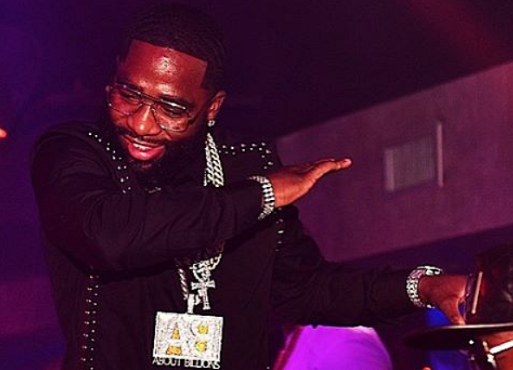 November 20, 2018 – Boxing's only eight-division world champion Manny "Pacman" Pacquiao and former four-division champ Adrien "The Problem" Broner were all business on Tuesday as they concluded their two-city press tour in Los Angeles announcing their Saturday, January 19 showdown for Pacquiao's WBA Welterweight World Title. The event will be produced and distributed live by SHOWTIME PPV (9 p.m. ET/6 p.m. PT) from MGM Grand Garden Arena in Las Vegas and presented by Premier Boxing Champions.
Promoted by MP Promotions, Mayweather Promotions and TGB Promotions in association with About Billions Promotions, tickets to the Pacquiao vs. Broner welterweight world championship event will go on sale on Saturday, November 24. Tickets are priced at $1,500, $1,000, $750, $500, $300, $200, $100, not including applicable service charges, and can be purchased online through AXS.com, charge by phone at 866-740-7711 or in person at any MGM Resorts International box office.
ADRIEN BRONER:
"January 19, I am coming to win. Screw the money, I'm going to be victorious. They keep talking about a Pacquiao-Mayweather 2, but I'm going to mess those plans up. I just don't see Manny Pacquiao beating me.
"He's still in great condition. He's trained his ass off. I have to keep my composure and stay focused on my game plan. But I'm not going to tell you what that plan is.
"Hope isn't my strategy – there will be no luck. I feel like he can't beat me. Look at my resume – what do I do to southpaws? I stop them. Going into this fight, I'm very confident. I'm going to do what I always do to southpaws and dismantle him."
STEPHEN ESPINOZA, President Sports & Event Programming, Showtime Networks Inc.
"These two fighters have resumes that you're all familiar with. On the surface they seem very different, but they're more similar than you'd think.
"They're two of the most entertaining and popular fighters in the sport. They are also two fighters who are all heart. We've seen them in tough fights, and there's one thing you know you're going to get out of Manny Pacquiao and AB, and that's 100 percent effort throughout the fight.
"When Adrien Broner and Manny Pacquiao fight, it's a huge event. Add in Mayweather Promotions and MGM Grand and Las Vegas, and it's one of the biggest fights of the year. There's a lot at stake – this will be an all action fight. It will be a special weekend, and we can't wait."
JOE RAMOS, Head of MP Promotions
"We all know Adrien is hungry, but he's fighting boxing's only eight-division champion. Manny will show the world that he's the best fighter on the planet come January 19. Don't miss a chance to be part of history."
LEONARD ELLERBE, CEO of Mayweather Promotions
"We know we have a great fight come Jan. 19. You'll see a future Hall of Famer in Manny Pacquiao, and a guy in Adrien Broner who has never backed down from a challenge. He knows he has to be at his best to beat Manny Pacquiao. The style matchup with these two guys is very intriguing. I promise you this will be a great fight."
RAVONE LITTLEJOHN, Co-Head of About Billions Promotions
"It's going to be a great fight. If my man AB hits the right shot, it could be a short night. We've never been down for the count, and we're not going to start now. We know the position we're in. It's a pleasure to fight a legend like Manny Pacquiao."
RICHARD STRUM, President of Las Vegas Live Entertainment and Sports
"This fight kicks off another tremendous year of entertainment for MGM. I'd like to welcome Manny Pacquiao and Adrien Broner, two of the sport's most iconic fighters, back to MGM Grand and Las Vegas."