Francis Chua looking forward to big things after breakthrough win over WBO #2 lightweight Kye MacKenzie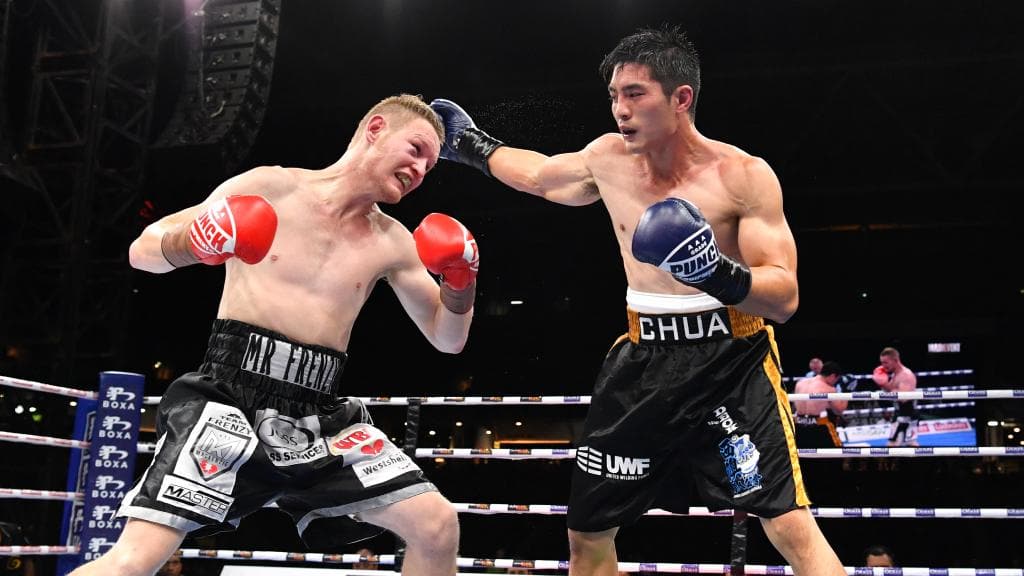 Novice boxer Francis 'The Removalist' Chua 6-0-1 (2) was expected to provide some rounds and not much more for WBO number two ranked lightweight Kye 'Frenzy' MacKenzie 20-2 (17) on the Jeff Horn versus Anthony Mundine undercard last weekend.
But the unheralded 33-year-old Perth southpaw had other plans.
Chua, a 7-1 underdog who turned professional just last year, outhustled MacKenzie with his swarming pressure and when the dust settled he was awarded the victory by split decision with scores of 59-56, 58-56 and 56-58.
The result makes the bout the frontrunner for upset of the year in Australian boxing.
Chua admits to being nervous in the opening rounds of his first fight on the big stage and says that he can improve on the performance.
"I was really cooked after the first round. The first punch I threw I almost fell over. That's because I was frozen, my legs were stiff, it was nerves," Chua told The Daily Telegraph.
"I wasn't surprised (at the performance), I hung in there and I was really competitive. If I wasn't so nervous I could have performed better.
"He was fighting my fight. He wasn't boxing me, he was trying to trade with me and physically I looked like the stronger guy. That's my fight, that's the way I wanted him to fight and he did.
"I always think I can do more or I can do better. I'm a bit bouncier than that, I fought like a plodder and just plodded around. Head forward, swing big whenever I could."
The unlikely victory has earned Chua instant fame.
"I went to the pub and watched the Deontay Wilder fight and a few guys there were like 'Oh my God, you're Francis!', it was crazy," he said.  "They'd all been watching the fight. Everyone was rooting for me."
Despite his breakthrough win Chua was back at work on Monday as a removalist, a job he has held for the past 11 years.
Chua is thankful for the opportunity MacKenzie gave him and is looking forward to representing Australia on the world stage.
"I'm really grateful to Kye for allowing me to do it," said Chua, who trains out of Perth's Onyx Fight gym.
"I know he was chasing everyone else and they either weren't ready or didn't want to do it and he wanted to be on the undercard for Horn-Mundine.
"So he said yes to me and gave me my chance to show Australia who I was. Win or lose I knew Australia would remember me because of the way I fight.
"I'm feeling like anything is possible now, without a doubt."